Repairing the Broken
"Mom, she broke it!" My nine-year-old daughter, Christina, let out a wail I heard all the way downstairs. I wasn't sure what had happened, but I knew it probably had something to do with her younger sister's shenanigans.
Both daughters stampeded down the stairs, with Amberle, the younger one, apologizing the whole way. They met me in the kitchen in a cacophony of confusion.
"One at a time. What happened?"
After listening to both daughters' versions of the scuffle, I realized the only casualty of the clash was a six-inch-high, twelve-dollar glass cross I'd purchased for Christina at a local craft fair.
"Please, mom, can you fix it?"
Although I knew restoring broken figurines was not within my realm of mommy superpowers, I agreed to try.
That night, I got out the Superglue and went to work. As I attempted to fix Christina's treasure, my mind was not on the shattered cross, but on my broken life. Our family was in the midst of personal and financial trials, and the stress was taking its toll.
The next morning, when I went to check the cross, I found the adhesive had not held and the cross was still fragmented.
Christina was adamant when she saw it. "You've got to fix it, Mom. Try again. Please."  I wondered how she had gotten so attached to this insignificant item.
The next night, as I was trying to repair the irreparable, I saw something catch the light. It was a small sliver of glass I'd missed the night before. Inserting it carefully into the puzzle of pieces, I glued the cross together again, hoped for the best, and went upstairs to bed.
The next morning, I was shocked to find the cross standing strong on the kitchen
counter. Amazed, I whispered a prayer, "God, I wish you could fix my life like that." As if He were standing right next to me, I heard God say, "If you would give me all the pieces, I would."
It's easy to hold on to our problems when we think we can fix them ourselves or they're too small for God. However, our Heavenly Father wants to meet every need. First Peter 5:7 encourages believers to "cast all your anxiety on Him because he cares for you" (NIV).
We may think it's more righteous to bring only our big requests to God: intercessions for others and situations that require supernatural support. But that's not being spiritual; that's being self-sufficient. More than anything, God wants us to depend on Him. When Paul admonishes us to bring "every situation" to God in prayer (Philippians 4:6 NIV), he means everything: big and small. When we hold back our requests, we're believing a lie from the enemy that keeps us from experiencing God's mercy and grace.
God doesn't just mend a crushed heart or repair a ruined life. When we surrender to God's sovereignty and trust Him completely, He makes us brand new. Second Corinthians 5:17 promises,
"Therefore, if anyone is in Christ, the new creation has come: The old has gone, the new is here" (NIV)!
In order to do that, however, we must fix our hearts on God and give everything to Him. It's the divine exchange—our broken pieces for His blessed peace.
Today's Devotions
Morning
September 12
Esther 4:14-16 14For if you remain silent at this time, relief and deliverance for the Jews will arise from another place, but you and your father's family will perish. And who knows but that you have come to royal position for such a time as this?" 15Then Esther sent this reply to Mordecai: 16"Go, gather together all the Jews who are in Susa, and fast for me. Do not eat or drink for three days, night or day. I and my maids will fast as you do. When this is done, I will go to the king, even though it is against the law. And if I perish, I perish."
Mordecai's fellow Jews must have wondered how he could justify sending his stepdaughter to try out for queen of Persia. After all, the king was not a believer. The sovereign hand of God had placed her just where she needed to be when the Jews came under attack. We know Mordecai was not a compromising individual for he would not bow to Haman and that was the source of the threat toward the Jews. Haman was a close friend of the king. The king ordered everyone to bow before Haman because of his position, but Jews do not bow to men.
This made Haman furious. When he found out Mordecai was a Jew, he wanted all Jews exterminated. He convinced the king to issue the decree. The king did not know his new queen was a Jew. Mordecai and the Jews of Susa fasted and prayed that God would deliver them. When Esther saw Mordecai was dressed in sackcloth, she had a messenger find out what was wrong. Mordecai asked her to plead the case before the king. If she went into his presence without being summoned, she could be executed. Mordecai told her she would be executed anyway, just for being Jewish. She asked all the Jews to fast and pray for her for three days and then she went in to see the king. She had decided that if she was executed it would be for a just cause. How could she live with herself if she did not try to save her people?
We could use some of her desperation. We often fear sharing the salvation message because we think we might be rejected, but we are sharing with them to save their souls. The life of a nation was at stake. We are not so fearful of losing our lives, but we do face rejection. We have to say, "If we are rejected then we are rejected." People still need to know the truth. God placed Esther where she was to serve a purpose. He has placed you where you are also. Your friends and acquaintances are not in your life by accident.
Come to the Altar
SEPTEMBER 10, 2021
"Then Shekaniah son of Jehiel, one of the descendants of Elam, said to Ezra, 'We have been unfaithful to our God by marrying foreign women from the peoples around us. But in spite of this, there is still hope for Israel.'" Ezra 10:2 (NIV)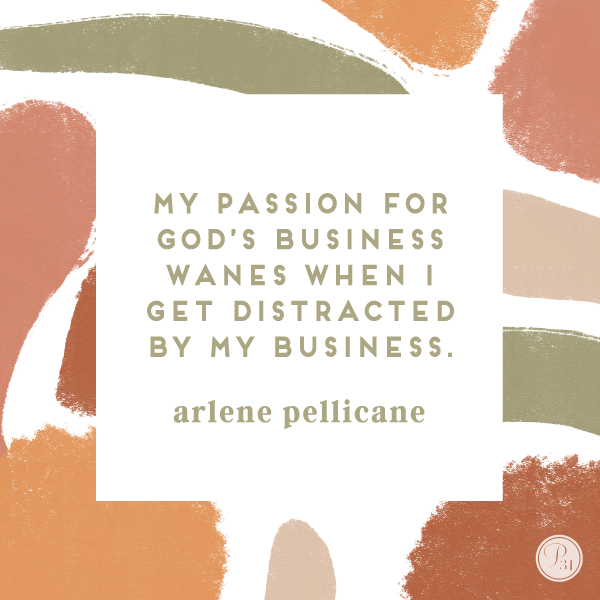 When I was in high school, one of my highlights each year was going to Christian summer camp. I remember one camp's theme was "S.O.A.R.," which stood for "Sold Out and Radical." That's what I desperately wanted to be as a teenager. I wanted to be radical for God!
Now that I'm older, I wonder why I don't long for God's presence like I did back then. I'm often thinking more about what I'm going to make for lunch after church than how I can take a moment with God to confess sin or pray for others. The zeal of youth can wear off.
My passion for God's business wanes when I get distracted by my business.
In the book of Ezra, we read about a man named Shekaniah who cared deeply about God's business. Shekaniah was one of Ezra's companions from Babylon. Though his father, Jehiel, had married foreign, idolatrous women, Shekaniah kept God's law and had not made the same mistakes. (Ezra 10:2) Yet in today's key verse, Shekaniah confesses to Ezra and the people, in a public setting, "We have been unfaithful to our God by marrying foreign women from the peoples around us" (Ezra 10:2a).
Why did he say "we"? As a godly leader, Shekaniah took responsibility when his family failed to follow God's ways. He didn't think, "Well, that's not my problem."
It's important to note here that, even though Shekaniah freely took responsibility for his father's sin, God would not punish Shekaniah for that sin. As Ezekiel 18:20b says, "The son shall not suffer for the iniquity of the father, nor the father suffer for the iniquity of the son" (ESV). God punishes those who sin against Him but does not hold family members accountable for the sins of others.
Shekaniah's confession was rooted purely in his commitment to God, and he was truly grieved by his family's sin. He didn't want to see it continue in the next generations — instead, he wanted to see them marked by godliness.
What would happen if that same spirit of confession flooded my home? What if I was burdened by the sin of my family, my neighborhood, my city? What if that same passion I had as a teenager returned?
I know it might not be sustainable or realistic to cry out at the church altar every day, but that doesn't mean I don't need seasons of revival.
Shekaniah didn't just put on an emotional display during a revival; he acted. Out of this time of public sorrow, Shekaniah presented a seemingly harsh but effective plan for full repentance: His people would send away their foreign wives and children who followed other gods.
Despite how difficult it would be, dealing with their snare would become their saving grace. The same is true for us.
Today's key verse ends, "But in spite of this, there is still hope for Israel" (Ezra 10:2b). How wonderful that there is always hope in Christ!
I don't want to allow sin to creep into my life and my family unchecked. The woman I am today needs to remember the on-fire teenager I was yesterday. It turns out I have something to learn from my younger self. Maybe it's time to spend a few extra moments at the altar next time I get the chance.