As Good As It Gets
A man who incidentally suffers from obsessive-compulsive disorder leaves his psychiatrist's office frustrated and anxious. He steps into the waiting area where other patients are seated and stops as if an epiphany hit him.
"What if this is as good as it gets?" he asks and then he leaves. The patients remain frozen, pondering the possibility.
It's my favorite scene from the movie of the same name, As Good As It Gets. It's a funny moment, but it's really a question about contentment. Can you honestly look at your life as it stands right now and say, "[Freeze frame] Am I okay with what I see?"
You might say no and probably have good reasons why. Life can certainly throw some unfair curveballs our way. You might say, "Yes, but …", and the qualifiers start coming out. Well, of course, you'd be happier if you had more money, a more attentive spouse, a nicer job, etc.
I am as guilty of discontentment as the next guy. I have pinned a certain level of happiness on milestones that I have yet to achieve. But there comes a time in every daydreamer's life when she has to ask, "If this is as good as it gets, what am I going to do about it?"
"The future is no place to place your better days" – Dave Matthews, "Cry Freedom"
I think God put contentment in our grasps. Paul, who is among our examples for a Christian life, wrote about being content in his present situation, which was often being homeless, in jail or in some type of peril. If anyone had a reason to be discontented, it was Paul. Here he was doing God's work and people always wanted to kill him. Don't believe me? Read 2 Corinthians 11:23-26. Shipwrecked, flogged, robbed, stoned … it wasn't easy being Paul, yet he wrote to the Philippians:
I am not complaining about having too little. I have learned to be satisfied with whatever I have. I know what it is to be poor or to have plenty, and I have lived under all kinds of conditions. I know what it means to be full or to be hungry, to have too much or too little. Christ gives me the strength to face anything. (Philippians 4:11-13, CEV)
The rock that Paul leaned on was his belief in Christ. He found contentment in the facts that Jesus never left him and the Holy Spirit was continually helping along his journey. He found the far-reaching arm of grace was enough to hold him no matter how close he came to the brink. Quite simply, to Paul, every day he had another breath was a gift. Life – somewhere in its core, with all its imperfections and pitfalls – was good.
The older I get, the more I know the winds of change are inevitable, but their timing is often a mystery. You just never know when or how your situation will improve. So, when faced with discontentment, the more reliable decision would be to change one's perspective of the circumstance – rather than waiting for the circumstance itself to change.
Either way, it's always good to stop in the middle of the crowdedness of life and ask the question, "What if this is as good as it gets?" And if it is, then ask God where you can find joy and peace in this moment. Let God show you where He has hidden His grace for you, because I promise, it's there.
Today's Devotions
Morning
September 19
Job 19:25-27 25I know that my Redeemer lives, and that in the end he will stand upon the earth. 26And after my skin has been destroyed, yet in my flesh I will see God; 27I myself will see him with my own eyes–I, and not another. How my heart yearns within me!
Job's friends continued to insist that Job face up to the sin that had caused his miserable condition. Job continues to tell them he can't find one. Of course, he was not perfect, nor is anyone. He couldn't find an issue to repent of. There are times when we suffer the consequences of the sins of others. There are times when there may be a heavenly battle over us, such as this case with Job. What did Job cling to through it all? What kept him from following his wife's advice and cursing God? He trusted in the perfect character of God.
He knew that God was his Redeemer. That is the Gospel. Though these ancient people had only oral tradition to go on, Job knew God was his Redeemer. He also knew that one day his Redeemer would physically stand upon the earth. Even though he died and rotted away, he believed he would see that day. He longed for it, because then he knew he would then understand what it was all about.
You may have sorrow in your life because you cannot find the reason or plan of God in your present circumstance. You can't see any good that comes from it. Do as Job did and put your hope in the day when you will see God. God will ever be perfect and just. You can be sure that there are reasons for all things, and that they are good reasons. He is sovereign over all. Evil is not without boundaries. All things will have meaning and purpose. Place your hope in the day you will see Him face to face and have all your questions answered.
Don't Become Friends With the World
SEPTEMBER 16, 2021
"Do not love the world or the things in the world. If anyone loves the world, the love of the Father is not in him." 1 John 2:15 (ESV)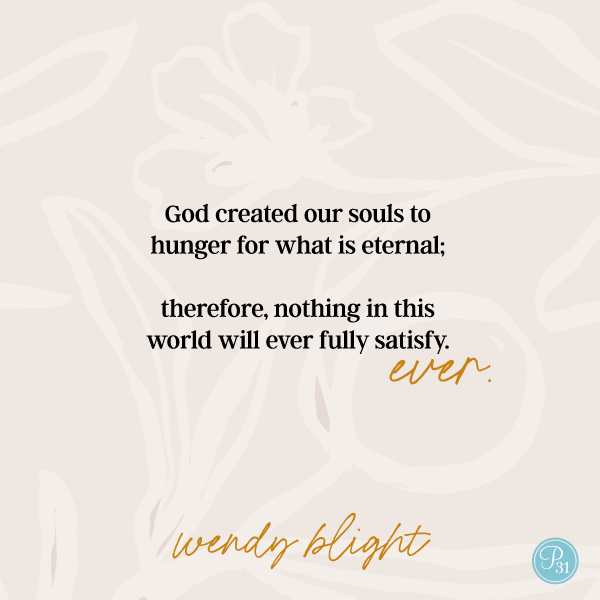 Years ago, the closing words of a commercial caused me to pause and play it back to see if I had heard correctly. "Contact us and we'll help you build an outdoor living area that will make you the envy of your neighborhood." Yep! I heard it correctly. "Make you the envy of your neighborhood."
Today, similar ads saturate our inboxes and our social media, seducing us to believe luxurious, pretty things will make us feel important. Complete. Happy. Secure.
I fell victim to those ads a few years back. Each time I opened my emails from one particular furniture store, how I longed to fill my home with their beautiful furnishings. But my budget just didn't allow it.
In our key verse today, God addresses my very struggle. He commands us, "Do not love the world or the things in the world" (1 John 2:15a). Why? Scripture goes on to explain, "If anyone loves the world, the love of the Father is not in him" (1 John 2:15b). God knows we cannot love the world and Him at the same time. The love of one pushes out love for the other because the things that fill this world are not of God.
God created our souls to hunger for what is eternal; therefore, nothing in this world will ever fully satisfy. Ever.
Jesus warns of our dangerous and formidable enemy, Satan, who works aggressively to tempt us with the things of this world. (John 10:10) The good news is that we have a choice when it comes to Satan's lies and temptations. So the question for us is this: Who will we choose? God or the world?
Choosing God requires putting systems in place in advance to protect our hearts and minds because loving the world is a gradual process. Our enemy is highly skilled at enticing and tempting. Thus the Apostle Peter warns us to "be alert and of sober mind" (1 Peter 5:8a, NIV).
How can we be alert and of sober mind? Here are a few lessons I learned when I became a bit too comfortable with the world.
Don't become "friends" with the world.
They started as emails delivered to my inbox. Cozy bedding. Luxurious furniture. I coveted each lovely, superbly designed image. But with all my family's other expenses, owning those beautiful things wasn't a reality.
Until we received some Christmas money.
Don't give in to the world.
With that money, I put a lovely sofa in my cart, reasoning we could charge the rest. And that's what we did. Curled up on our new sofa, I looked around at the dated furniture surrounding me. I returned to the website and ordered a coffee table. We'll be able to afford it soon. We can charge it now and pay for it with my first paycheck.
Don't fall in love with the world.
This led to a pattern of behavior. I desired the lovely things of this world. They made me feel happy. Content. And most of all, like I fit in.
This friendship with the world aroused a love in my heart for what we couldn't afford. As my husband and I made more money, those things became more affordable.
Until they weren't.
I'm so thankful God's Word interrupted this sinful "friendship." I learned three truths that led to three simple steps to help me overcome this pattern.
The fruit of God's Spirit indwelled me. (Galatians 5:22-23) One of the fruits of God's Spirit is self-control. So now when I struggle with desiring pretty things, self-control empowers me to say "no"!
I took my thoughts captive with God's Word. (2 Corinthians 10:5) I prayed His living, active, powerful truths and promises into my weakness and temptation. (Hebrews 4:12)
I took one step at a time. (1 Corinthians 10:12-13) My first step: unsubscribe from all emails that tempted me to spend money on what we didn't need. If I didn't see it, I didn't want it!
Unsubscribing helped. But I also had to address the longing in my heart that found satisfaction in those lovely things. Not seeing them took away the power they had over me. But the best change of all was that my choice enabled us to pay down debt, which in time freed us up to give to others. And those opportunities brought so much more joy than a lovely couch ever could have.