Feeding the Fire
by Ryan Duncan, Crosswalk.com
Look to the LORD and his strength; seek his face always. – 1 Chronicles 16:11
Earlier this year I went fishing with my family up in the boundary waters of Minnesota. Ironically, the first day we pushed out onto the lake in our canoes, the weather was ideal. The sun was shining, the sky was clear, and it was warm but with a nice breeze to take the edge off. Then, like something out of a Calvin and Hobbes cartoon, the weather made a sudden shift. The next morning we got up to find a cloud had descended over the lake.
It wasn't raining per say, it was more like all the moisture in the area had gotten together and decided to smother our campsite. It was cold, it was damp, and all we could really do was huddle together for warmth. Finally I couldn't stand it any longer, I was going to build a fire. We had all tried earlier that morning, but the damp wood was nearly impossible to burn. With no lighter fluid and only a couple of matches, I realized I was going to have to do this the hard way.
First I started off with small kindling, pine needles, leaves, twigs. Then I moved on to sticks and paper. It took a long time, but at last I got a decent sized flame that would burn the big logs despite the fact that they were damp. You can be sure, now that we finally had a roaring fire there was no way we were going to let it go out. I bring this up because I believe the concept of building a fire is similar to building a relationship with God.
When a friend of mine recently said he didn't want to lose "the fire" God had given his spirit, I couldn't help but remember that cold morning in Minnesota. The Holy Spirit will give us the passion and endurance to live Godly lives, but like a campfire, it will eventually burn down to embers if not supplemented by our own actions. It can be hard work at times. You'll need to start with kindling like daily prayer and scripture reading, follow up with something bigger like volunteering at Church, and then maybe apply a large commitment like ministry. It won't be easy, and there will be times when it all seems useless, but in the end the Holy Spirit will burn all brighter.
Remember the words of Matthew,
Eyes To See
OCTOBER 11, 2021
 you while you are with him. If you seek him, he will be found by you, but if you forsake him, he will forsake you. For a long time Israel was without the true God, and without a teaching priest and without law, but when in their distress they turned to the LORD, the God of Israel, and sought him, he was found by them." 2 Chronicles 15:2-4 (ESV)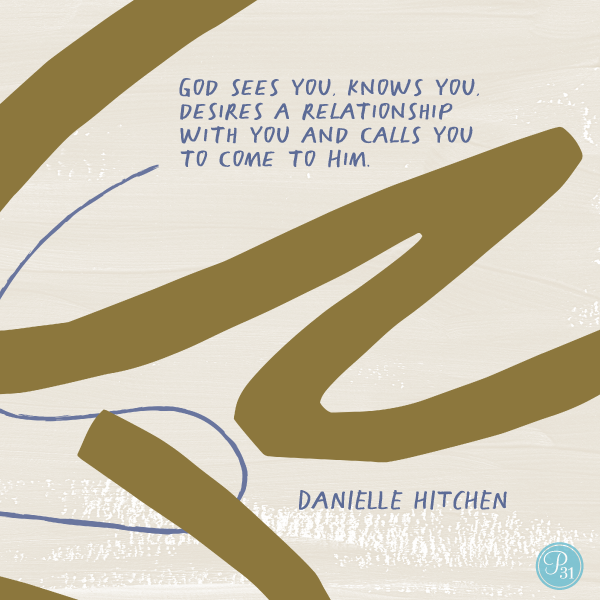 Close your eyes for a moment and envision a trick of the eyes — an abstract, patterned image that, when looked at just the right way, reveals a 3D image nestled amidst the pattern. An optical illusion. That's a stereogram!
When I was a child, I remember being slightly frustrated by how much my best friend loved stereograms. I always struggled to see the obscured image, too fond of clarity to allow my eyes to soften, too impatient to wait for the hidden prize to pop off the page.
To this day, my eyes revolt when I look at a stereogram — my brain is loath to release the surface-level picture long enough for the hidden image to appear.
Over the past several years, my life has been like the repeating, plain and unremarkable surface pattern of the stereogram. Pregnancy, kids, chores, work, laundry, meals, church — lather, rinse, repeat. These were all things I was deeply thankful for but not daily thankful for. And in these years, I have gotten through desperate seasons where it seemed God was nowhere to be found.
Feeling utterly abandoned, I begged God to come in obvious ways — to make my babies sleep, to heal my body, to transform my children into the picture of obedience (or at least grant me superhuman patience), to magically resolve the conflict in my church, to make four broken hours of sleep somehow sustain me like 10 uninterrupted ones.
Instead, God came like the 3D image of the stereogram: obscured and unclear, despite how hard I looked. How was I to keep hoping, believing and trusting when I was blind to Him? And how was I to teach my children to look and see God when I couldn't even see Him myself?
The open secret of Christianity is that, while God is accessible, God is not always obvious. Even when God walked the earth in the person of Jesus, God was not obvious. Jesus was so shockingly controversial in His claim to be God that He was crucified.
God is loving enough to allow us to choose Him. He does not force His presence upon us in a way that leaves us no alternative but to worship. If we consider the stories of Moses, Isaiah, Ezekiel, Elijah and Daniel (to name a few), we learn that if God appeared to us like He appeared to these long-ago believers, we would have no choice but to fall on our faces before Him and worship. But God desires love and genuine relationship, not forced servitude.
God is also gracious enough to allow us to see Him if we look. He wants to be found. Second Chronicles 15:2b tells us, "If you seek him, he will be found by you …" And it's true — once your eyes are accustomed to the search, God is everywhere.
When I could not see God in life's monotony, God called me to seek Him, gently nudging me to soften my eyes, to see beyond the obvious, to ask what else might be revealed in the repetitive scene of my life.
As I took a closer look, God's presence not only emerged from the midst of the messy scene; it completely popped off the page. Once I adjusted my perspective, I could not not see God.
He had been there all along, giving shape to the pattern of my world, guiding my steps, growing my character, faithfully answering my desperate prayers. These answers were not the magical fixes I asked for but rather the eternal, soul-strengthening experiences I needed. They were stories I collected to teach my children to see God in the everyday world around them.
Friend, if you seek God, He will be found by you. God sees you, knows you, desires relationship with you and calls you to come to Him. He is hidden in plain sight, just waiting for you to step back, soften your eyes and look again.
Today's Devotions
Morning
October 11
Psalms 46:4-5, 10 4There is a river whose streams make glad the city of God, the holy place where the Most High dwells. 5God is within her, she will not fall; God will help her at break of day.
10"Be still, and know that I am God; I will be exalted among the nations, I will be exalted in the earth."
Jerusalem is the city of God. It was the place God chose to dwell. His manifest presence was in the temple behind the veil. Jerusalem is a shadow of the reality, the true city of peace, the people of God. He dwells in the hearts of His people, behind the veil of their physical bodies.
In Jerusalem there is no river. There is a valley where the Kidron flows when there are rains. The water for the physical city comes from an ancient spring and from rain collected in cisterns. But in the real city of God there is a river. It springs up from the source. Isaiah foretold of this watering that would come from God and turn into an overflowing spring (Isaiah 58:11). He also foretold that when God's people listen to the Word their peace would be like a river (Isaiah 48:18). Jesus stood in the temple during a feast and invited all who were thirsty to come and drink from Him and experience streams of living water flowing from within them (John 7:37,38).
The city with such an abundant source of water is safe against the siege of the enemy. It will not fall. We will find God to be our help when the enemy attacks. And where do we find this water that makes us glad? Where is this Living Water to be obtained? "Be still, and know that I am God." Wait in His presence to hear the words of Life that He would speak to you. When you do, drink deeply, and accept the peace and comfort that they bring. Know He is God over all, and nothing escapes from His sight.
Salt and Light
Scripture Reading — Matthew 5:13-16
"You are the salt of the earth. . . ." — Matthew 5:13
OK, how many of us get really excited when we see a bag of chips or a box of crackers that says "reduced sodium"?
Well, probably none of us.
Because salt is delicious. It's why chips and crackers and French fries and pizza and many other things taste good. Salt exists to make food better. That is one of its God-given purposes.
In this passage Jesus says we are "the salt of the earth" . . . and "the light of the world." He doesn't say we "can be" or "should be" these things. He says we already are, by way of our new identity in him. Jesus expects us to bless people, to build them up, and to do what we can to help meet their needs. He expects us to use our words and our actions to stick out in this dark world, pointing people to the kingdom of God.
This isn't limited to formal ministry in the church. The ways we treat our spouses, talk to our coworkers, and use our resources or engage with social media are all examples of how we are called to be salt and light. Every sphere of life presents us with salt and light opportunities.
If we walk in step with Christ, putting his desires ahead of our own, we are like a welcome seasoning to enhance the taste of good food, or like a beacon of light shining in this dark world.
Prayer
Father, help me to be salt and light in my community, and to use my words and my actions to show the world what you are like. For Jesus' sake, Amen.