\
Seek Him in the Quiet Place
I have asked one thing from the LORD; it is what I desire: to dwell in the house of the LORD all the days of my life, gazing on the beauty of the LORD and seeking him in his temple. Psalm 27:4 (CSB)
I'm sure we all have those verses in our Bibles that we have underlined, circled, and highlighted, right?
For me, the above passage is heavily annotated. But the one word that struck me as I re-read this Psalm recently was the word I had circled: seeking.
As I read the circled word again, it jumped out and demanded this question:
Am I seeking God?
I have a fairly regular routine of prayer, journaling and reading that seldom gets interrupted; but this does not necessarily answer the question that rang in my mind. Am I seeking God?
I think of the game Hide and Seek. Did you ever play this as a child? One person hides in a mysterious place and the remaining gang seek them out of their place of hiding. It requires action to seek something or someone. You have to go — and seek.
Now, I'm not suggesting that God is hiding from us, but I am saying that there is a seeking that needs to take place in our relationship with God.
Let's break it down. According to Dictionary.com, to seek means "to go in search of, to go in quest of. To try and find or discover by searching or questioning." Questioning. When was the last time you asked God a question?
For me, the stark reality was that I hadn't asked God a question in a long time.
The whole concept of asking God questions and talking to Him can sometimes be risky territory. I can't speak for you, but I have never heard the audible voice of God. So, His responses are often made up of a sense that I have, or a feeling of what He wants to say to me. This, by default, means that what I feel, or sense, is open to interpretation.
Most of the time, however, I only act on or receive what I sense God saying to me when it is a strong sense, one that I cannot shake.
So, my question remains: have you stopped seeking God? Do you still enquire of His heart?
To remedy this issue that had arisen in my time spent reading the Bible I made a pact with myself — and God. At least once a week, I would sit quietly and ask God this simple question: "God, what do You want to say to me today?"
Then, with great effort to restrain myself from simply ploughing on with my devotion time, I sit and wait for His response.
Admittedly, sometimes, I do not get a strong sense of anything. But more often than not, a still small feeling will rise within me and I will get a sense of what the Lord is saying to me that day.
God is a speaking and relational God. He wants to be known. He already knows us, inside out and back to front. But to enquire of the Lord means to deepen the relationship that we have with Him by showing Him that we want to know Him.
Here is a simple prayer that you can pray before you begin this journey:
Today's Devotions
Morning
July 20
1 Chronicles 11:10-11 10These were the chiefs of David's mighty men–they, together with all Israel, gave his kingship strong support to extend it over the whole land, as the LORD had promised– 11this is the list of David's mighty men: Jashobeam, a Hacmonite, was chief of the officers; he raised his spear against three hundred men, whom he killed in one encounter.
David had a very large following of mighty men. These men began gathering around David when he fled from Saul. Why did they come to him? He had nothing to offer them. They were a bit like the old gangs that people paid protection money to, only they actually did protect people. In the account of their protection of Nabal, David could say that they took nothing from him. They may have been men of ill repute but they were willing to follow David's example. Surely David shared with them his love for God. If nothing else, they learned of it in his psalms, many of which David wrote while on the run from Saul.
I think there was another thing that drew them. David was anointed. The presence of God was with him. There was something different in his words and actions, something of God. When a man or woman commits himself or herself completely to God, there is a fire of dedication that draws people. People come to watch them burn while wondering if they can have such zeal for God. The mighty men of David followed David's example of standing by faith in the power of God against impossible enemies. Their faith was strengthened by his example, and they had a testimony all their own.
Your faith can be contagious and inspire others to trust in God. Nothing short of complete dedication is going to catch the attention of others. Extraordinary faith comes from an extraordinary relationship. We see David's extraordinary relationship with God in the psalms.
Streams in the Desert – July 20
Seeing then that we have a great high Priest… Jesus, the Son of God, let us hold fast our profession. Let us come boldly unto the throne of grace, that we may obtain mercy, and find grace to help in time of need (Hebrews 4:14-16).
Our great Helper in prayer is the Lord Jesus Christ, our Advocate with the Father, our Great High Priest, whose chief ministry for us these centuries has been intercession and prayer. He it is who takes our imperfect petitions from our hands, cleanses them from their defects, corrects their faults, and then claims their answer from His Father on His own account and through His all-atoning merits and righteousness.
Brother, are you fainting in prayer? Look up. Your blessed Advocate has already claimed your answer, and you would grieve and disappoint Him if you were to give up the conflict in the very moment when victory is on its way to meet you. He has gone in for you into the inner chamber, and already holds up your name upon the palms of His hands; and the messenger, which is to bring you your blessing, is now on his way, and the Spirit is only waiting your trust to whisper in your heart the echo of the answer from the throne, "It is done."
–A. B. Simpson
The Spirit has much to do with acceptable prayer, and His work in prayer is too much neglected. He enlightens the mind to see its wants, softens the heart to feel them, quickens our desires after suitable supplies, gives clear views of God's power, wisdom, and grace to relieve us, and stirs up that confidence in His truth which excludes all wavering.
Prayer is, therefore, a wonderful thing. In every acceptable prayer the whole Trinity is concerned.
–J. Angell James
The Forgiveness of Our Sins
We do not have to fear God's judgment, because Jesus paid for all our sins: past, present, and future.
Many people today are weighed down by the guilt they carry. This is understandable for those who've rejected Christ, but Christians have been relieved of their guilt through faith in the Savior. In other words, there's no point in a believer continuing to live under that heavy burden. Forgiveness of sins is based on the riches of God's grace and the sufficiency of Jesus' sacrifice on the cross.
When Jesus said, "It is finished," He was proclaiming that redemption for sins was accomplished (John 19:30).  He paid the full price with His death, and now all who believe in Him are forgiven. The scope of Christ's atoning sacrifice reaches back to the past, into the present, and beyond to the future. That means we never have to fear that something we did in the past or might do in the future is beyond the reach of God's forgiveness. The Lord never takes back His pardon.
Because of our faith in Christ's completed work on the cross, we can be assured that we have received and will continue to receive His divine mercy. But that doesn't give us license to sin (Romans 6:1-2). Rather, it should produce gratitude along with deeper love for God and a passion for holiness.
Take Up Your Bed and Walk
JULY 20, 2022
"… 'Do you want to be made well?'… Jesus said to him, 'Rise, take up your bed and walk.' And immediately the man was made well, took up his bed, and walked." John 5:6,8-9a (NKJV)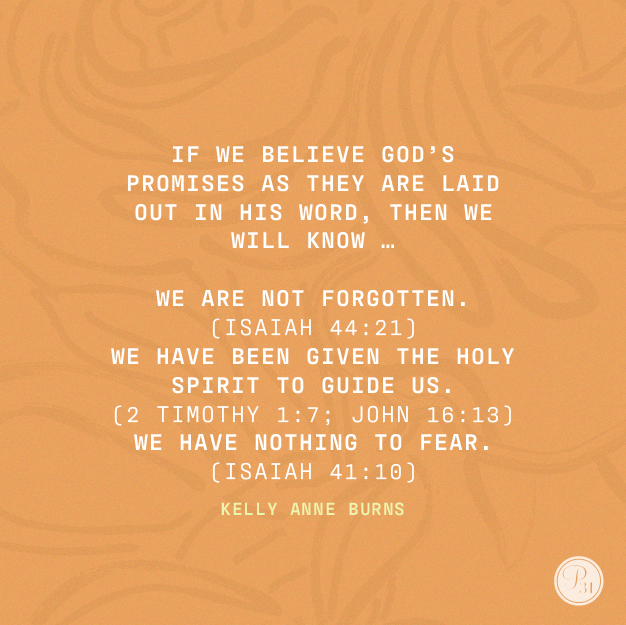 I have always struggled with fear. In fact, there was a time not so long ago when you could say, from a worldly stance, fear owned me.
It owned my thoughts.
It owned my actions.
It owned my perspective.
And it certainly owned my emotions.
For over 20 years, I prayed for an instantaneous, healing miracle I never received. I desperately wanted God to set me free from the fear that plagued me.
After all, miracles had happened to others around me. So why that person and not me? Why were they miraculously freed, while I was left here in this awful darkness? Why did God pick and choose like that?
And worst of all was this thought: Why didn't God choose me?
Yes. I said and thought and yelled out these things (and so much more) in my anger at what I saw as God intentionally not rescuing or protecting me. Or just simply not caring enough to help me. I was disillusioned with the fact that I sought Him out consistently while others did not, and He gave me back what felt like a big, fat nothing.
So the only reasonable thing in my mind was to stop trusting God. If He wasn't going to protect me, then I would have to protect myself.
And I did … until I couldn't anymore.
In my resolve to do this came an ever-increasing awareness of my own powerlessness to help myself or change what was. And that is where we find the afflicted man in the following passage:
"In these lay a great multitude of sick people, blind, lame, paralyzed, waiting for the moving of the water … Now a certain man was there who had an infirmity thirty-eight years. When Jesus saw him lying there, and knew that he already had been in that condition a long time, He said to him, 'Do you want to be made well? … Rise, take up your bed and walk.' And immediately the man was made well, took up his bed, and walked" (John 5:3, 5-6, 8-9a, NKJV).
This is a man who knew suffering well, who knew the frustration of being overlooked and forgotten.
And in the world? He was.
But what he didn't know yet was that God had not forgotten him. And the time had finally come for him to be healed.
So why did God wait so long? Why didn't He heal the man years earlier?
Because, friends, there is so much more to what God is doing than what is happening around us — and to us. A purpose is being worked out in the heavens that is so much bigger than our minds can presently conceptualize.
In the end, all that is real and lasting is God's glory displayed through us to touch a dark and weary world that does not yet know Him.
Is God willing to sacrifice something in our story for something grander in scale? Well … yes. Yet sometimes we are surprised, disappointed and disillusioned when this happens, even though our lives belong to Him. We feel forgotten, out of control, afraid.
But if we believe God's promises as they are laid out in His Word, then we will know …
We are not forgotten. (Isaiah 44:21)
We have been given the Holy Spirit to guide us. (2 Timothy 1:7; John 16:13)
We have nothing to fear. (Isaiah 41:10)
God has made you a key player in His redemption story. So what will you believe about Him, His promises and His purposes?
I used to see my weakness as a crutch I had to eliminate to feel normal. But it is through my weakness that God displays His life-changing, fear-fleeing glory.
And friends, when that happens, guess what? We become the miracle.