God Is a Planner
Our plans can change in an instant. If you're a planner like me, it can be tough when things don't go the way you expect. You can try to factor everything into your plans, but the truth is it is impossible to plan every single moment of your life. The good news is, you don't have to. God is a planner, and He is by far the best planner that will ever live.
During seasons of transition in my own life, the uncertainty of not knowing was unbearable at times. It meant I had to trust more in the Lord, than in myself, and I had to choose to follow Him without being able to see exactly where I was going. It meant surrendering my own plans and choosing to accept whatever His may be.
It was during seasons like this that I had to pray daily, "Lord, whatever the next step is, I will choose to trust you and to take that step as you lead." It was a daily walk of faith, every single day one step at a time. When my future is uncertain, I can be certain that God will come through for me because He is always good, and He is always faithful.
"For I know the plans I have for you, says the Lord…" If you're anything like me, you know Jeremiah 29:11 by heart. But how about these?
You can make many plans, but the Lord's purpose will prevail (Proverbs 19:21, NLT).
The Lord directs our steps, so why try to understand everything along the way (Proverbs 20:24)?
No human wisdom or understanding or plan can stand against the Lord (Proverbs 21:30, NLT).
While these verses are not saying that planning is a bad thing, they are a reminder that refusing to surrender to the plans God has, is not at all wise. Trying to make things happen in your own life, instead of trusting in the Lord and His good plans is also not wise. We can only see a small fragment of the picture before us, and our plans can change so very quickly. Just think about all the times you've planned to do something only to have those plans changed by the weather.
Unlike our plans, God's aren't affected by the weather. He is immovable and unshakeable. He is all-knowing and all-powerful. He can see the entire picture, the entire portrait of your life, and He doesn't overlook a single detail. God's plans for your life are good because He is good. No matter what comes your way, God knows about it, and He will faithfully walk alongside you, regardless of what you walk through. He works all things out for your good because He loves you.
Father God, I recognize that your plans are far better than anything I could come up with. Lord, I can trust You to come through for me because You can see the full picture. I believe that You love me and will take care of me. Give me the strength to surrender my plans for the good plans You have for me. Lord, You direct my steps, help me to follow Your lead, and to glorify and honor you with every step I take. In Jesus' name, I pray, Amen.  
Today's Devotions
Morning
September 14
Job 1:8-11 8Then the LORD said to Satan, "Have you considered my servant Job? There is no one on earth like him; he is blameless and upright, a man who fears God and shuns evil." 9"Does Job fear God for nothing?" Satan replied. 10"Have you not put a hedge around him and his household and everything he has? You have blessed the work of his hands, so that his flocks and herds are spread throughout the land. 11But stretch out your hand and strike everything he has, and he will surely curse you to your face."
Job is the earliest of all the literature in the Bible. The book begins by describing Job as the greatest man of the East, and tells us that he was blameless. We know that all have sinned and fallen short of God's glory, so we should consider this to be a statement relative to his culture. However, God commended him as one of the most righteous men upon the earth.
The scene changes to the halls of heaven. Satan (which means the accuser) had been roaming the earth. God brought up the subject of Job and his righteousness. Satan suggested that it was only because of his abundance of wealth and protection from evil that Job acted in a righteous manner. In other words, his heart was not righteous. He was just never sufficiently tempted. Satan suggested that if God took away Job's possessions, he would commit this unpardonable sin of cursing God, "even curse You to your face." The sin that was most feared in that day was cursing God, even if it were not spoken aloud. Heavenly forces are battling over the souls of men.
We can learn many things from this ancient narrative. God does put a hedge about us. Satan was complaining about that because he is the Destroyer. In the spiritual realms you can be sure your adversary is accusing you before God. He must have permission to destroy the possessions of those under God's care. What assurance this should bring us, knowing that the only time the Adversary can get through that hedge is when God permits it. It will either turn us back to God, or it will bring us to a closer walk with Him. It will testify to the heavenly realms that the fallen angels have made the wrong choice.
Carry Your Cross – Streams in the Desert – September 14
"Whosoever will come after me, let him deny himself, and take up his cross, and follow me" (Mark 8:34).
The cross which my Lord bids me take up and carry may assume different shapes. I may have to content myself with a lowly and narrow sphere, when I feel that I have capacities for much higher work. I may have to go on cultivating year after year, a field which seems to yield me no harvests whatsoever. I may be bidden to cherish kind and loving thoughts about someone who has wronged me–be bidden speak to him tenderly, and take his part against all who oppose him, and crown him with sympathy and succor. I may have to confess my Master amongst those who do not wish to be reminded of Him and His claims. I may be called to "move among my race, and show a glorious morning face," when my heart is breaking.
There are many crosses, and every one of them is sore and heavy. None of them is likely to be sought out by me of my own accord. But never is Jesus so near me as when I lift my cross, and lay it submissively on my shoulder, and give it the welcome of a patient and unmurmuring spirit.
He draws close, to ripen my wisdom, to deepen my peace, to increase my courage, to augment my power to be of use to others, through the very experience which is so grievous and distressing, and then–as I read on the seal of one of those Scottish Covenanters whom Claverhouse imprisoned on the lonely Bass, with the sea surging and sobbing round–I grow under the load.
–Alexander Smellie
"Use your cross as a crutch to help you on, and not as a stumblingblock to cast you down."
"You may others from sadness to gladness beguile,
If you carry your cross with a smile."
Help Is Here
SEPTEMBER 14, 2022
"But you shall receive power when the Holy Spirit has come upon you; and you shall be witnesses to Me in Jerusalem, and in all Judea and Samaria, and to the end of the earth." Acts 1:8 (NKJV)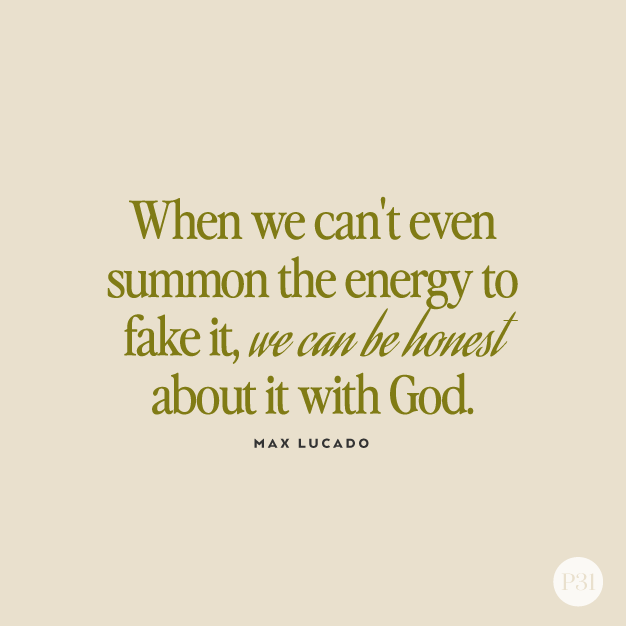 Somewhere in my mid-30s, I ran out of fuel.
While serving churches in Miami, Rio de Janeiro and San Antonio, I resolved to study hard, counsel wisely, solve problems, organize committees and satisfy each cranky member.
But after three or four years, I lost my energy. Suddenly, I could not sleep. How does a person lose the ability to sleep? When my head hit the pillow, my mind would race. I thought of members to be called, decisions to be made. On more than one Sunday morning, I stood before the church having had little, if any, sleep. I was desperate.
In those late-night hours while I was still awake, I would climb out of bed, pad down the stairs, kneel at our couch and pray. What a dejected figure I was. Not Max the pastor. Not Max the church leader. That fellow in the crumpled pajamas was Max the depleted, confused disciple.
My prayers were moans. My faith was a frazzled thread. I couldn't even summon the energy to fake it. I was honest. Honest to God, I was. Turns out God has a soft spot for an honest prayer.
Little by little I began to sense the Spirit. He led with a kind touch. He wooed with a whisper. Mysterious? By all means. But figment of my imagination? No. Not at all.
I requested strength. He gave it. I asked the Spirit to heal the sick. More than once, He did. I prayed for vitality and joy. Both returned.
Why? Because the Holy Spirit comes with power.
Jesus told His disciples, "But you shall receive power when the Holy Spirit has come upon you; and you shall be witnesses to Me in Jerusalem, and in all Judea and Samaria, and to the end of the earth" (Acts 1:8).
Mark it down. Power. Power to make good choices, keep promises, and silence the inner voices of fear and failure. Power to get out of bed, get on with life, get busy about the right things in the right way. Power to face the unexpected, unwanted passages of time. This is what Jesus promised then, and this is what Jesus promises still.
How is your power level?
Maybe today you find yourself lacking energy, enthusiasm or strength. Your step has lost its spring; your voice has no song. You want to be a joyful, empowered person, but you are weary from life's chaos.
Friend, I want to encourage you that the Spirit of God longs to give you His great power. He will guide, teach and energize you. He will shoulder the burdens you were never intended to carry.
Help is here.