Soften a Hardened Heart
Have you ever taken a class, and had a tough time understanding the concepts? In high school, many years ago, I took an algebra class. I worked hard but could not understand a lot of the information. I just did not get it. I developed a hard heart towards algebra. I finally dropped the class. And regrettably, I developed an apathetic attitude toward the teacher as well.
In Mark 6, the disciples took part in the feeding of thousands. They announced to Jesus that they only had five loaves and two fish. However, after they fed everyone, they took up twelve baskets full of fragments of the loaves and fish.
Later, in the early morning hours, they saw Him walking on the water. The Scriptures say they were amazed seeing him walking on the water, but they did not understand about the loaves. And their hearts were hardened. Clearly, they also did not understand what was happening when He walked on the water. Jesus was teaching them who He is—one miracle after the other, but they just did not get it and their hearts were hardened.
They all ate and were satisfied. And the disciples picked up twelve full baskets of the broken pieces [of the loaves], and of the fish (Mark 6:42-43 AMP).

But when they saw Him walking on the sea, they thought it was a ghost, and cried out [in horror]; for they all saw Him and were shaken and terrified. But He immediately spoke with them and said, "Take courage! It is I (I AM)! Stop being afraid" (Mark 6:49-50).

because they had not understood [the miracle of] the loaves [how it revealed the power and deity of Jesus]; but [in fact] their heart was hardened [being oblivious and indifferent to His amazing works] (Mark 6:52).
Thankfully, we know that Jesus continued to teach and show them who He is and what He is capable of. The disciples persevered and did not give up, because we know they performed their own miracles, raising the dead, healing the sick, and many other miraculous acts told in the book of Acts.
Initially, I did not get why their hearts were hardened since they were major participants in the miracle of feeding the thousands. However, God reminded me of the hard heart that I developed towards algebra.
Eventually, I took the algebra class again in summer school and persevered and I got it. I got an "A" in the class, and I developed a love for algebra and math. The teacher was so incredible, she made it so easy to understand. My hard heart was gone.
When we witness a miraculous event, and we don't get it, God eventually opens our understanding and reveals His good purposes to us. Then we realize it is a God thing. His hand was in it all the time. It is revelation knowledge. We become delighted because God has softened our hearts.
And with all your acquiring, get understanding [actively seek spiritual discernment, mature comprehension, and logical interpretation] (Proverbs 4:7).
Father, I pray that our eyes are opened to understand and see Your miracles. When we cannot understand or grasp what You are teaching us, help us continue to persevere until we get understanding and revelation. I pray that our hearts will not become hardened, and You will continuously show us more of Your hand at work until we get it. Lord, show us miracles that we missed, so we can look back with an understanding heart and say that was God's miracle-working power.
God Will Hold You
FEBRUARY 28, 2023
"For I am the LORD your God who takes hold of your right hand and says to you, Do not fear; I will help you." Isaiah‬ 41‬:13‬ (NIV)‬‬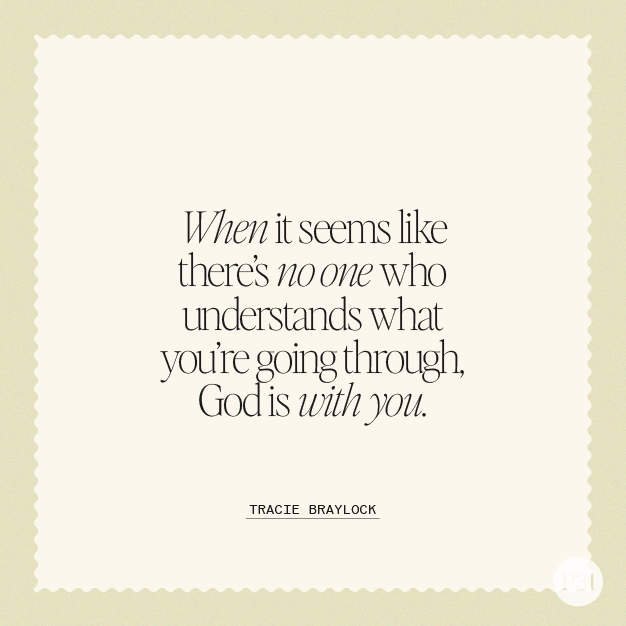 \
She came into the hospital for a major operation that involved multiple surgeons and skill sets. When I entered her room, she was alone, yet she seemed so calm and at ease.
As the operating-room nurse who would care for her during her surgery, I grabbed her hand, and she smiled up at me from the stretcher. Maybe it was a strong desire for relief that made her appear undisturbed about what was to come, or maybe she was this serene every day, but I found myself in awe of her bravery.
This woman was from another country, and we could not speak each other's languages. What she was facing was very serious, and she was surrounded by people she couldn't even communicate with.
Later, as I watched her complicated operation unfold, I knew that even if we had spoken the same language, there were no words I could have offered her. All I could do was hold her hand and pray.
My friend, you might be struggling right now with what appears to be a monumental obstacle. It might seem like no matter how many people you've encountered, no one can even offer up words to guide you through. You may feel like you alone are face to face with your pain.
But I want to remind you of what Isaiah 41:13 says: "For I am the LORD your God who takes hold of your right hand and says to you, Do not fear; I will help you."
In the midst of your struggle and suffering, remember God is with you. He is holding your hand and reminding you not to fear. He will indeed help you.
You are not alone in this life or your situation. And even when it seems like there's no one around who you can communicate with, no one who understands what you're going through, God is with you. He cares, and He understands.
No diagnosis, divorce, disappointment or defeat is too big for Him to handle, so "let us then approach God's throne of grace with confidence, so that we may receive mercy and find grace to help us in our time of need" (Hebrews 4:16, NIV). We can surrender our burdens, our stress and our worry to God today.
And after we've made it through these life-altering situations, looking on with awe at all we've survived, we can be sure to give God the glory for all He's held us through.
A Prayer for the Grieving

By Emily Rose Massey, Crosswalk.com
"But we do not want you to be uninformed, brothers, about those who are asleep, that you may not grieve as others do who have no hope. 14 For since we believe that Jesus died and rose again, even so, through Jesus, God will bring with him those who have fallen asleep" (1 Thessalonians 4:13-14, ESV).
Several years ago, I watched my husband, his parents, and my sister-in-law experience the deepest pain imaginable – pain so difficult that it physically hurt. The night my husband, Paul, received the news that his brother was in a tragic drowning accident, I held him as we both cried, huddled on the couch. He kept grabbing his chest and saying, "I miss him so much. This hurts so bad." Each day after that moment, we continued to put one foot in front of the other as we walked through the pain with Jesus, trusting that He would continue to heal our broken hearts and believing we will see our precious brother (who was also a believer) again in heaven someday.
Not only did I sense the nearness of God after we lost our dear brother, but the scriptures flooded my heart with hope. This passage from 1 Thessalonians reminded me to keep my mind fixed on eternity:
"But we do not want you to be uninformed, brothers, about those who are asleep, that you may not grieve as others do who have no hope. For since we believe that Jesus died and rose again, even so, through Jesus, God will bring with him those who have fallen asleep" (1 Thessalonians 4:13-14, ESV).
What a beautiful reminder to all who might be experiencing pain and grief right now! We may feel pain and sorrow, but that does not mean we have no hope! Our life is only a vapor (James 4:14); this place is not our home. We have a promise that one day every tear will be wiped away, and pain will be no more (Revelation 21:4).
The Bible is full of truth about eternity and wisdom on how we should live our lives while we are still here on earth. Jesus doesn't promise that we will escape pain here on earth, but He does promise that He will be with us always (Matthew 28:20).
In your pain and sorrow, cry to the Lord and walk with the Holy Spirit. Allow Him to bring you true comfort and peace while guiding you into truth about the Kingdom to come. Soon and very soon, we will be with Him forever where His perfect love will be all we ever experience. Until then, keep drawing near to Him and He will faithfully draw near to you, just as His Word promises us.
Today's Devotions
Morning
February 28
Leviticus 19:18 18"'Do not seek revenge or bear a grudge against one of your people, but love your neighbor as yourself. I am the LORD.
Love…keeps no record of wrongs. 1Corinthians 13:4 Jesus said that this was one of the Laws that summed up all the others (Matthew 22:39,40). I'll bet when you read that verse, the 'bear a grudge' part pricked your heart, or at least provoked a memory. We seem so ready to be offended in this day and age. Jesus warned us that this would be true (Matthew 24:12).
We have lauded self-esteem but forgotten to warn of pride. Pride sets itself above others and demands that others give us respect and honor. If we hear a word spoken against us, we readily forget all the words we have spoken against others and excommunicate that person from our love and grace. In the worst cases we play the offense over and over in our minds until it festers and becomes an infection in our memories. Just the passing thought of it brings pain.
Believe it or not, the cause of all that is self, not the one who offended you. If we esteem others better than ourselves, we will examine their words to see if there is truth in them. If there is, we will apologize and adjust our life. If there is not, we will give those words to God and go on loving that person. How many times have we offended God? Does He harbor each offense and remind you of them every time you want to pray? Jesus said (paraphrase) that God will treat you as you treat others. It sounds like we had better be very generous in our forgiveness!