A Blind Man Receives His Sight
35 Then it happened, as He was coming near Jericho, that a certain blind man sat by the road begging. 36 And hearing a multitude passing by, he asked what it meant. 37 So they told him that Jesus of Nazareth was passing by. 38 And he cried out, saying, "Jesus, Son of David, have mercy on me!"
39 Then those who went before warned him that he should be quiet; but he cried out all the more, "Son of David, have mercy on me!"
40 So Jesus stood still and commanded him to be brought to Him. And when he had come near, He asked him, 41 saying, "What do you want Me to do for you?"
He said, "Lord, that I may receive my sight."
42 Then Jesus said to him, "Receive your sight; your faith has made you well." 43 And immediately he received his sight, and followed Him, glorifying God. And all the people, when they saw it, gave praise to God.
A Blind Man's Plea
From: Our Daily Bread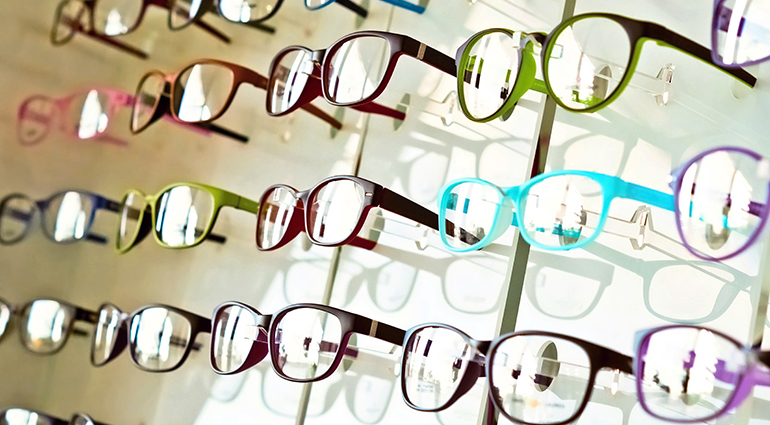 Some years ago a traveling companion noticed I was straining to see objects at a distance. What he did next was simple but life changing. He took off his glasses and said, "Try these." When I put his glasses on, surprisingly my blurred vision cleared up. Eventually I went to an optometrist who prescribed glasses to correct my vision problem.
Today's reading in Luke 18 features a man with no vision at all, and living in total darkness had forced him to beg for a living. News about Jesus, the popular teacher and miracle worker, had reached the blind beggar's ears. So when Jesus's travel route took Him by where the blind man was sitting, hope was ignited in his heart. "Jesus, Son of David, have mercy on me!" (v. 38) he called. Though without sight physically, the man possessed spiritual insight into Jesus's true identity and faith in Him to meet his need. Compelled by this faith, "He shouted all the more, 'Son of David, have mercy on me!'" (v. 39). The result? His blindness was banished, and he went from begging for his living to blessing God because he could see (v. 43).
In moments or seasons of darkness, where do you turn? Upon what or to whom do you call? Eyeglass prescriptions help improve vision, but it's the merciful touch of Jesus, God's Son, that brings people from spiritual darkness to light.
Father, open the eyes of my heart to clearly see who Jesus is and what He can do.
The Father's delight is to give sight to those who ask Him.
My assurance is to be built upon God's assurance to me. God says, "I will never leave you," so that then I "may boldly say, 'The Lord is my helper; I will not fear' " (Hebrews 13:5-6). In other words, I will not be obsessed with apprehension. This does not mean that I will not be tempted to fear, but I will remember God's words of assurance. I will be full of courage, like a child who strives to reach the standard his father has set for him. The faith of many people begins to falter when apprehensions enter their thinking, and they forget the meaning of God's assurance— they forget to take a deep spiritual breath. The only way to remove the fear from our lives is to listen to God's assurance to us.
What are you fearing? Whatever it may be, you are not a coward about it— you are determined to face it, yet you still have a feeling of fear. When it seems that there is nothing and no one to help you, say to yourself, "But 'The Lord is my helper' this very moment, even in my present circumstance." Are you learning to listen to God before you speak, or are you saying things and then trying to make God's Word fit what you have said? Take hold of the Father's assurance, and then say with strong courage, "I will not fear." It does not matter what evil or wrong may be in our way, because "He Himself has said, 'I will never leave you….' "
Human frailty is another thing that gets between God's words of assurance and our own words and thoughts. When we realize how feeble we are in facing difficulties, the difficulties become like giants, we become like grasshoppers, and God seems to be nonexistent. But remember God's assurance to us— "I will never…forsake you." Have we learned to sing after hearing God's keynote? Are we continually filled with enough courage to say, "The Lord is my helper," or are we yielding to fear?
Three Secrets to Finding Happiness
By: Janet Perez Eckles, Author
"Will happiness ever come?" I asked myself during sleepless nights. What is happiness, anyway?
That emotion made sense for others, but not for me. My world had turned dark. Blindness set in at age 31 and happiness was lost. Lost back in my days as a sighted person. Now, only gloom awaited me.
But how wrong I was. The journey from devastation to deep joy wasn't easy nor fast, but doable. A reminder of that transition, that profound transformation, was stirred during my recent trip to Mexico.
The airport escort guided me as we entered the airplane. The flight attendant handed immigration forms to passengers. "One per family please."
I sat by the window and after all initial announcements ended I pressed the light to call for assistance.
"Could you please help me fill this out?" I asked the flight attendant who came to the seat.
"Sure. Come with me."
I gathered my stuff and followed him to the front of the airplane.
"You can sit here," he said.
I settled in the seat, spacious and comfortable. I stretched out my legs, plenty of room. We finished the form and he asked if I wanted to stay in that seat. I was in first class. "Are you kidding?" I said with a silly grin, "Sure, would love that."
I made myself comfortable and began to compare. Rather than getting the medicine-size cup of water I would get in the other section of the plane, I got a fresh, cold bottle of water. Rather than the tiny bag of peanuts, I got my choice of appetizers. The trip was, well, unexpectedly delightful.
I had made that same transition after I lost my sight. I had been taking tiny doses of happiness—in relationships, vacations, shopping, activities and superficial pass-times. I thought that was how one finds happiness.
But joy was different. When God offered me a seat in the VIP section of His love, I accepted. And the trip through life turned better.
Painful turbulence came, but His power calmed my heart. With Him as my pilot, guiding my life, momentary, superficial activities masked as happiness belonged in the coach section. Now a sweet, lasting, deep joy danced in my life.
He offers you the very same. He has a seat reserved just for you. And if you desire to leave behind the search to find happiness and instead relish in joy, complete joy that shines through your days, here are three steps we can all follow:
1. Change our perception. Recognize we don't find happiness. We create it. We craft it by turning the key to unlock our heart and receive the joy God offers. His desire is that we live in complete joy. When happy moments, happy relationships, and happy results come to an end, joy remains.

2. Celebrate the promise God gave. During tough moments, painful stages, it's not our strength, but His power that lifts us up and carries us through. Relying in that guarantee is what revives joy once again.

3. Call upon Him when sadness, gloom or fear draws near. Calling the powerful name of Jesus silences destructive thoughts of self-pity, loneliness, and discouragement. With them out of the way, joy will glow again.
Happiness ends in time. Joy lasts as long as God's love. He promised: "As the Father has loved me, so have I loved you. Now remain in my love. If you obey My commands, you will remain in My love, just as I have obeyed My Father's commands and remain in His love. I have told you this so that My joy may be in you and that your joy may be complete" (John 15:9-11).
Father, not human happiness, but your joy is what my soul hungers for. Thank you for the promise, thank you for the joy that fills my days no matter what comes my way. In Jesus' name, amen.