Jesus may have felt abandoned on the cross. But the worst thing of all is to be abandoned by God at the judgment. Pray that no one has that horrible outcome.
Then I saw a great white throne and him who was seated on it. From his presence earth and sky fled away, and no place was found for them. And I saw the dead, great and small, standing before the throne, and books were opened. Then another book was opened, which is the book of life. And the dead were judged by what was written in the books, according to what they had done. And the sea gave up the dead who were in it, Death and Hades gave up the dead who were in them, and they were judged, each one of them, according to what they had done. Then Death and Hades were thrown into the lake of fire. This is the second death, the lake of fire. And if anyone's name was not found written in the book of life, he was thrown into the lake of fire
Abandoned
From: Get More Strength
"When the woman saw that the fruit of the tree was good for food and pleasing to the eye, and also desirable for gaining wisdom, she took some and ate it. She also gave some to her husband, who was with her, and he ate it." Genesis 3:6
If you were ever a freshman in college, you may remember how cool you felt if an upperclassman showed some interest in you.
T. J. Evans lived across the hall from me my freshman year. He was a self-assured upperclassman with that I've-got-it-all-together swagger in his walk. It didn't take long to realize that he was a big man on campus. So you can imagine how flattering it felt when he took an interest in the freshmen on our floor.
Well, take an interest in us he did. But we were soon to find out that he had a sinister agenda up his sleeve. After curfew, he would hang out with us and suggest brilliant pranks that we could pull off under the cover of darkness. He'd help us design the strategy and off we'd go, only to get caught and find ourselves in a lot of trouble. When we got caught, we always noticed that T. J. was nowhere to be seen. He had sent us off and stayed in his room taking great delight in seeing us freshmen end up in a heap of trouble. In retrospect, I can't believe we let him do that to us—not just once but we were dumb enough to have it happen a lot! It's the old, "Fool me once, shame on you; Fool me twice, shame on me!" routine.
When I think about it, T. J.'s delight in getting us in trouble is not much different than Satan's interest in you and your life. He comes along with nifty schemes that look like fun—things he assures will make you happy, fulfilled, and satisfied. When someone hurts you, he has an I don't get mad, I just get even strategy that makes you feel really good about not being taken advantage of. Instant trips into pleasure-land and debt-increasing spending sprees offer quick kicks of adrenalin. If you have a need, if you have a desire—believe me, he has a plan! But when you execute his strategy, he'll be nowhere to be found. He won't be there to deliver on his promise that you will be happy and fulfilled. He won't even have the decency to help you pick up the pieces and to apologize for messing up your life. In fact, all the time he had a sinister agenda up his sleeve! He loves to see our lives complicated with shame, guilt, and regret. He is the master of ruined lives. As Peter warns us, he's on the prowl looking for someone he can devour (1 Peter 5:8
)!
We should have known. When he lured Adam and Eve with an offer they found hard to refuse, he didn't stay around to make good on his promise but slithered off leaving them fearful, ashamed, and full of regret. And that strategy was so good that he continues to find it useful in your life and mine thousands of years later.
Peter Berger said it well when he wrote:
He who sups with the devil had better have a long spoon, because he who sups with the devil will find that his spoon gets shorter and shorter until that last supper in which he is left alone at the table with no spoon at all and an empty plate. But the devil, one may guess, will have then gone on to more interesting company.

Fool us once, shame on Satan! Fool us twice, shame on us!
Always Listening
From: Our Daily Bread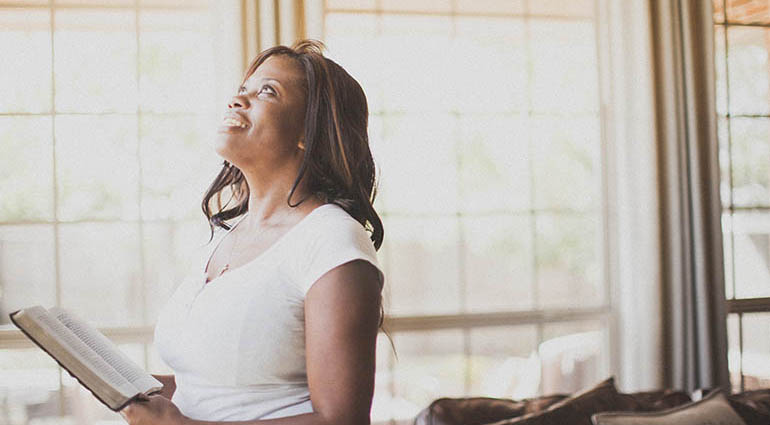 The Lord is near to all who call on him, to all who call on him in truth. Psalm 145:18
Dad was a man of few words. He had hearing damage due to years of military duty and wore hearing aids. One afternoon when Mom and I were talking a little longer than he thought necessary, he responded playfully, "Whenever I want peace and quiet, all I have to do is this." Lifting both hands in a single motion, he turned off both hearing aids, folded his hands behind his head and closed his eyes in a serene smile.
We laughed. As far as he was concerned, the conversation was over!
My father's actions that day remind me how different God is from us. He always wants to hear His children. This is underscored by one of the shortest prayers in the Bible. One day Nehemiah, a servant to King Artaxerxes of Persia, was visibly sad in the king's presence. Fearful when the king asked him why, Nehemiah confessed it was because Jerusalem, the conquered city of his ancestors, lay in ruins. Nehemiah recounts, "The king said to me, 'What is it you want?' Then I prayed to the God of heaven, and I answered the king…" (Neh. 2:4–5, italics added).
Nehemiah's prayer lasted only a moment, but God heard it. It set in motion God's merciful response to the many prayers Nehemiah had already offered for Jerusalem. In that moment, Artaxerxes granted Nehemiah's request to rebuild the city.
Isn't it comforting to know that God cares enough to listen to all of our prayers—from the shortest to the longest?
Thank You, loving Father, for blessing me with the beautiful privilege and opportunity of prayer.
Our God is big enough to hear the smallest voice.
Songs Before Dawn
From: Our Daily Journey
While spending a few days in the great outdoors, a bird woke me up one morning before dawn. His persistent singing eventually roused the rest of his winged friends, who also sang until the trees teemed with excitement. It was as if the first tweets I heard were a lullaby for the night animals and an alarm clock for the day creatures. One bird appeared to prepare an entire forest for the sun to rise.
The early bird's song reminded me of John the Baptist—"a voice shouting in the wilderness, 'Prepare the way for the Lord's coming!' " (Matthew 3:3). John's off-the-grid life in the Judean wilderness included camel-hair clothing and a diet of bugs and wild honey. His no-nonsense life mirrored his message: "Repent of your sins and turn to God, for the Kingdom of Heaven is near" (Matthew 3:2).
People from Jerusalem, Judea, and the Jordan Valley came to hear God's "mountain man" preach. Hearing led to believing and then baptism in the Jordan River. Eventually, the religious officials learned about John and came to question him. They wanted to know if he was the Messiah. Of course, John told the truth: "I baptize with water . . . . But someone is coming soon who is greater than I am" (Matthew 3:11).
God used John—a humble, unsophisticated person—to wake the world to Jesus' identity as the Messiah (John 1:32-34). Like the bird that heralded the dawn, the prophet announced that the long-expected One was about to arrive on the scene.
Maybe, like John, you value simple living. Maybe you feel as if you don't fit in with those around you. It doesn't take money or style to have passion and purpose. By the work of the Holy Spirit, Jesus provides all you need to sing His song.