We should be ready to fight any enemy that would enslave us.
And we should be ready for our Lord Jesus to return. We should be alert and watchful at all times.
500 × 332 – davidbrin.com
Readiness
From: Utmost.org
When God speaks, many of us are like people in a fog, and we give no answer. Moses' reply to God revealed that he knew where he was and that he was ready. Readiness means having a right relationship to God and having the knowledge of where we are. We are so busy telling God where we would like to go. Yet the man or woman who is ready for God and His work is the one who receives the prize when the summons comes. We wait with the idea that some great opportunity or something sensational will be coming our way, and when it does come we are quick to cry out, "Here I am." Whenever we sense that Jesus Christ is rising up to take authority over some great task, we are there, but we are not ready for some obscure duty.
Readiness for God means that we are prepared to do the smallest thing or the largest thing— it makes no difference. It means we have no choice in what we want to do, but that whatever God's plans may be, we are there and ready. Whenever any duty presents itself, we hear God's voice as our Lord heard His Father's voice, and we are ready for it with the total readiness of our love for Him. Jesus Christ expects to do with us just as His Father did with Him. He can put us wherever He wants, in pleasant duties or in menial ones, because our union with Him is the same as His union with the Father. "…that they may be one just as We are one…" (John 17:22).
Be ready for the sudden surprise visits of God. A ready person never needs to get ready— he is ready. Think of the time we waste trying to get ready once God has called! The burning bush is a symbol of everything that surrounds the person who is ready, and it is on fire with the presence of God Himself.
Enjoy the View
From: Our Daily Bread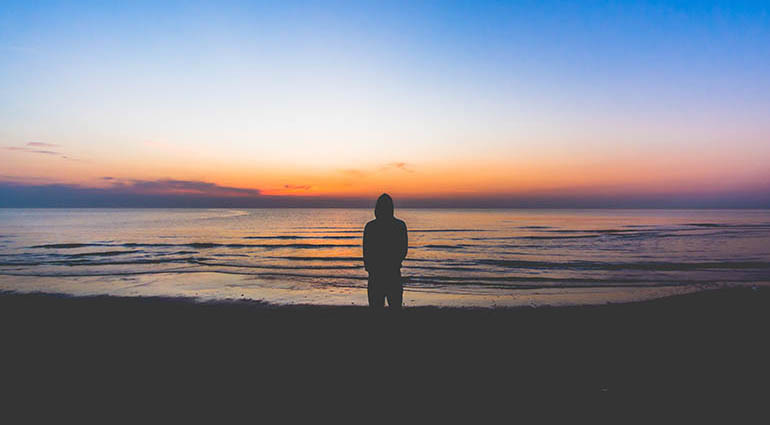 Praise him, sun and moon; praise him, all you shining stars. Psalm 148:3
Sunsets. People tend to stop what they are doing to watch them . . . snap pictures of them . . . enjoy the beautiful view.
My wife and I watched the sun setting over the Gulf of Mexico recently. A crowd of people surrounded us, mostly strangers who had gathered at the beach to watch this nightly phenomenon. At the moment the sun fully slipped below the horizon, the crowd broke out with applause.
Why do people respond like that? The book of Psalms offers a clue. The psalmist wrote of God ordering the sun to praise its Creator (Ps. 148:3). And wherever the rays of the sun shine across the earth, people are moved to praise along with them.
The beauty that comes to us through nature speaks to our souls like few things do. It not only has the capacity to stop us in our tracks and captivate our attention, it also has the power to turn our focus to the Maker of beauty itself.
The wonder of God's vast creation can cause us to pause and remember what's truly important. Ultimately, it reminds us that there is a Creator behind the stunning entrance and exit of the day, One who so loved the world He made that He entered it in order to redeem and restore it.
I enjoy the world You have created with its variety and color. You and what You have made are awesome, Lord!
Join God in taking delight in all that He has made.
Lord of the Cosmos
From: Our Daily Jourey
As you read this, the moon is circling the earth at 2,300 miles per hour. Even at that speed, it will take it nearly a month to make a full rotation. Meanwhile, despite circling the sun at 66,000 miles per hour, the earth will take a whole year to make one orbit. And our sun is just one of 200 million other suns spinning around the Milky Way at 483,000 miles per hour—a speed which necessitates 225 million years to circle around once. And the Milky Way is but one of 100 billion other galaxies shooting through space at over 1 million miles an hour. The universe is immense!
In Scripture, the vastness of the universe is said to reflect God's own grandeur. It is He who stretched out the stars of heaven, covered the earth with the seas, and made the mountains rise (Psalm 104:1-9). "Through everything God made," Paul says, "[we] can clearly see his invisible qualities—his eternal power and divine nature" (Romans 1:20). Modern telescopes help us see God's power and divinity—not just in our earth and sky, but in faraway galaxies too.
Paul knew nothing of the universe being 100 billion galaxies large, but consider these inspired words he wrote about Jesus. "He made the things we can see and the things we can't see" (Colossians 1:16)—including not only "kingdoms, rulers, and authorities in the unseen world," but everything in the cosmos. All those luminous galaxies were made by and for the divine Creator Jesus, and He holds them all together in His hands (Colossians 1:17).
This is mind-boggling! The One who walked this earth two millennia ago is the same One who keeps the galaxies spinning like carousels. Jesus isn't just the Lord of you or me. He's the Lord of the cosmos.