7) Psalm 100:4
"Enter his gates with thanksgiving and his courts with praise; give thanks to him and praise his name."
8) Jeremiah 30:19
"From them will come songs of thanksgiving and the sound of rejoicing. I will add to their numbers, and they will not be decreased; I will bring them honor, and they will not be disdained."
9) 1 Corinthians 1:4
"I always thank my God for you because of his grace given you in Christ Jesus."
10) 1 Corinthians 10:16
"Is not the cup of thanksgiving for which we give thanks a participation in the blood of Christ? And is not the bread that we break a participation in the body of Christ?"
11) 2 Corinthians 4:15
"All this is for your benefit, so that the grace that is reaching more and more people may cause thanksgiving to overflow to the glory of God."
Grateful for Everything
From: Our Daily Bread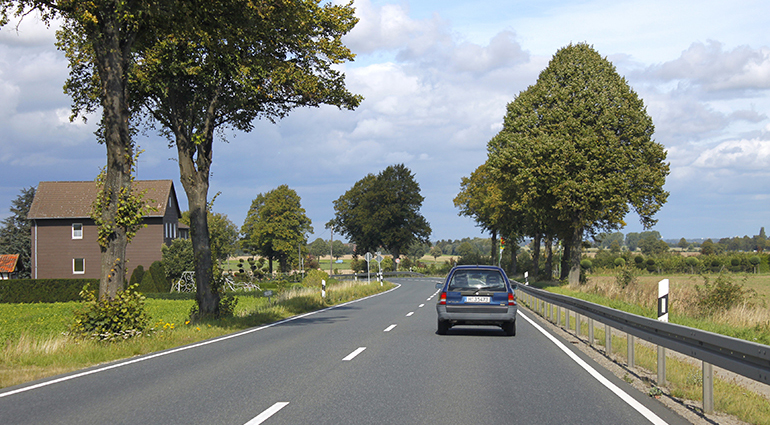 When you have eaten and are satisfied, praise the Lord your God for the good land he has given you. Deuteronomy 8:10
In Australia, it can take hours to drive between towns and fatigue can lead to accidents. So at busy holiday times rest stops are set up on major highways with volunteers offering free coffee. My wife, Merryn, and I grew to enjoy these stops during our long drives there.
On one trip, we pulled in and walked over to order our coffee. An attendant handed the two cups over, and then asked me for two dollars. I asked why. She pointed to the small print on the sign. At this stop, only the driver got free coffee; you had to pay for passengers. Annoyed, I told her this was false advertising, paid the two dollars, and walked off. Back at the car, Merryn pointed out my error: I had turned a gift into an entitlement and become ungrateful for what I received. She was right.
When the Israelites were about to enter the Promised Land, Moses urged them to be a grateful people (Deut. 8:10). Thanks to the blessings of God, the land was abundant, but they could easily treat this prosperity as something they deserved (vv. 17–18). From this, the Jews developed a practice of giving thanks for every meal, no matter how small. For them, it was all a gift.
I went back to the woman and apologized. A free cup of coffee was a gift I didn't deserve—and something for which to be thankful.
Blessed are You, O Lord our God, King of the universe, who brings forth bread from the earth. A Jewish thanksgiving prayer for meals
Be grateful to God for even the smallest gift.
The Theology of Resting in God
When we are afraid, the least we can do is pray to God. But our Lord has a right to expect that those who name His name have an underlying confidence in Him. God expects His children to be so confident in Him that in any crisis they are the ones who are reliable. Yet our trust is only in God up to a certain point, then we turn back to the elementary panic-stricken prayers of those people who do not even know God. We come to our wits' end, showing that we don't have even the slightest amount of confidence in Him or in His sovereign control of the world. To us He seems to be asleep, and we can see nothing but giant, breaking waves on the sea ahead of us.
"…O you of little faith!" What a stinging pain must have shot through the disciples as they surely thought to themselves, "We missed the mark again!" And what a sharp pain will go through us when we suddenly realize that we could have produced complete and utter joy in the heart of Jesus by remaining absolutely confident in Him, in spite of what we were facing.
There are times when there is no storm or crisis in our lives, and we do all that is humanly possible. But it is when a crisis arises that we instantly reveal upon whom we rely. If we have been learning to worship God and to place our trust in Him, the crisis will reveal that we can go to the point of breaking, yet without breaking our confidence in Him.
We have been talking quite a lot about sanctification, but what will be the result in our lives? It will be expressed in our lives as a peaceful resting in God, which means a total oneness with Him. And this oneness will make us not only blameless in His sight, but also a profound joy to Him.
Lay It before God as His Will
From: CBN, and author Carla G. Pollard
As I opened the cabinet doors my eyes fell on the glassware my mother had accumulated over the years. It was an eclectic mix of both modern and antique. I recognized everyday pieces that functioned well and held up under routine use, but behind those pieces sat some extremely fragile glassware that at one time donned the shelves of my grandmother's home.
My mother had died and I was left to sort through her things. I dreaded this day. I was hoping somehow it would take care of itself. As I stood in her kitchen my mind's echo of the sound of her footsteps on the hardwood floor promised to bring her whisking back into the room. But it was not to be.
Memories rushed in as I sorted the glassware, discarding what I considered of little value and keeping the more sentimental and priceless pieces. I couldn't help but feel like I was sorting through the remnants of her life. It was hard to face the fact that she wouldn't be coming home, but it was time to move forward. So I sorted and I packed. When I was finished I walked out of an empty apartment, closed the door behind me, and headed off to the local thrift store.
Sometimes God brings us to a place where we need to let go and move forward.
"… Forgetting what is behind and straining toward what is ahead, I press on toward the goal to win the prize for which God has called me heavenward in Christ Jesus" Philippians 3:13b-14 NIV.
Sometimes we need to accept the fact that things have changed and our will may be at odds with His.
"Do not conform to the pattern of this world, but be transformed by the renewing of your mind. Then you will be able to test and approve what God's will is—his good, pleasing and perfect will" Romans 12:2 NIV.
Just like I packed up even the most fragile of my mother's belongings and took them to the thrift store, we need to pack up our most fragile dreams and desires and take them to our Heavenly Father, always keeping in mind He desires the very best for us.
Holding on to my mother's things could never bring her home. She was in the presence of Jesus, healed and whole. God's will was for her to go even though I desired for her to stay.
Points to Ponder
Are you holding on to something that's keeping you from accepting God's will?
Has He brought you to the place where you need to pack up your desires and embrace His?
Is Jesus asking you to lay them at His feet so that He can move you from your past toward your purpose?
If so, then Dear One, take it to Jesus once and for all; He has a wonderful future in store for His children.
Prayer
Dear Lord, Help me place those hard-to-let-go-of desires in your loving hands. Forgive me for stubbornly wanting what I want and not releasing my will to yours. Thank you for allowing me to realize your desires are always better than mine. In Jesus' Name, Amen.