4 Hear, O Israel: The 

Lord

 our God, the 

Lord

 is one.[a] 5 Love the 

Lord 

your God with all your heart and with all your soul and with all your strength. 6 These commandments that I give you today are to be on your hearts. 7 Impress them on your children. Talk about them when you sit at home and when you walk along the road, when you lie down and when you get up. 8 Tie them as symbols on your hands and bind them on your foreheads. 9 Write them on the door frames of your houses and on your gates.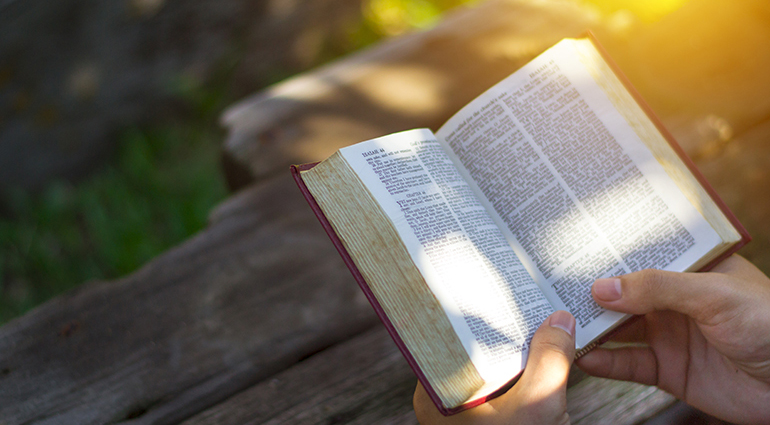 Tie them as symbols on your hands and bind them on your foreheads. Deuteronomy 6:8
My mile-long walk home from dropping off my daughter at her school gives me the opportunity to memorize some verses from the Bible—if I'm intentional about doing so. When I take those minutes to turn over God's Word in my mind, I often find them coming back to me later in the day, bringing me comfort and wisdom.
When Moses prepared the Israelites to enter the Promised Land, he urged them to hold close to God's commands and decrees (Deuteronomy 6:1–2). Wanting them to flourish, he said they should turn these instructions over in their minds and discuss them with their children (vv. 6–7). He even said to tie them to their wrists and bind them to their foreheads (v. 8). He didn't want them to forget God's instructions to live as people who honored the Lord and enjoyed His blessings.
How might you consider God's words today? One idea is to write out a verse from Scripture, and every time you wash your hands or take a drink, read the words and turn them over in your mind. Or before you go to sleep, consider a short passage from the Bible as the last act of the day. Many are the ways of keeping God's Word close to our hearts!
Lord God, thank You for giving us the Bible, which is a wellspring for life. Help us to read and digest it today.
Surround yourself with God's Word.
Judgment and the Love of God
The Christian servant must never forget that salvation is God's idea, not man's; therefore, it has an unfathomable depth. Salvation is the great thought of God, not an experience. Experience is simply the door through which salvation comes into the conscious level of our life so that we are aware of what has taken place on a much deeper level. Never preach the experience— preach the great thought of God behind the experience. When we preach, we are not simply proclaiming how people can be saved from hell and be made moral and pure; we are conveying good news about God.
In the teachings of Jesus Christ the element of judgment is always brought out— it is the sign of the love of God. Never sympathize with someone who finds it difficult to get to God; God is not to blame. It is not for us to figure out the reason for the difficulty, but only to present the truth of God so that the Spirit of God will reveal what is wrong. The greatest test of the quality of our preaching is whether or not it brings everyone to judgment. When the truth is preached, the Spirit of God brings each person face to face with God Himself.
If Jesus ever commanded us to do something that He was unable to equip us to accomplish, He would be a liar. And if we make our own inability a stumbling block or an excuse not to be obedient, it means that we are telling God that there is something which He has not yet taken into account. Every element of our own self-reliance must be put to death by the power of God. The moment we recognize our complete weakness and our dependence upon Him will be the very moment that the Spirit of God will exhibit His power.
STREAMS IN THE DESERT – MAY 5
When they began to sing and praise, the Lord set ambushs… and they were smitten (2 Chron. 20:22).
Oh, that we could reason less about our troubles, and sing and praise more! There are thousands of things that we wear as shackles which we might use as instruments with music in them, if we only knew how. Those men that ponder, and meditate, and weigh the affairs of life, and study the mysterious developments of God's providence, and wonder why they should be burdened and thwarted and hampered–how different and how much more joyful would be their lives, if, instead of forever indulging in self-revolving and inward thinking, they would take their experiences, day by day, and lift them up, and praise God for them.
We can sing our cares away easier than we can reason them away. Sing in the morning. The birds are the earliest to sing, and birds are more without care than anything else that I know of. Sing at evening. Singing is the last thing that robins do. When they have done their daily work; when they have flown their last flight, and picked up their last morsel of food, then on a topmost twig, they sing one song of praise.
Oh, that we might sing morning and evening, and let song touch song all the way through.
–Selected
Don't let the song go out of your life
Though it chance sometimes to flow
In a minor strain; it will blend again
With the major tone you know.
What though shadows rise to obscure life's skies,
And hide for a time the sun,
The sooner they'll lift and reveal the rift,
If you let the melody run.
Don't let the song go out of your life;
Though the voice may have lost its trill,
Though the tremulous note may die in your throat,
Let it sing in your spirit still.
Don't let the song go out of your life;
Let it ring in the soul while here;
And when you go hence, 'twill follow you thence,
And live on in another sphere.