Acts 12: 6-8
…
6   
On the night before Herod was to bring him to trial, Peter was sleeping between two soldiers,
bound with two chains
, with sentries standing guard at the entrance to the prison.
8   
"Get dressed and put on your sandals," said the angel. Peter did so, and the angel told him, "Wrap your cloak around you and follow me."…
Breaking the Chains
From: Our Daily Bread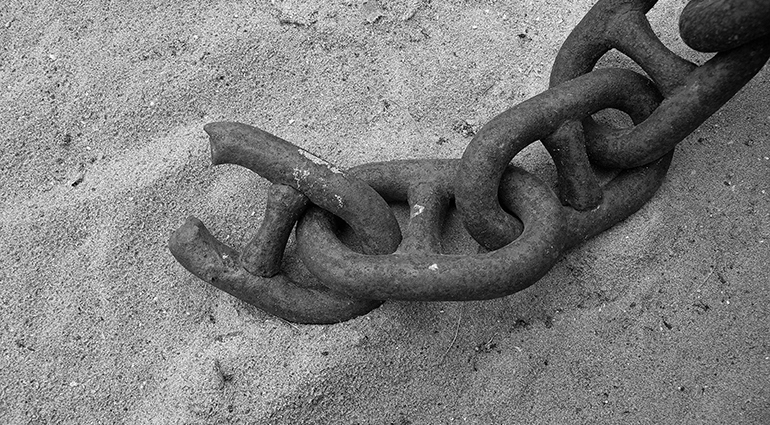 In him we have redemption through his blood, the forgiveness of sins. Ephesians 1:7
We found our visit to Christ Church Cathedral in Stone Town, Zanzibar, deeply moving, for it sits on the site of what was formerly the largest slave market in East Africa. The designers of this cathedral wanted to show through a physical symbol how the gospel breaks the chains of slavery. No longer would the location be a place of evil deeds and horrible atrocities, but of God's embodied grace.
Those who built the cathedral wanted to express how Jesus's death on the cross provides freedom from sin—that which the apostle Paul speaks of in his letter to the church at Ephesus: "In him we have redemption through his blood" (Ephesians 1:7). Here the word redemption points to the Old Testament's notion of the marketplace, with someone buying back a person or item. Jesus buys back a person from a life of slavery to sin and wrongdoing.
In Paul's opening words in this letter (vv. 3–14), he bubbles over with joy at the thought of his freedom in Christ. He points, in layer after layer of praise, to God's work of grace for us through Jesus's death, which sets us free from the cords of sin. No longer do we need to be slaves to sin, for we are set free to live for God and His glory.
Lord God, through the death of Your Son, You have given us life forever. Help me to share this gift of grace with someone today.
Jesus redeems us from the slavery of sin.
Freed for Justice
From: Our Daily Journey
I once heard Ken Wytsma, founder of the Justice Conference, comment on the surprising skepticism many have about whether justice is central to the gospel. He reflected ironically, "The gospel is that unjust people are reconciled to a just God to be a just people . . . but justice isn't related to the gospel?"
Justice is central to the heart of God—the One who "gives justice to the oppressed," "lifts up those who are weighed down," "protects the foreigners," and "cares for the orphans and widows" (Psalm 146:7-9).
In an unjust world, it's often easier to say we love our neighbors than to seek justice for them—which may involve resisting powerful forces and often comes at a high cost. But if our fears prevent us from seeking justice for others, we aren't walking in the freedom and joy that is ours in Jesus. As Paul reminds us in Romans 5, those who "confidently and joyfully look forward to sharing God's glory" (Romans 5:2) should see suffering as an opportunity to grow into people of endurance and character (Romans 5:3-5).
When we live in fear of what others might say or do if we stand up for what's right, in effect we're still living in bondage. As Paul put it starkly, we have two choices: "You can be a slave to sin, which leads to death, or you can choose to obey God, which leads to righteous living" (Romans 6:16).
It's when we fearlessly "use [our] whole body as an instrument to do what is right for the glory of God" (Romans 6:13)—led and strengthened by Him—that we show we're truly walking in the joy and "freedom of [His] grace" (Romans 6:14).
Today, as Nelson Mandela—fearless opponent of apartheid in South Africa—once put it, "May your choices reflect your hopes, not your fears."
Spontaneous Love
Love is not premeditated– it is spontaneous; that is, it bursts forth in extraordinary ways. There is nothing of precise certainty in Paul's description of love. We cannot predetermine our thoughts and actions by saying, "Now I will never think any evil thoughts, and I will believe everything that Jesus would have me to believe." No, the characteristic of love is spontaneity. We don't deliberately set the statements of Jesus before us as our standard, but when His Spirit is having His way with us, we live according to His standard without even realizing it. And when we look back, we are amazed at how unconcerned we have been over our emotions, which is the very evidence that real spontaneous love was there. The nature of everything involved in the life of God in us is only discerned when we have been through it and it is in our past.
The fountains from which love flows are in God, not in us. It is absurd to think that the love of God is naturally in our hearts, as a result of our own nature. His love is there only because it "has been poured out in our hearts by the Holy Spirit…" (Romans 5:5).
If we try to prove to God how much we love Him, it is a sure sign that we really don't love Him. The evidence of our love for Him is the absolute spontaneity of our love, which flows naturally from His nature within us. And when we look back, we will not be able to determine why we did certain things, but we can know that we did them according to the spontaneous nature of His love in us. The life of God exhibits itself in this spontaneous way because the fountains of His love are in the Holy Spirit.