Being angry with God and having a bad attitude hurts you not God.
Deuteronomy 6:5-7
5 Love the Lord your God with all your heart and with all your soul and with all your strength. 6 These commandments that I give you today are to be on your hearts. 7 Impress them on your children. Talk about them when you sit at home and when you walk along the road, when you lie down and when you get up.
 
Don't Hurt the Lord
From: Utmost.org
Our Lord must be repeatedly astounded at us— astounded at how "un-simple" we are. It is our own opinions that make us dense and slow to understand, but when we are simple we are never dense; we have discernment all the time. Philip expected the future revelation of a tremendous mystery, but not in Jesus, the Person he thought he already knew. The mystery of God is not in what is going to be— it is now, though we look for it to be revealed in the future in some overwhelming, momentous event. We have no reluctance to obey Jesus, but it is highly probable that we are hurting Him by what we ask— "Lord, show us the Father…" (John 14:8). His response immediately comes back to us as He says, "Can't you see Him? He is always right here or He is nowhere to be found." We look for God to exhibit Himself to His children, but God only exhibits Himself in His children. And while others see the evidence, the child of God does not. We want to be fully aware of what God is doing in us, but we cannot have complete awareness and expect to remain reasonable or balanced in our expectations of Him. If all we are asking God to give us is experiences, and the awareness of those experiences is blocking our way, we hurt the Lord. The very questions we ask hurt Jesus, because they are not the questions of a child.
"Let not your heart be troubled…" (14:1, 27). Am I then hurting Jesus by allowing my heart to be troubled? If I believe in Jesus and His attributes, am I living up to my belief? Am I allowing anything to disturb my heart, or am I allowing any questions to come in which are unsound or unbalanced? I have to get to the point of the absolute and unquestionable relationship that takes everything exactly as it comes from Him. God never guides us at some time in the future, but always here and now. Realize that the Lord is here now, and the freedom you receive is immediate.
The Gift of Giving
From: Our Daily Bread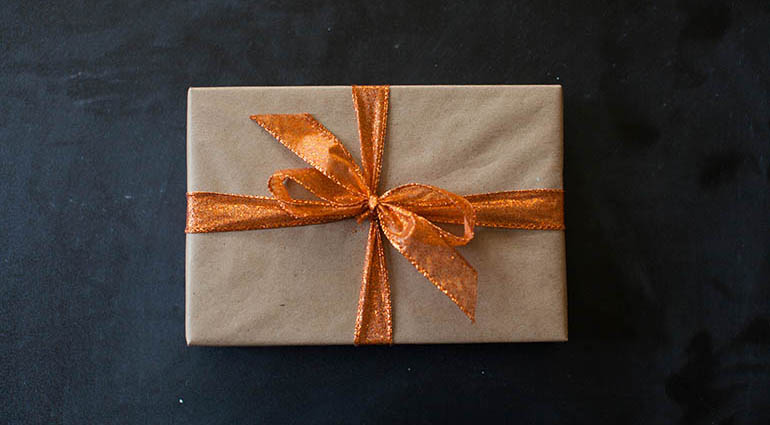 Each of you should give what you have decided in your heart to give, not reluctantly or under compulsion. 2 Corinthians 9:7
A pastor breathed life into the phrase "He'd give you the shirt off his back" when he gave this unsettling challenge to his church: "What would happen if we took the coats off our backs and gave them to the needy?" Then he took his own coat and laid it at the front of the church. Dozens of others followed his example. This was during the winter, so the trip home was less comfortable that day. But for dozens of people in need, the season warmed up just a bit.
When John the Baptist roamed the Judean wilderness, he had a stern warning for the crowd that came to hear him. "You brood of vipers!" he said. "Produce fruit in keeping with repentance" (Luke 3:7–8). Startled, they asked him, "What should we do then?" He responded with this advice: "Anyone who has two shirts should share with the one who has none, and anyone who has food should do the same" (vv. 10–11). True repentance produces a generous heart.
Because "God loves a person who gives cheerfully" (nlt), giving should never be guilt-based or pressured (2 Cor. 9:7). But when we give freely and generously, we find that it truly is more blessed to give than to receive.
Lord, thank You for the many ways You bless us. Forgive us for so often taking Your goodness for granted. Show us what we have that we might use to bless someone else today.
Whoever refreshes others will be refreshed. Proverbs 11:25
Uber Conversations
From: Our Daily Journey
Jasper Fu drives two hours a day for Uber, an app-based taxi service. He doesn't do it for the money, since he already has a fulltime job. He says he does it because it's a good way to "talk to people." Chinese culture encourages quiet restraint, so it can seem inappropriate to walk up to a stranger and start a conversation. It's different when you're picking them up in your car. Jasper says, "Under no other circumstance can I find a stranger to talk with me for like 10 to 20 minutes."
Jasper isn't alone in his desire to connect with others. A lot of us long to matter to someone, and we receive little help from our culture. If an evil villain wanted to make sure we have as little human contact as possible, this is the society he would have created. We're separated by houses with backyards but no front porches. We're separated by cars, in which we travel alone. We buy groceries, pump gas, and withdraw money from our bank—all without making eye contact with others. We're separated by technology. In our free time we scroll and text alone.
In our isolation we might feel like David crying out from his cave, "No one gives me a passing thought! No one will help me; no one cares a bit what happens to me" (Psalm 142:4). But we won't go down without a fight, for we know it's not good for us "to be alone" (Genesis 2:18).
Since our triune God created us for relationship, may we follow Jasper's lead and find ways to foster friendship. We can text our friends to meet up face-to-face. We can bring cookies next door to share with neighbors. And we can view unexpected visits not as interruptions, but opportunities to reflect the relational nature of our loving God who never leaves us nor forsakes us.