The Parable of the Lost Sheep
15 Now the tax collectors and sinners were all gathering around to hear Jesus.
 2 But the Pharisees and the teachers of the law muttered, "This man welcomes sinners and eats with them."
3 Then Jesus told them this parable:
 4 "Suppose one of you has a hundred sheep and loses one of them. Doesn't he leave the ninety-nine in the open country and go after the lost sheep until he finds it?
 5 And when he finds it, he joyfully puts it on his shoulders 
6 and goes home. Then he calls his friends and neighbors together and says, 'Rejoice with me; I have found my lost sheep.' 
7 I tell you that in the same way there will be more rejoicing in heaven over one sinner who repents than over ninety-nine righteous persons who do not need to repent.
Forgiven!
From: Our Daily Bread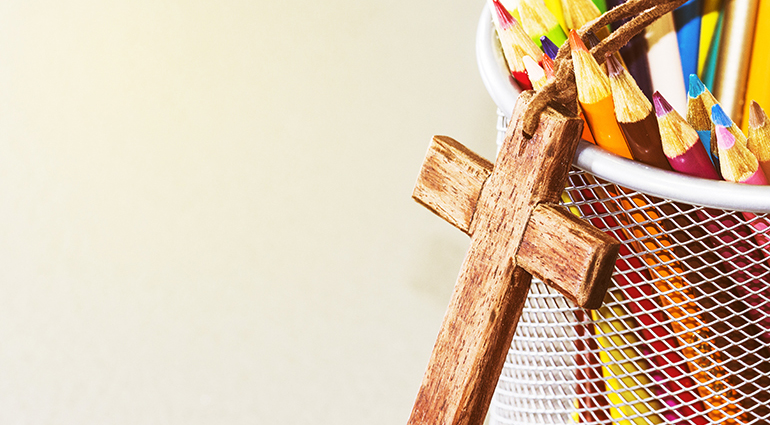 I have strayed like a lost sheep. Seek your servant. Psalm 119:176
My friend Norm Cook sometimes had a surprise for his family when he arrived home from work. He would walk through the front door, and shout, "You're forgiven!" It wasn't that family members had wronged him and needed hisforgiveness. He was reminding them that though they doubtless had sinned throughout the day, they were by God's grace fully forgiven.
The apostle John supplies this note about grace: "If we walk in the light, as he is in the light, we have fellowship with one another, and the blood of Jesus, his Son, purifies us from all sin. If we claim to be without sin [no inclination to sin], we deceive ourselves and the truth is not in us. If we confess our sins, he is faithful and just and will forgive us our sins and purify us from all unrighteousness" (1 John 1:7–9).
To "walk in the light" is a metaphor for following Jesus. Imitating Jesus with the Spirit's help, John insists, is the sign that we have joined with the apostles in the fellowship of faith. We are authentic Christians. But, he continues, let's not be deceived: We will make wrong choices at times. Nevertheless, grace is given in full measure: We can take what forgiveness we need.
Not perfect; just forgiven by Jesus! That's the good word for today.
Lord, I know I'm not even close to being perfect. That's why I need You and Your cleansing in my life. I'm lost without You.
Monitor your heart daily to avoid wandering from God's wisdom.
God's Purpose or Mine?
From: Utmost.org
We tend to think that if Jesus Christ compels us to do something and we are obedient to Him, He will lead us to great success. We should never have the thought that our dreams of success are God's purpose for us. In fact, His purpose may be exactly the opposite. We have the idea that God is leading us toward a particular end or a desired goal, but He is not. The question of whether or not we arrive at a particular goal is of little importance, and reaching it becomes merely an episode along the way. What we see as only the process of reaching a particular end, God sees as the goal itself.
What is my vision of God's purpose for me? Whatever it may be, His purpose is for me to depend on Him and on His power now. If I can stay calm, faithful, and unconfused while in the middle of the turmoil of life, the goal of the purpose of God is being accomplished in me. God is not working toward a particular finish— His purpose is the process itself. What He desires for me is that I see "Him walking on the sea" with no shore, no success, nor goal in sight, but simply having the absolute certainty that everything is all right because I see "Him walking on the sea" (Mark 6:49). It is the process, not the outcome, that is glorifying to God.
God's training is for now, not later. His purpose is for this very minute, not for sometime in the future. We have nothing to do with what will follow our obedience, and we are wrong to concern ourselves with it. What people call preparation, God sees as the goal itself.
God's purpose is to enable me to see that He can walk on the storms of my life right now. If we have a further goal in mind, we are not paying enough attention to the present time. However, if we realize that moment-by-moment obedience is the goal, then each moment as it comes is precious.
"But while he was still a long way off, his father saw him and was filled with compassion for him; he ran to his son, threw his arms around him and kissed him." Luke 15:20 (NIV)
We have two cats at our house: twin gray tabbies named Sam and Bo, adopted from an animal shelter. Our early years together were filled with lavish attention on my part and copious purring on theirs. Then, one dark and stormy October morning, the unthinkable happened.
My husband Bill and I were headed to the airport for a predawn flight to New England. Rain was coming down in sheets as we dragged our luggage to the back door and fumbled with our umbrellas.
When I flung open the door, Bo — the smaller, faster, more rebellious brother — appeared out of nowhere, slipped through my legs and plunged into the darkness without a backward glance.
Suitcases forgotten, we tore after him, but Bo remained maddeningly out of reach — bounding forward, doubling back, then taking off again. Finally, we had to leave for the airport. Had to.
I was soaking wet and inconsolable. How could I abandon poor Bo to the elements? Yes, our daughter-in-law would arrive at our doorstep in a couple of hours. Yes, Bo would no doubt take shelter in the nearby bushes and be safely back inside the house before our plane landed in Boston.
But what if he got lost? Got hurt by another animal? Got hit by a car? My stomach was tied in knots, thinking of the terrible possibilities.
Phone calls and text messages flew back and forth. Our grown children put a rescue operation in motion. Sympathetic friends on Facebook offered suggestions: "Put his food bowl outside." "Put his litter box outside." "Put your pajamas outside." Apparently the familiar scents were meant to woo him home.
Nothing worked. When we returned from our trip and still no Bo, my heart grew heavier. Was anyone feeding him, caring for him? Or was Bo starving to death, alone and shivering, far from home? Meanwhile, Sam wandered from room to room, searching for his lost brother, his mournful meow adding to my guilt.
After 12 long days, I stood on our back steps, prepared to try one last suggestion: "Go outside at midnight when the air is still and call out his name." So I did, as loudly as I could, not caring if our neighbors thought I was daft. "Bo!"
Then I heard it. The faintest meow.
"Bo!" I cried out. Another plaintive meow. Like a mother who knows her baby's cry, I knew this was my cat. Knew it.
I hurried across our backyard, calling his name, so agitated that I forgot about our back fence until I nearly fell over it. "Bo!" I shrieked, thinking he might come to me. But, no. The same sad meow was still a hundred feet away.
Minutes later, armed with a cat carrier and a bowl of food, I opened the back gate and tiptoed across the grass toward a dark shape beneath our neighbor's deck. When Bo meowed again, but didn't budge, I shook his bowl, hoping the sound and scent would coax him out. He extended one tentative paw. Then another.
The second he got close enough, I threw my arms around him, stuffed him in the cat carrier, and ran back to the house, my heart in my throat. My dear boy wasn't dead; he was alive! He wasn't lost; he was found!
I watched him dart around our brightly lit kitchen, tears of joy and relief pouring down my face, and thought about our heavenly Father, who'd once watched my own escape into darkness. He, too, had waited. Called my name. Came looking for me, knowing I was too scared to come to Him. Wrapped His arms around me and carried me home.
It's the same with the story Jesus told of the prodigal son in Luke 15:20, "But while he was still a long way off, his father saw him and was filled with compassion for him; he ran to his son, threw his arms around him and kissed him."
Just as Bo is a changed cat — he comes whenever I call and lets me scratch his head for hours — I am definitely a changed woman. When God calls, I come running, knowing His love alone has tamed my rebel heart.
Lord, Your love for us is endless, Your patience with us is boundless, and Your willingness to save us is beyond understanding. Thank You for pursuing us, rescuing us and welcoming us home. In Jesus' Name, Amen.