I Samuel 17
48 As the Philistine moved closer to attack him, quickly toward the battle line to meet him. 49 Reaching into his bag and taking out a stone, he slung it and struck the Philistine on the forehead. The stone sank into his forehead, and he fell face down on the ground.
50 So David triumphed over the Philistine with a sling and a stone; without a sword in his hand he struck down the Philistine and killed him.
Is there a giant problem you have to face. Remember, like David you do not have to face the big problems in your life along. Whether it is a real giant, or a giant problem God can defeat all giants.
From Fear to Faith
From: Our Daily Bread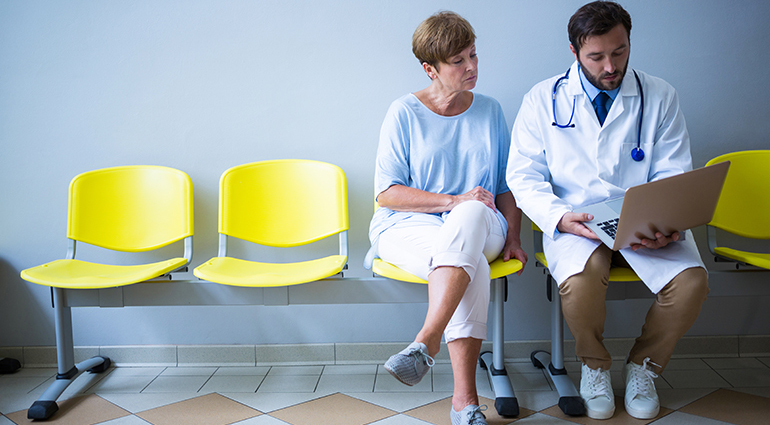 The Sovereign Lord is my strength; he makes my feet like the feet of a deer. Habakkuk 3:19
The doctor's words landed in her heart with a thud. It was cancer. Her world stopped as she thought of her husband and children. They had prayed diligently, hoping for a different outcome. What would they do? With tears streaming down her face, she said softly, "God, this is beyond our control. Please be our strength."
What do we do when the prognosis is devastating, when our circumstances are beyond our control? Where do we turn when the outlook seems hopeless?
The prophet Habakkuk's situation was out of his control, and the fear that he felt terrified him. The coming judgment would be catastrophic (Hab. 3:16–17). Yet, in the midst of the impending chaos, Habakkuk made a choice to live by his faith (2:4) and rejoice in God (3:18). He did not place his confidence and faith in his circumstances, ability, or resources, but in the goodness and greatness of God. His trust in God compelled him to proclaim: "The Sovereign Lord is my strength; he makes my feet like the feet of a deer, he enables me to tread on the heights" (v. 19).
When we are faced with difficult circumstances—sickness, family crisis, financial trouble—we, too, have only to place our faith and trust in God. He is with us in everything we face.
Dear God, I thank You that I can always turn to You. When I am faced with the difficulties of life, I can put my trust in You. Thank you that You are my "refuge and strength, a very present help in trouble." Psalm 46:1
When faced with difficult circumstances we can trust God to be our strength.
Don't Eat That Stuff!
"Finally, brothers, whatever is true, whatever is noble, whatever is right, whatever is pure, whatever is lovely, whatever is admirable—if anything is excellent or praiseworthy—think about such things." Philippians 4:8
Recently, when my wife Martie and I wanted to meet our sons and their families for a quick bite to eat, we decided that, with everyone's busy schedules, it would be easiest to meet at a nearby fast-food joint. When I called my son Joe to suggest the plan, his response was, "Well, I can meet you there, but I can't eat that stuff. I'm training for a marathon."
Joe's comment lodged in my brain, particularly because at the time I happened to be preparing a sermon regarding spiritual food, and his offhand remark illustrated a great spiritual principle. Let me explain.
Joe had a goal in mind—the successful completion of the marathon. He knew that reaching the goal was going to require months of disciplined choices, like waking up early to run longer and longer distances. And it meant that he would need to carefully guard and consider everything that he took into his body. Each meal—in fact, each snack—became an opportunity to choose to nourish and energize his body toward a successful marathon run.
Spiritually speaking, we have a goal in mind. Paul expresses it clearly in 1 Corinthians 9:27
 when, using an illustration of running a race he states, "I beat my body and make it my slave so that after I have preached to others, I myself will not be disqualified for the prize." In Philippians 3:10-11
, he clarifies that the prize at the end of the race is the goal of knowing Christ "and the power of his resurrection and the fellowship of sharing in his sufferings, becoming like him in his death, and so, somehow, to attain to the resurrection from the dead."
I don't know about you, but that's a goal I want to strive toward. I can't imagine any other objective more rewarding than finishing well and living for intimacy with and empowerment by the indwelling Jesus. But the reality is that many of us are not very committed to the training process that gets us to the goal.
A key part of the training is learning how to guard what we "eat" spiritually. Just as those training for a marathon need to guard and carefully consider all that they take in, those of us in training toward the goal of knowing Christ more fully need to guard and consider all that we take in. Paul gives us a phenomenal nutritional guide in Philippians 4:8
, using words like true, noble, right, pure, lovely, admirable, excellent, and praiseworthy to describe the spiritual health food for followers of Jesus.
Which should lead all of us to evaluate what we've been feeding our hearts and our minds. How well does our TV viewing fit the criteria of true, noble, or right? What about the conversations we have at work? Do they fall in the categories of pure or lovely? Is there anything admirable, excellent, or praiseworthy about the movies we watch or the music we listen to?
Imagine how nutritionally strong we would be—when faced with a situation that we know would hinder our goal of finishing our race well and knowing Jesus more intimately—if we were to say, "I can't. I'm in training." That kind of spiritual dieting and discipline would groom our lives to run our race far more successfully.
We could all stand to take a lesson from Joe—no junk food! As they say, "You are what you eat!"
I Want…
From: CBN, and author: Leah Adams
Have you ever heard anyone confess that they coveted something? Have you ever confessed covetousness? Probably your answer to both questions is 'No'. Most of us are not even aware that we covet, but the Bible speaks to this sin in huge ways and I wanted us to take a few moments and think this through.
I have been working my way through the book of Hebrews in my personal Bible study time and in the final chapter the Lord opened my eyes to this sin of covetousness. Hebrews 13:5(NKJV) says, "Let your conduct be without covetousness; be content with such things as you have. For He Himself has said, "I will never leave you nor forsake you."
When we covet something we long for it and set our affections on it.  We may or may not ever possess the thing that we covet, but it consumes our attention. That is worth repeating. We may not ever possess the things we covet, but those things consume our attention.
John MacArthur says in The MacArthur New Testament Commentary on the book of Hebrews, "covetousness is an attitude". He goes on to say, "covetousness and greed follow a principle of increasing desire and decreasing satisfaction, a form of the law of diminishing returns."
Often we associate this issue of covetousness with money because money is the means to attaining so much in our world. It is reported that John Rockefeller was asked as a young man how much money he wanted. He is reported to have said, 'A million dollars'. After he had made a million dollars, someone asked him again about how much money he wanted. He said, "another million'. Do you see increasing desire and decreasing satisfaction at work here?
Most of us will never have a million dollars, but let's personalize this to our lives. How many pairs of black shoes or handbags do you need? What size house is big enough? How much recognition do you seek for your service to the Lord? Do you really need another new outfit? Is that new piece of electronic equipment a necessity?
"Be content with such things as you have." The NIV puts it this way, "Be content with what you have", while the NLT says, "Be satisfied with what you have." The Message Paraphrase urges us to "Be relaxed with you have you."
Please understand that I am not saying we should not acquire things. If God has blessed you with the means to acquire and you truly need the items that you are buying, then by all means, shop on sister (or brother)!! There is nothing wrong with a new outfit or handbag or home as long as that thing is not consuming you. MacArthur says, "When we focus on material things, our having will never catch up with our wanting. It is one of God's unbreakable laws."
God instructs us in Hebrews 13:5 to remember that He is really all we need because He will never leave us or forsake us. If we have Him, then we have His promises that He will take care of us. Recall what Jesus said in Luke 12:22-23 and 29-31 (NIV): "Therefore I tell you, do not worry about your life, what you will eat; or about your body, what you will wear. Life is more than food, and the body more than clothes. And do not set your heart on what you will eat or drink; do not worry about it. For the pagan world runs after all such things, and your Father knows that you need them. But seek his kingdom, and these things will be given to you as well."
Covetousness is a character issue that is important to the Lord. We need to deeply examine our hearts and do away with any covetousness that is hidden there. God will reward our efforts!