God at Work
From: Our Daily Bread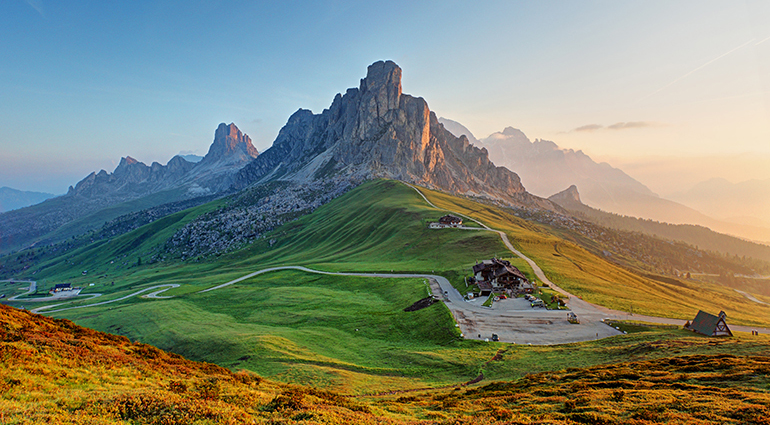 May he work in us what is pleasing to him, through Jesus Christ. Hebrews 13:21
"How have you seen God at work lately?" I asked some friends. One replied, "I see Him at work as I read the Scriptures each morning; I see Him at work as He helps me face each new day; I see Him at work when I know that He has been with me every step of the way—I realize how He has helped me to face challenges while giving me joy." I love his answer because it reflects how through God's Word and the indwelling presence of the Holy Spirit, God stays near to, and works in, those who love Him.
God working in His followers is a wonderful mystery that the writer to the Hebrews refers to as he draws his letter to a close in what's known as a benediction: ". . . and may he work in us what is pleasing to him, through Jesus Christ" (Hebrews 13:21). With this conclusion, the writer reinforces the essential message of his letter—that God will equip His people to follow Him and that God will work in and through them for His glorry. 
The gift of God working in us can take us by surprise; perhaps we forgive someone who wrongs us or show patience to someone we find difficult. Our "God of peace" (v. 20) spreads His love and peace in and through us. How have you seen God at work lately?
Lord Jesus Christ, You equip me to do Your works for Your glory. Open my eyes today, that I might understand how You are calling me to follow You.
God works in and through His followers.
Remember that you have been saved so that the life of Jesus may be manifested in your body (see 2 Corinthians 4:10). Direct the total energy of your powers so that you may achieve everything your election as a child of God provides; rise every time to whatever occasion may come your way.
You did not do anything to achieve your salvation, but you must do something to exhibit it. You must "work out your own salvation" which God has worked in you already (Philippians 2:12). Are your speech, your thinking, and your emotions evidence that you are working it "out"? If you are still the same miserable, grouchy person, set on having your own way, then it is a lie to say that God has saved and sanctified you.
God is the Master Designer, and He allows adversities into your life to see if you can jump over them properly— "By my God I can leap over a wall" (Psalm 18:29). God will never shield you from the requirements of being His son or daughter. First Peter 4:12  says, "Beloved, do not think it strange concerning the fiery trial which is to try you, as though some strange thing happened to you…." Rise to the occasion— do what the trial demands of you. It does not matter how much it hurts as long as it gives God the opportunity to manifest the life of Jesus in your body.
May God not find complaints in us anymore, but spiritual vitality— a readiness to face anything He brings our way. The only proper goal of life is that we manifest the Son of God; and when this occurs, all of our dictating of our demands to God disappears. Our Lord never dictated demands to His Father, and neither are we to make demands on God. We are here to submit to His will so that He may work through us what He wants. Once we realize this, He will make us broken bread and poured-out wine with which to feed and nourish others.
PASSING CLOUDS – STREAMS IN THE DESERT – MAY 15
But now, the sun cannot be looked at – it is bright in the skies – after a wind passed and swept the clouds away.—Job 37:21
The world owes much of its beauty to cloudland. The unchanging blue of the Italian sky hardly compensates for the changefulness and glory of the clouds. Earth would become a wilderness apart from their ministry. There are clouds in human life, shadowing, refreshing, and sometimes draping it in blackness of night; but there is never a cloud without its bright light. "I do set my bow in the cloud!"
If we could see the clouds from the other side where they lie in billowy glory, bathed in the light they intercept, like heaped ranges of Alps, we should be amazed at their splendid magnificence.
We look at their under side; but who shall describe the bright light that bathes their summits and searches their valleys and is reflected from every pinnacle of their expanse? Is not every drop drinking in health-giving qualities, which it will carry to the earth?
O child of God! If you could see your sorrows and troubles from the other side; if instead of looking up at them from earth, you would look down on them from the heavenly places where you sit with Christ; if you knew how they are reflecting in prismatic beauty before the gaze of Heaven, the bright light of Christ's face, you would be content that they should cast their deep shadows over the mountain slopes of existence. Only remember that clouds are always moving and passing before God's cleansing wind.
—Selected
"I cannot know why suddenly the storm 
Should rage so fiercely round me in its wrath; 
But this I know—God watches all my path, 
And I can trust.
"I may not draw aside the mystic veil 
That hides the unknown future from my sight, 
Nor know if for me waits the dark or light; 
But I can trust.
"I have no power to look across the tide, 
To see while here the land beyond the river; 
But this I , know—I shall be Gods forever; 
So I can trust."