Hope Is Real
On the way to work, I saw these words written on a sign at a local church. It said, "Hope Is Real." I thought about it and (needless to say) agreed with the statement. But as I pondered the simple little phrase, I realized that for many people hope is not real. I believe that is one of the most important gifts we can give to another person, the gift of hope.
You see, someone who is hopeless and alone usually cannot help themselves out of their situations. They have a great sense of loss and helplessness. We must come alongside and bring the good news of Jesus Christ and all that He has to offer.
"The thief cometh not, but for to steal, and to kill, and to destroy: I am come that they might have life, and that they might have it more abundantly." John 10:10 (KJV)
One definition for hope is: To look forward to with confidence or expectation. We must bring the Word of God with all its hope to someone who does not know it is real. When we bring hope, we bring life. It is life-changing to finally believe again. It is more than just asking God for something we so badly need; we must expect our miracle. Somewhere in the midst of asking, believing, and expecting God to answer, we will find what we are looking for.
"I am still confident of this: I will see the goodness of the Lord in the land of the living." Psalms 27:13 (NIV)
I have felt for a long time that the biggest problem we have in the world today is there are so many people who have lost hope. There seem to be so many hurts, problems, sicknesses, troubles, financial woes, family problems, world issues, political concerns, etc. It seems the world has no hope.
Apart from God, it is an awful, hopeless place. But with God's help, we can make it. I want you to know that whatever situation you find yourself in at this moment, there is hope. You may not be able to see or feel the hope, but it is there for you. How do we find the hope? There is only one place where hope can be found, and that is in Jesus Christ.
I did a word search in the Bible for the word 'hope' and found many wonderful passages. They were mostly in Psalms and Proverbs of course. David found himself in situations many times and had to remind himself that hope is real. It comes from God. Here are a few of David's prayers to God:
Psalms 39:7 (NIV) "But now, Lord, what do I look for? My hope is in you."
Psalms 42:11 (NIV) "Why are you downcast, O my soul? Why so disturbed within me? Put your hope in God, for I will yet praise him, my Savior and my God."
Psalms 25:4-5 (NLT) "Show me the path where I should walk, O LORD; point out the right road for me to follow. Lead me by your truth and teach me, for you are the God who saves me. All day long I put my hope in you."
Psalms 25:3 (NIV) "No one whose hope is in you will ever be put to shame,"
Psalms 33:18 (NIV) "But the eyes of the Lord are on those who fear him, on those whose hope is in his unfailing love,"
Psalms 119:49 (NLT) "Remember your promise to me, for it is my only hope."
Trust God. He wants you to trust Him. You need to agree with God about your situation. What does God say about who you are and what His will is for your life? Don't go by your feelings. Instead, we should remind ourselves that God only has plans for us that are good. Jeremiah helps us remember what God has to say about us. "For I know the plans I have for you," says the LORD. "They are plans for good and not for disaster, to give you a future and a hope." Jeremiah 29:11 NLT
We do not need to be disappointed and feel alone. We can have hope! God's love in our hearts will ignite the flames of hope we have buried deep inside our hearts. God's Word can encourage us as we read it with great anticipation and faith. Paul writes in Romans these words of encouragement:
Romans 5:5 (NIV) "And hope does not disappoint us, because God has poured out his love into our hearts by the Holy Spirit, whom he has given us."
Romans 15:4 (NIV) "For everything that was written in the past was written to teach us, so that through endurance and the encouragement of the Scriptures we might have hope."
Here are a few key scriptures that help us to understand what we need to do. Words like "be strong, take courage, wait, reverently and worshipfully fear God, tarry for the hope, wait patiently for it, and be joyful in hope. They are all action words we need to work on. Read these scriptures out loud during your Devotion times. Watch how hope will come alive in your heart as you speak the Word of God over yourself and your situation.
Psalms 31:24 (AMP) "Be strong and let your heart take courage, all you who wait for and hope for and expect the Lord!"
Psalms 119:74 (AMP) "Those who reverently and worshipfully fear You will see me and be glad, because I have hoped in Your word and tarried for it."
Isaiah 40:31 (NLT) "But those who wait on the LORD will find new strength. They will fly high on wings like eagles. They will run and not grow weary. They will walk and not faint."
Romans 8:24b, 25 (NIV) " But hope that is seen is no hope at all. Who hopes for what he already has? But if we hope for what we do not yet have, we wait for it patiently."
Romans 12:12 (NIV) "Be joyful in hope, patient in affliction, faithful in prayer."
I don't want this to be just another Devotion. I want it to bring life to you. Pray out loud the words of hope into your life and your situations. I have hope! My hope is in the Lord! I will be strong and wait on the Lord. I trust God with my life and the life of my family. Speak these words every day. Hope Is Real. It comes from God! He has placed it in your heart. Speak it out and watch what God will do for you.
Romans 15:13 (NIV) "May the God of hope fill you with all joy and peace as you trust in him, so that you may overflow with hope by the power of the Holy Spirit."
What is your need today? Is it for a financial blessing, healing in your body, a new job, a house or car, etc? Whatever it is, take it to Jesus today. Is there someone in your life today that needs encouraging? Speak the Words of hope that bring life. Hope Is Real, just try it.
Hope and Encouragement
From: ligonier.org.
"For everything that was written in the past was written to teach us, so that through endurance and the encouragement of the Scriptures we might have hope."
– Romans 15:1–6
What happens to people when they lose hope? They give up. They quit. Hope and perseverance go together. Hope is a future promise that keeps us going. It is the carrot before the donkey. Hope knows that there is a goal, and that the goal is worth pursuing, even through hardship and difficulty. If we don't have hope, we won't have perseverance.
Paul writes in Romans 15 is that everything in the Scripture—by which he means what we call the Old Testament—was written to instruct us in the Christian hope. Throughout the Old Testament we see God's faithfulness in spite of man's sin. We see the saints going through times of suffering and discouragement. We see the saints exiled to the wilderness, with no apparent future. But we also see that in time, God brings them back for greater service than before. The kingdom of God never shrinks; it may flow underground for a season, but it always emerges mightier than before. God is not going to be the loser in history!
Thus, with the encouragements of the Scripture before us (Old and New Testaments), we should have hope. And following God's example, we should encourage one another. Paul writes in Romans 15:5–6 that we encourage one another when we live in unity, without being at each others' throats, and that a fundamental expression of that unity is worship. When we stand together to sing God's praises in the psalms and great hymns and prayers of the church, we encourage one another. The man who comes to worship downcast and beaten may emerge with new hope simply because of the unity of worship he has experienced.
Paul says that God gives endurance and encouragement (verse 5). It is not just the history of redemption as recorded in the Bible that gives us encouragement. It is not just the continuing history of the church, which indeed shows growth over 2,000 years, that gives encouragement. And it is not just the fellowship of other saints, in life and in praise, that gives encouragement. But it is primarily God Himself who gives us encouragement. If we lack endurance and hope, we need to learn more about the attributes and intentions of God; for the more we know Him, the more encouraged we will be.
"But because of his great love for us, God, who is rich in mercy, made us alive with Christ even when we were dead in transgressions — it is by grace you have been saved." Ephesians 2:4-5 (NIV)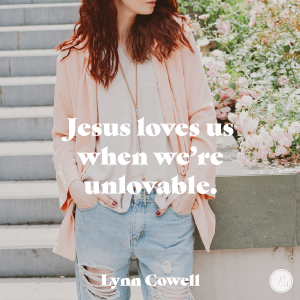 How had it all happened? What had she started?
It seemed like such a good idea at the time — the right idea. But then, as soon as Adam also took a bite, Eve knew. They both knew. They had been so very, very wrong. And now the damage was spinning out of control. Those intimate conversations with the Lord were no more. Home was no longer home.
And now this.
Her older son killing her younger. The unraveling wouldn't stop, and she knew the falling apart had started with her. As Ephesians 2 describes the situation, Eve was now dead in trespasses and sins, "following the prince of the power of the air, the spirit that is now at work in the sons of disobedience" (Ephesians 2:2b, ESV).
Was there to be no hope?
Have you ever experienced a pain similar to Eve's? The knowing that it all began with you? If only you had made the right choice when you had the chance.
But you didn't.
And now …
It doesn't have to be just "big things." The small habit that became big. The distance that grew more than the day before. Our mind drags us back to all the tiny things, one wrong choice after another, that led to this. The hundreds of tiny failures that have brought us to this hurt we are experiencing today. This disappointment. This brokenness. This failure.
I think I understand Eve a bit.
Not the depth of pain she would have experienced with losing a child, but the possible wondering, Is all this — this huge mess — my fault? We are trained that "success" and "failure" all come down to someone. Someone gets the credit, and someone takes the blame.
The amazing thing is, there is One who gets the credit and who took the blame.
Jesus. He gets the credit for loving us when we were unlovable, and He took the blame for our sin that was not His own.
There in the garden, the perfect Father looked at His imperfect child with love. Even as He took the rib from Adam's side, He was fully aware of the choice Eve would make. The choice against His perfect love, and yet He still chose to create us humans and to love unconditionally. His love for us was (and still is) a fierce love, a never-failing love.
As today's key verse says, "But because of his great love for us, God, who is rich in mercy, made us alive with Christ even when we were dead in transgressions — it is by grace you have been saved" (Ephesians 2:4-5).
Even as the failures of His creation kept coming … Eve's decision, Adam's collaboration, Cain killing Abel … God's love for us, for all of humankind, didn't diminish. It only grew more and more intense until the pinnacle of His choice. The choice of the cross, where His love was the same as ours: the color red.
Yes, we have sinned. Each and every one of us. For those of us who have asked for His great forgiveness and surrendered our lives to His control, there is mercy. We are made alive in Him … even while we were yet dead in our transgressions.
Here in this place of living out our redemption, we can have hope for the future. No matter our circumstances today, God can redeem it all. And not only for us, but for others. God's kindness and mercy is available for those furthest from Him.
All because of, and out of, His great love.
Tired Faith – Streams in the Desert – June 18
Times have changed, but life's hard times haven't
Therefore, strengthen your listless hands and your weak knees, and make straight paths for your feet, so that what is lame may not be put out of joint but be healed. (Heb 12:12-13)
This is God's word of encouragement to us to lift up the hands of faith, and confirm the knees of prayer. Often our faith grows tired, languid, and relaxed, and our prayers lose their force and effectiveness.
The figure used here is a very striking one. The idea seems to be that we become discouraged and so timid that a little obstacle depresses and frightens us, and we are tempted to walk around it, and not face it: to take the easier way.
Perhaps it is some physical trouble that God is ready to heal, but the exertion is hard, or it is easier to secure some human help, or walk around in some other way.
There are many ways of walking around emergencies instead of going straight through them. How often we come up against something that appalls us, and we want to evade the issue with the excuse:
"I am not quite ready for that now." Some sacrifice is to be made, some obedience demanded, some Jericho to be taken, some soul that we have not the courage to claim and carry through, some prayer that is hanging fire, or perhaps some physical trouble that is half healed and we are walking around it.
God says, "Lift up the hands that hang down." March straight through the flood, and lo, the waters will divide, the Red Sea will open, the Jordan will part, and the Lord will lead you through to victory.
Don't let your feet "be turned out of the way," but let your body "be healed," your faith strengthened. Go right ahead and leave no Jericho behind you unconquered and no place where Satan can say that he was too much for you. This is a profitable lesson and an intensely practical one. How often have we been in that place. Perhaps you are there today. "
—A. B. Simpson
Pay as little attention to discouragement as possible. Plough ahead as a steamer does, rough or smooth—rain or shine. To carry your cargo and make your port is the point.
—Maltbie D. Babcock