The Lord is with us. Do not be afraid of them.
Psalm 92
A psalm. A song. For the Sabbath day.
1 It is good to praise the Lord
    and make music to your name, O Most High,
2 proclaiming your love in the morning
    and your faithfulness at night,
3 to the music of the ten-stringed lyre
    and the melody of the harp.
4 For you make me glad by your deeds, Lord;
    I sing for joy at what your hands have done.
5 How great are your works, Lord,
    how profound your thoughts!
6 Senseless people do not know,
    fools do not understand,
7 that though the wicked spring up like grass
    and all evildoers flourish,
    they will be destroyed forever.
8 But you, Lord, are forever exalted.
9 For surely your enemies, Lord,
    surely your enemies will perish;
    all evildoers will be scattered.
10 You have exalted my horn[b] like that of a wild ox;
    fine oils have been poured on me.
11 My eyes have seen the defeat of my adversaries;
    my ears have heard the rout of my wicked foes.
12 The righteous will flourish like a palm tree,
    they will grow like a cedar of Lebanon;
13 planted in the house of the Lord,
    they will flourish in the courts of our God.
14 They will still bear fruit in old age,
    they will stay fresh and green,
15 proclaiming, "The Lord is upright;
    he is my Rock, and there is no wickedness in him."
Lurking Lions
From: Our Daily Bread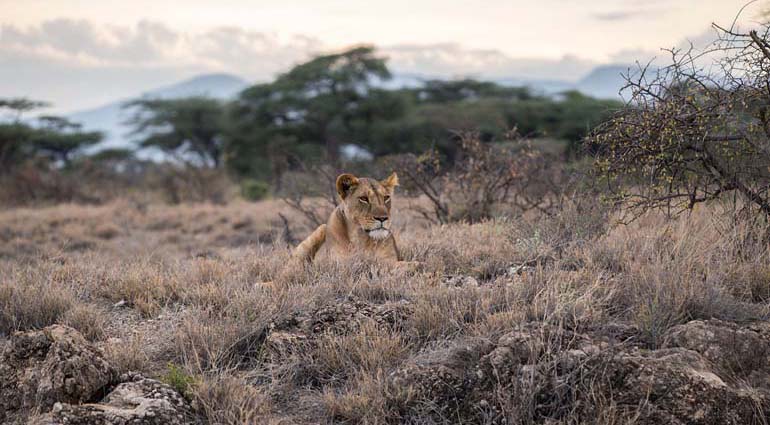 The Lord is with us. Do not be afraid of them.
When I was young, my dad would "scare" us by hiding in the bush and growling like a lion. Even though we lived in rural Ghana in the 1960s, it was almost impossible that a lion lurked nearby. My brother and I would laugh and seek out the source of the noise, thrilled that playtime with Dad had arrived.
One day a young friend came for a visit. As we played, we heard the familiar growl. Our friend screamed and ran. My brother and I knew the sound of my father's voice—any "danger" was merely a phantom lion—but a funny thing happened. We ran with her. My dad felt terrible that our friend had been frightened, and my brother and I learned not to be influenced by the panicked reaction of others.
Caleb and Joshua stand out as men unfazed by the panic of others. As Israel was poised to enter the Promised Land, Moses commissioned 12 scouts to spy out the region. They all saw a beautiful territory, but 10 focused on the obstacles and discouraged the entire nation (Num. 13:27-33). In the process, they started a panic (14:1-4). Only Caleb and Joshua accurately assessed the situation (vv. 6-9). They knew the history of their Father and trusted Him to bring them success.
Some "lions" pose a genuine threat. Others are phantoms. Regardless, as followers of Jesus our confidence is in the One whose voice and deeds we know and trust.
Lord, we face many fears today. Help us distinguish between real danger and empty threats, and help us trust You with all of it. May we live not in fear, but in faith.
The wicked flee though no one pursues, but the righteous are as bold as a lion. Proverbs 28:1
From: Streams in the Desert
Be ready in the morning, and come… present thyself there to me in the top of the mount. And no man shall come up with thee (Exod. 34:2-3).
The morning watch is essential. You must not face the day until you have faced God, nor look into the face of others until you have looked into His. You cannot expect to be victorious, if the day begins only in your own strength.
Face the work of every day with the influence of a few thoughtful, quiet moments with your heart and God. Do not meet other people, even those of your own home, until you have first met the great Guest and honored Companion of your life–Jesus Christ.
Meet Him alone. Meet Him regularly. Meet Him with His open Book of counsel before you; and face the regular and the irregular duties of each day with the influence of His personality definitely controlling your every act.
Begin the day with God!
He is thy Sun and Day!
His is the radiance of thy dawn;
To Him address thy lay.
Sing a new song at morn!
Join the glad woods and hills;
Join the fresh winds and seas and plains,
Join the bright flowers and rills.
Sing thy first song to God!
Not to thy fellow men;
Not to the creatures of His hand,
But to the glorious One.
Take thy first walk with God!
Let Him go forth with thee;
By stream, or sea, or mountain path,
Seek still His company.
Thy first transaction be
With God Himself above;
So shall thy business prosper well,
And all the day be love.
–Horatius Bonar
The men who have done the most for God in this world have been early upon their knees. Matthew Henry used to be in his study at four, and remain there till eight; then, after breakfast and family prayer, he used to be there again till noon; after dinner, he resumed his book or pen till four, and spent the rest of the day in visiting his friends.
Doddridge himself alludes to his "Family Expositor" as an example of the difference of rising between five and seven, which, in forty years, is nearly equivalent to ten years  more of life.
Dr. Adam Clark's "Commentary" was chiefly prepared very early in the morning. Barnes' popular and useful "Commentary" has been also the fruit of "early morning hours."
Simeon's "Sketches" were chiefly worked out between four and eight.
Brain Drain
From: Get more strength.org
"Therefore, I urge you, brothers, in view of God's mercy, to offer your bodies as living sacrifices, holy and pleasing to God—this is your spiritual act of worship." Romans 12:1
When I travel, wake-up calls are really important! More than once I have registered my wake-up time with the hotel desk confident that they would call right on time. Well, you know the rest of the story. Rolling over and looking at the clock only to realize that you'll never make the morning meeting on time is not a great way to start the day!
So here's a wake-up call that will help you get your day (and the rest of your life) on track for God. If you are not wide awake spiritually, you may find that you have been robbed blind of the most important treasure you have: your mind and the way you think!
Os Guinness tells a great story about a Russian factory worker in the days when Khrushchev was the prime minister. Because of the enormous economic strain in those days, employees would steal tools and just about anything else they could get their hands on. To stop the thefts, a KGB officer was placed at every factory gate where each worker was carefully searched for contraband. Petrov, a long-time laborer, pushed a wheelbarrow loaded with two large sacks of sawdust out the factory doors every day. Each day the guard searched through the sacks of sawdust but consistently found nothing. Weeks into this routine the frustrated guard finally said,"Hey, Petrov, I promise not to tell anybody. I can't get what's going on here. I don't know why you need all this sawdust. What are you stealing?"Petrov grinned and whispered, "Wheelbarrows."
Os Guinness makes this probing conclusion: "While we've been inspecting bags of sawdust, Satan has been stealing our minds." What a great insight! And while how we behave—keeping all the rules and all the fuss over politics, abortion, and gay agendas—is not sawdust, it is easy to get sidetracked by the issue du jour while letting "control central" slip into thought patterns that quite frankly aren't anything like God's thoughts at all. This is no small issue. God's Word says that as a man thinks in his heart, so is he (Proverbs 23:7
). I have always been taken aback by Jesus' reproof of the religious folk of His day, when He said, "These people honor me with their lips, but their hearts are far from Me" (Matthew 15:8
)!
Paul gets it right when he informs us that the key issue in growth and transformation is the renewing of our minds, not just the mental activity of stacking up huge stores of biblical data. If that's all we have we soon become proud and judgmental. We are to train our minds to think God's thoughts after Him. To think the way He does about the poor and the oppressed. To think His thoughts about our enemies and those who have used and abused us. To let His thoughts honestly evaluate the lame stuff we pile up in our hearts. To think His thoughts about our money, time, family, job, and all other aspects of our lives.
After years of marriage, I find that increasingly my wife Martie and I think a lot alike. I can almost complete her sentences. After years of being a Christian, you would think that one should almost instinctively know His mind about nearly everything! But unfortunately that is often not the case, because Satan has been stealing us blind of our greatest treasure: the way we think!
Have You Felt the Pain Inflicted by the Lord?
From: Utmost.org
Have you ever felt the pain, inflicted by the Lord, at the very center of your being, deep down in the most sensitive area of your life? The devil never inflicts pain there, and neither can sin nor human emotions. Nothing can cut through to that part of our being but the Word of God. "Peter was grieved because He said to him the third time, 'Do you love Me?' " Yet he was awakened to the fact that at the center of his personal life he was devoted to Jesus. And then he began to see what Jesus' patient questioning meant. There was not the slightest bit of doubt left in Peter's mind; he could never be deceived again. And there was no need for an impassioned response; no need for immediate action or an emotional display. It was a revelation to him to realize how much he did love the Lord, and with amazement he simply said, "Lord, You know all things…." Peter began to see how very much he did love Jesus, and there was no need to say, "Look at this or that as proof of my love." Peter was beginning to discover within himself just how much he really did love the Lord. He discovered that his eyes were so fixed on Jesus Christ that he saw no one else in heaven above or on the earth below. But he did not know it until the probing, hurting questions of the Lord were asked. The Lord's questions always reveal the true me to myself.
Oh, the wonder of the patient directness and skill of Jesus Christ with Peter! Our Lord never asks questions until the perfect time. Rarely, but probably once in each of our lives, He will back us into a corner where He will hurt us with His piercing questions. Then we will realize that we do love Him far more deeply than our words can ever say.
WISDOM FROM OSWALD CHAMBERS