Acts 17:28
for in Him we live and move and exist, as even some of your own poets have said, 'For we also are His children.'
Psalm 139:7
Where can I go from Your Spirit? Or where can I flee from Your presence?
And He said, "My presence shall go with you, and I will give you rest."
Theses parents comfort and assure their children. God comforts and assures you of His love and presence in your life.
God's Assurance
From: Utmost.org
My assurance is to be built upon God's assurance to me. God says, "I will never leave you," so that then I "may boldly say, 'The Lord is my helper; I will not fear' " (Hebrews 13:5-6). In other words, I will not be obsessed with apprehension. This does not mean that I will not be tempted to fear, but I will remember God's words of assurance. I will be full of courage, like a child who strives to reach the standard his father has set for him. The faith of many people begins to falter when apprehensions enter their thinking, and they forget the meaning of God's assurance— they forget to take a deep spiritual breath. The only way to remove the fear from our lives is to listen to God's assurance to us.
What are you fearing? Whatever it may be, you are not a coward about it— you are determined to face it, yet you still have a feeling of fear. When it seems that there is nothing and no one to help you, say to yourself, "But 'The Lord is my helper' this very moment, even in my present circumstance." Are you learning to listen to God before you speak, or are you saying things and then trying to make God's Word fit what you have said? Take hold of the Father's assurance, and then say with strong courage, "I will not fear." It does not matter what evil or wrong may be in our way, because "He Himself has said, 'I will never leave you….' "
Human frailty is another thing that gets between God's words of assurance and our own words and thoughts. When we realize how feeble we are in facing difficulties, the difficulties become like giants, we become like grasshoppers, and God seems to be nonexistent. But remember God's assurance to us— "I will never…forsake you." Have we learned to sing after hearing God's keynote? Are we continually filled with enough courage to say, "The Lord is my helper," or are we yielding to fear?
Obedience better than sacrifice
From: Biblegateway.com, By: Charles Spurgeon
'Behold, to obey is better than sacrifice, and to hearken than the fat of rams.' 1 Samuel 15:22
Suggested Further Reading: James 4:11–17
If you are failing to keep the least of one of Christ's commands to his disciples, I pray you, brethren, be disobedient no longer. I know, for instance, that some of you can see it to be your duty, as believers, to be baptized. If you did not think it to be your duty, I would not bring this text to bear upon you; but if you feel it to be right, and you do it not, let me say to you that all the pretensions you make of attachment to your Master, and all the other actions which you may perform, are as nothing compared with the neglect of this. 'To obey,' even in the slightest and smallest thing, 'is better than sacrifice,' and to hearken diligently to the Lord's commands is better than the fat of rams. It may be that some of you, though you are professed Christians, are living in the prosecution of some evil trade, and your conscience has often said, 'Get out of it.' You are not in the position that a Christian ought to be in; but then you hope that you will be able to make a little money, and you will retire and do a world of good with it. God cares nothing for this rams' fat of yours; he asks not for these sacrifices which you intend to make. 'To obey is better than sacrifice, and to hearken than the fat of rams.' Perhaps you are in connection with a Christian church in which you may see much that is wrong, and you know that you ought not to tolerate it, but still you do so. You say, 'I have a position of usefulness, and if I come out I shall not be so useful as I am now.' My brother, your usefulness is but as the fat of rams, and 'to obey is better than' it all.
For meditation: To argue that the end justifies the means is to claim to know better than God. Saul knew God's will (1 Samuel 15:3), failed to do it (1 Samuel 15:11), claimed to have done so (1 Samuel 15:13,20) and paraded the best of motives (1 Samuel 15:15,21). Ignorance of God's will and failure to do it is a lesser evil than knowledge of God's will and failure to do it (Luke 12:47–48).
The Beauty of Rome
From: Our Daily Bread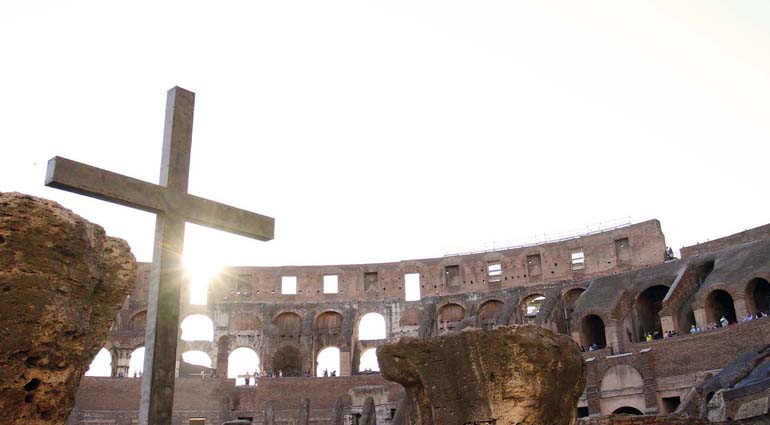 Now this is eternal life: that they know you, the only true God. John 17:3
The glory of the Roman Empire offered an expansive backdrop for the birth of Jesus. In 27 bc Rome's first emperor, Caesar Augustus, ended 200 years of civil war and began to replace rundown neighborhoods with monuments, temples, arenas, and government complexes. According to Roman historian Pliny the Elder, they were "the most beautiful buildings the world has ever seen."
Yet even with her beauty, the Eternal City and its empire had a history of brutality that continued until Rome fell. Thousands of slaves, foreigners, revolutionaries, and army deserters were crucified on roadside poles as a warning to anyone who dared to defy the power of Rome.
What irony that Jesus's death on a Roman cross turned out to reveal an eternal glory that made the pride of Rome look like the momentary beauty of a sunset!
Who could have imagined that in the public curse and agony of the cross we would find the eternal glory of the love, presence, and kingdom of our God?
Who could have foreseen that all heaven and earth would one day sing, "Worthy is the Lamb, who was slain, to receive power and wealth and wisdom and strength and honor and glory and praise!" (Rev. 5:12).
Father in heaven, please help us to reflect the heart of Your sacrifice for the world. May Your love become our love, Your life our life, and Your glory our never-ending joy.
The Lamb who died is the Lord who lives!