25
"Therefore I tell you, do not worry about your life, what you will eat or drink; or about your body, what you will wear. Is not life more than food, and the body more than clothes?
26
Look at the birds of the air; they do not sow or reap or store away in barns, and yet your heavenly Father feeds them. Are you not much more valuable than they?
27
Can any one of you by worrying add a single hour to your life
?
28
"And why do you worry about clothes? See how the flowers of the field grow. They do not labor or spin.
29
Yet I tell you that not even Solomon in all his splendor was dressed like one of these.
30
If that is how God clothes the grass of the field, which is here today and tomorrow is thrown into the fire, will he not much more clothe you—you of little faith?
31
So do not worry, saying, 'What shall we eat?' or 'What shall we drink?' or 'What shall we wear?'
32
For the pagans run after all these things, and your heavenly Father knows that you need them.
33
But seek first his kingdom and his righteousness, and all these things will be given to you as well.
34
Therefore do not worry about tomorrow, for tomorrow will worry about itself. Each day has enough trouble of its own.
______________________________
Why is Life so Hard Sometimes?
 From: 1cbn.com
We can all certainly relate can't we?  Let's face it many times that's exactly what life can be…THE PITS!
The truth of the matter is at this precise moment a universal "battle of the wills" is going on. And if you happen to be one who is insisting on having your "own will" then your world is the way it is, because it's the world you have, in a sense, asked for.
Remember the story of Adam and Eve? God instructed them to only eat from the Tree of Life, and not partake of the Tree of the Knowledge of Good and Evil?  So what did they do?  They ate the forbidden fruit in spite of His warning. They "willfully" partook of that fruit with the idea that they could ignore what He said and strike out on a life apart from Him.
Adam and Eve figured that they could become like God…without God! They were of the notion that there was something more valuable in existence than God himself, something more valuable than having a personal relationship with God. And this world system, as we know it today, with all of its faults and evils, is a direct result of the choice they made.
Their story is the story of all of us isn't it?  Who hasn't at some time said, (if not out loud) at least in their heart, "God, I think I can take it from here.  I'll just go this one alone. I appreciate your offer, but I think I have a good handle on things now."  And off we go, trying to make our life "work" without any help from God.
And what is God's response?  He allows it.
He lets us have the very thing we insist upon. All the while, like a loving Father becomes deeply pained and grieved, as He is forced to watch his head-strong child walk directly into one disastrous situation after another, knowing full well what lies ahead.
The result?  We end up experiencing the very painful consequences of others' or our own willful actions that run contrary to God's will. Things such as killing, stealing, lying, greed, adultery, sexual abuse, murder, hatred, war and on and on it goes, this being the direct result of people refusing to give God access and influence over their lives. They go about living life as they see fit, and end up suffering terribly because of it.
"We all, like sheep, have gone astray, each of us has turned to his own way." (The Bible, 
Isaiah 53:6

)
So what is God's solution to mankind's awful dilemma?  He sent His own beloved Son, Jesus Christ to show us the way "back" to Himself.
"For God sent His Son into the world, not to condemn the world, but that the world might be saved through him. For God so loved the world that he gave his only Son, that whoever believes in him should not perish but have eternal life." (

John 3:17, 16

).
Jesus said, "Come to me, all who are weary and heavy-laden, and I will give you rest." (

Matthew 11:28

)
In the midst of our difficulties, we can have the peace of knowing that Christ is with us — and He gives us strength to overcome the challenges, and His joy and peace in the midst of the storm.
Jesus said, "These things I have spoken to you, so that in me you may have peace. In the world you have tribulation, but take courage; I have overcome the world." (

John 16:33

).

_________________________________________
4 things God wants you to remember when life is hard.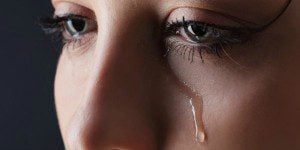 We've all had days (and maybe even years) when life just doesn't seem to be going our way!
I've had long seasons of life where I felt like nothing was working and everything was out of whack, and I've had frustrating days where I just can't seem to get anything accomplished. This morning was one of those times…
I was getting all three of our boys ready for school which is a massive undertaking and makes me respect my wife even more because she is normally the one doing it! Amidst the screaming infant and complaining gradeschoolers, there was a mess in the kitchen, a dirty diaper on the floor, toothpaste on the sink and stress in the air. When we FINALLY got out the door, Connor had forgotten something and had to run back in. The door was open just long enough for (I'm not making this up) a bird to fly in the house.
Now, I've got to figure out a way to get the bird out of the house and all the kids loaded up as fast as I can. I eventually got the bird out (unharmed) and the kids loaded and just before I pulled out onto the main road, a garbage truck cut me off and started driving about five miles per hour and stopping at every other house. I wasn't sure whether to scream or laugh at the irony of it.
In the grand scheme of things, a stressful morning doesn't impact life or eternity all that much, but in those longer seasons of joblessness, sickness, financial stress, marriage strain and other ongoing life events, the stress and frustration can seem overwhelming. Below are four things I've learned to remember in those challenging seasons of life that have helped me and I pray they help you as well!
Struggles in life are inevitable, but destruction is optional. Remembering these four principles can make all the difference.
1. Remember that your Character should always be stronger than your Circumstances.
We can't always control what happens to us, but we can always control how we choose to respond. In those moments when I choose to stop complaining and instead give thanks to God for the good in my life, the parts that seem bad start to seem much less significant. Choose to keep a positive attitude and thankful heart regardless of what you're going through.
"Rejoice always, pray continually, give thanks in all circumstances; for this is God's will for
youChristJesus." 1 Thessalonians 5:16-18
2. Remember that your Struggles always lead to Strength.
Every difficulty in your life, whether big or small, is something God will use to produce more strength, faith and perseverance in you if you let Him! All your pain has a purpose.
"And we know that in all things God works for the good of those who love him, who have been called according to his purpose."Romans 8:28
3. Remember that God's timing is always perfect.
God's plans are almost always different from our plans, but His plans are always perfect! Have the patience to wait on His timing instead of forcing your own.
"For I know the plans I have for you declares the Lord; plans to prosper you and not to harm you, plans to give you hope and a future." Jeremiah 29:11
4. Remember that God will never leave your side.
You may feel like you're going through this struggle all alone, but from the moment you ask Jesus to bring you into God's family, He will be by your side to the end so never lose hope!
"Be strong and courageous. Do not be afraid or terrified because of them, for the Lord your God goes with you; he will never leave you nor forsake you." Deuteronomy 31:6