But seek first his kingdom and his righteousness, and all these things will be given to you as well.   Matthew 6: 33
God sees, He hears, and He knows your sorrows and needs.  
And the LORD said, I have surely seen the affliction of my people which are in Egypt, and have heard their cry by reason of their taskmasters; for I know their sorrows;  Exodus 3:7
God Knows, God sees, God hears, and God felt your sorrows.

Psalm 77
1 I cried out to God for help;
    I cried out to God to hear me.
2 When I was in distress, I sought the Lord;
    at night I stretched out untiring hands,
    and I would not be comforted.
3 I remembered you, God, and I groaned;
    I meditated, and my spirit grew faint.[b]
4 You kept my eyes from closing;
    I was too troubled to speak.
5 I thought about the former days,
    the years of long ago;
6 I remembered my songs in the night.
    My heart meditated and my spirit asked:
7 "Will the Lord reject forever?
    Will he never show his favor again?
8 Has his unfailing love vanished forever?
    Has his promise failed for all time?
9 Has God forgotten to be merciful?
    Has he in anger withheld his compassion?"
10 Then I thought, "To this I will appeal:
    the years when the Most High stretched out his right hand.
11 I will remember the deeds of the Lord;
    yes, I will remember your miracles of long ago.
12 I will consider all your works
    and meditate on all your mighty deeds."
13 Your ways, God, are holy.
    What god is as great as our God?
14 You are the God who performs miracles;
    you display your power among the peoples.
15 With your mighty arm you redeemed your people,
    the descendants of Jacob and Joseph.
16 The waters saw you, God,
    the waters saw you and writhed;
    the very depths were convulsed.
17 The clouds poured down water,
    the heavens resounded with thunder;
    your arrows flashed back and forth.
18 Your thunder was heard in the whirlwind,
    your lightning lit up the world;
    the earth trembled and quaked.
19 Your path led through the sea,
    your way through the mighty waters,
    though your footprints were not seen.
20 You led your people like a flock
    by the hand of Moses and Aaron.
God Knows
From: Streams in the Desert
Your heavenly Father knoweth (Matthew 6:32).
A visitor at a school for the deaf and dumb was writing questions on the blackboard for the children. By and by he wrote this sentence: "Why has God made me to hear and speak, and made you deaf and dumb?"
The awful sentence fell upon the little ones like a fierce blow in the face. They sat palsied before that dreadful "Why?" And then a little girl arose.
Her lip was trembling. Her eyes were swimming with tears. Straight to the board she walked, and, picking up the crayon, wrote with firm hand these precious words: "Even so, Father, for so it seemed good in thy sight!" What a reply! It reaches up and lays hold of an eternal truth upon which the maturest believer as well as the youngest child of God may alike securely rest — the truth that God is your Father.
Do you mean that? Do you really and fully believe that? When you do, then your dove of faith will no longer wander in weary unrest, but will settle down forever in its eternal resting place of peace. "Your Father!"
I can still believe that a day comes for all of us, however far off it may be, when we shall understand; when these tragedies, that now blacken and darken the very air of heaven for us, will sink into their places in a scheme so august, so magnificent, so joyful, that we shall laugh for wonder and delight.
–Arthur Christopher Bacon
No chance hath brought this ill to me;
'Tis God's own hand, so let it be,
He seeth what I cannot see.
There is a need-be for each pain,
And He one day will make it plain
That earthly loss is heavenly gain.
Like as a piece of tapestry
Viewed from the back appears to be
Naught but threads tangled hopelessly;
But in the front a picture fair
Rewards the worker for his care,
Proving his skill and patience rare.
Thou art the Workman, I the frame.
Lord, for the glory of Thy Name,
Perfect Thine image on the same.
–Selected
Hey, Where'd You Get That?
From: Get More Strength.org
"Every good and perfect gift is from above, coming down from the Father" James 1:17
One of my favorite classical works of music is The Creation. But what I like even more than the stirring sounds and moving lyrics is the attitude of composer.
It was the year 1808, and the last note sounded as the symphony's performance came to a close. Applause thundered through the auditorium in honor of one of the greatest composers of all time, Franz Joseph Haydn. The piece that had been performed was called The Creation. Haydn had written it to glorify God, by telling the Genesis story of creation through music. Audiences all over Europe adored it. And that night, he responded to the crowd's ovation by pointing upward and exclaiming, "No, No! Not from me, but from thence! From heaven above comes all!"
At that same concert, Haydn's contemporary Ludwig van Beethoven is said to have knelt and kissed Haydn's hands in an act of honor. Praised by other great composers of his time and admired by the public as well, he was heaped with fame and adoration. Still, he refused to become prideful of the music God had created through Him. He knew from where it had come.
For sure, not many of us will be musical geniuses like Haydn. But God has given all of us talents and abilities. Some of us have exceptional people skills; some have what it takes to crunch numbers with precision. Others might be able to cook, write prose and poetry, or repair the transmission on a car. These gifts from God are the result of the way He created us—in His image. God is infinitely talented and able to do anything! Being made in "His image" means we have been given gifts from Him to accomplish good things and to contribute to our world.
But here's the rub. If we're not careful, the stealth enemy of pride will whisper to you that you are the one who deserves the credit. There is something really seductive about applause and affirmation. Giving the credit to others is not an easy thing to do. But in the end, who would you rather have people admire—you or your God? And even if you are tempted to honestly admit that you'd kinda like it to be you—upon further reflection, my guess is that you really don't want to go there. And you shouldn't. Competing with Him for the applause, especially when He deserves it all, is not a good idea. Particularly when we read that, "God opposes the proud but gives grace to the humble" (1 Peter 5:5
).
Remember, there is a world out there that is sitting quietly, watching your performance, waiting to break into applause. And when the applause comes, stand, take a bow, and then let people know where it all came from!
Undigested Knowledge
From: Our Daily Bread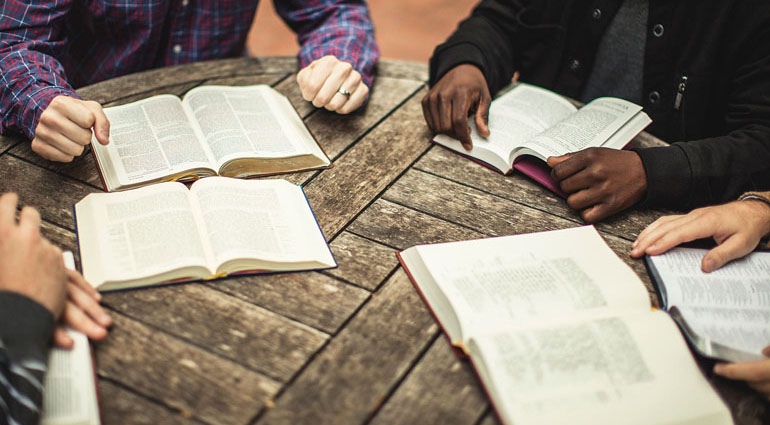 If you hold to my teaching, you are really my disciples.
In his book on language, British diplomat Lancelot Oliphant (1881–1965) observed that many students give correct answers on tests but fail to put those lessons into practice. "Such undigested knowledge is of little use," declared Oliphant.
Author Barnabas Piper noticed a parallel in his own life: "I thought I was close to God because I knew all the answers," he said, "but I had fooled myself into thinking that was the same as relationship with Jesus."
At the temple one day, Jesus encountered people who thought they had all the right answers. They were proudly proclaiming their status as Abraham's descendants yet refused to believe in God's Son.
"If you were Abraham's children," said Jesus, "then you would do what Abraham did" (John 8:39). And what was that? Abraham "believed the Lord, and he credited it to him as righteousness" (Gen. 15:6). Still, Jesus' hearers refused to believe. "The only Father we have is God himself," they said (John 8:41). Jesus replied, "Whoever belongs to God hears what God says. The reason you do not hear is that you do not belong to God" (v. 47).
Piper recalls how things "fell apart" for him before he "encountered God's grace and the person of Jesus in a profound way." When we allow God's truth to transform our lives, we gain much more than the right answer. We introduce the world to Jesus.
Father, thank You that You receive anyone who turns to You in faith.
Faith is not accepting the fact of God but of receiving the life of God.
Are You Listening to God?
From: Utmost.org
We don't consciously and deliberately disobey God— we simply don't listen to Him. God has given His commands to us, but we pay no attention to them— not because of willful disobedience, but because we do not truly love and respect Him. "If you love Me, keep My commandments" (John 14:15). Once we realize we have constantly been showing disrespect to God, we will be filled with shame and humiliation for ignoring Him.
"You speak with us,…but let not God speak with us…." We show how little love we have for God by preferring to listen to His servants rather than to Him. We like to listen to personal testimonies, but we don't want God Himself to speak to us. Why are we so terrified for God to speak to us? It is because we know that when God speaks we must either do what He asks or tell Him we will not obey. But if it is simply one of God's servants speaking to us, we feel obedience is optional, not imperative. We respond by saying, "Well, that's only your own idea, even though I don't deny that what you said is probably God's truth."
Am I constantly humiliating God by ignoring Him, while He lovingly continues to treat me as His child? Once I finally do hear Him, the humiliation I have heaped on Him returns to me. My response then becomes, "Lord, why was I so insensitive and obstinate?" This is always the result once we hear God. But our real delight in finally hearing Him is tempered with the shame we feel for having taken so long to do so.
WISDOM FROM OSWALD CHAMBERS