I was young and now I am old, yet I have never seen the righteous forsaken or their children begging bread.  Psalm 37:25
18   

As Jesus was walking beside the Sea of Galilee, He saw two brothers, Simon called Peter and his brother Andrew. They were casting a net into the sea, for they were fishermen. 
20   

And at once they left their nets and followed Him.…
What We Bring Back
From: Our Daily Bread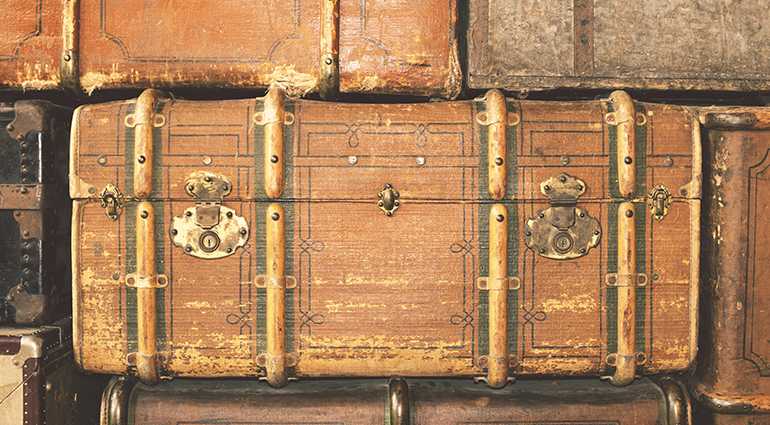 I was young and now I am old, yet I have never seen the righteous forsaken or their children begging bread.  Psalm 37:25
John F. Burns spent forty years covering world events for The New York Times. In an article written after his retirement in 2015, Burns recalled the words of a close friend and fellow journalist who was dying of cancer. "Never forget," his colleague said, "It's not how far you've traveled; it's what you've brought back."
Psalm 37 could be considered David's list of what he "brought back" from his journey of life, from shepherd to soldier and king. The psalm is a series of couplets contrasting the wicked with the righteous, and affirming those who trust the Lord.
"Do not fret because of those who are evil or be envious of those who do wrong; for like the grass they will soon wither" (vv. 1–2).
"The Lord makes firm the steps of the one who delights in him; though he may stumble, he will not fall, for the Lord upholds him with his hand" (vv. 23–24).
"I was young and now I am old, yet I have never seen the righteous forsaken or their children begging bread" (v. 25).
From our experiences in life, what has God taught us? How have we experienced His faithfulness and love? In what ways has the Lord's love shaped our lives?
It's not how far we've traveled in life, but what we've brought back that counts.
Dear Lord, thank You for walking with me throughout my life. Help me to remember Your faithfulness.
As the years add up, God's faithfulness keeps multiplying
[Written by Joe Stowell for Our Daily Bread.]
"Behold, how good and how pleasant it is for brethren to dwell together in unity!"  Psalm 133:1
I can still remember what it was like to take our family on vacation, only to have the kids in the backseat mar the joy of it all by their bickering and complaining. Who doesn't remember the disruptive effects of "Dad, she touched me!" or "Mom, he won't give me a turn!"
If you've had that kind of experience, you can imagine how God feels when His children quarrel and complain. Getting along is important to God. Jesus prayed that we would "be one" so that the world would believe He came from the Father (John 17:20-21
). And to disciples who were prone to quarreling, He commanded that they love and serve one another (John 13:34-35
; Matt. 20:20-28
). It should also be noted that among the seven things God hates, He includes "one who sows discord among brethren" (Prov. 6:19
).
So I'm not surprised that the psalmist tells us that when brothers dwell in unity, it's like "the precious oil upon the head, running down on . . . the beard of Aaron, running down on the edge of his garments" (Ps. 133:1-2
). In ancient times, the oil of anointing was full of fragrant spices that graced the environment wherever the anointed one went. May the unity that comes from our love and service to one another fragrantly grace our families, churches, and friendships!
When love and kindness rule our lives,
And we are seen as one,
The fragrance of our unity
Has no comparison.  —Sper
Christians who get along with each other spread the sweet aroma of Jesus.
July 25, 2017


Everybody's Got Somethin'
KAREN EHMAN

From: Crosswalk.com
"Good sense makes one slow to anger, and it is his glory to overlook an offense." >Proverbs 19:11 (ESV)
My intense irritation at my husband's actions didn't show visibly. Since his mother was in the backseat of our car, I was careful to remain calm. However, I did sneak a darting glance toward him — a dagger that accurately conveyed how very much I hated what he'd just done.
His dire offense?
Failure to use his blinker when changing lanes.
I am a by-the-books driver. My kids chuckle when I dutifully use my blinker before turning into our driveway, even when no one is around — which is nearly 99 percent of the time, since we live near the end of a road with a cul-de-sac. Therefore, it aggravates me when my dear husband sometimes behaves as if turn signal usage is completely optional.
This particular day, we were shuttling my mother-in-law to her doctor's appointment. As I sat in the waiting room, my mind began to tally, one-by-one, other perfectly irksome things I didn't like about my man's behavior.
He leaves the closet and cupboard doors open. Open! He didn't return the stapler to its proper place when he finished using it the other day. That time we bumped into his co-worker, he didn't even introduce me. He never remembers the details of our conversations. As each scenario popped into my mind, I grew more and more annoyed.
Across from me sat a chatty elderly woman. The weather reports were calling for an ice storm later that afternoon. She spoke of some people all in a tizzy about the impending inclement weather, declaring they needed to remember one important fact, "Everybody's got somethin'."
I asked her just what she meant by that. "Well," she elaborated, "when we lived in Kansas, it was dust storms and tornadoes. Then, the few years we lived in southern Florida, we had to prepare for hurricanes. And, when we were stationed in California, oh what a drought we had that one year. Like I say," she restated, "Everybody's got somethin'."
My waiting room friend's atmospheric observation spiritually snapped me to attention that day. Why, oh why, do I let certain aspects of my husband's personality and conduct bother me so easily? Surely I do things that drive him equally crazy? Undoubtedly, I sometimes irk or offend him with my behavior? In fact: "Everybody's got somethin'" — some behavior, quirk, practice or habit that wreaks havoc on others, tempting them to become slightly irritated or even all-out furious.
Today's key verse states that "good sense makes one slow to anger" and that it is a person's "glory to overlook an offense" (Proverbs 19:11). In the original Hebrew language, the word "glory" conveys "beauty, honor, splendor" and even "adornment." The original essence of this verse unearths for us this line of thinking: Our patience in passing over an offense — refusing to speedily go from zero to furious over the actions of others — adorns us with true beauty and honors them.
I'm not saying it's easy. However, it is the right — and righteous — thing to do. Why? Because we mirror the gospel when we overlook another's unpleasant behavior and love them anyway.
So how about it? Is there someone in your life who sometimes gets on your nerves or under your skin — or maybe even both? Does your response to their behavior leave no doubt about your level of frustration? How about we try a new approach — intentionally overlooking irritating behavior? Yes, that means we keep our cool. Don't say a word. Smile instead, and love despite.
In other words, reflect the gospel to a watching world. More importantly — to a watching loved one.
Father, may I learn not to let the little quirks or even the bigger missteps of my loved ones provoke me to instant anger. Teach me to overlook an offense as I remember how much You've forgiven me. In Jesus' Name, Amen.