God Provides
I was barely high enough to peer over the shiny, yellow, laminate countertops in my grandmother's immaculate kitchen, but it was homemade-noodle making day, and I was overjoyed as I took my rightful place next to her on a worn, red, metal foot stool.
"Always make sure the eggs are at room temperature," she reminded me as we took turns cracking them into the bright blue earthenware bowl.
The smells of the wonderfully cooked Italian food, glorious food, lovingly prepared by my tiny grandmother in her homespun kitchen are still unmatched today, and those memories remain some of my most cherished!
Being from a large Italian family, all of my favorite and important memories involve food. Banquets and feasts were the centerpiece of every holiday, birthday, and simple Sundays. My grandmother wanted to feed everyone. She loved people with food. Making others happy with food gave her joy. She would bring food to all her friends, cook for those who were sick or just in need of a little TLC. She was always prepared. To her, it was a crime to not have a freezer full of "just in case" lasagnas, and canolis for company!
I believe this is a "no getting around it" inherited trait of just being Italian, at least in my family. I too live to feed everybody and everything. The ducks on the lake outside my home know that all too well.
To me, there would be no worse feeling than to not be able to provide food for my family or being unable to feed my children.
I thought about the children of Israel. While they were endlessly wandering in the wilderness, they needed to fully rely on God to provide food (manna) for them each day. They were not allowed to take any more than a single day's portion, and if they did, it would rot immediately. There would be no "just in case" food, no "what if God forgets to send it tomorrow" food! They had to have blind faith in what they did not see and wholeheartedly trust they would be able to go out each day and collect fresh food for their children. They had to believe a new day's supply would be sent to nourish them by God from Heaven.
They had to trust that God would provide!
In Mark 10:36, Jesus asked, "What do you want me to do for you?"
God is so simple in His love for us. He just wants us to trust him. He asks us to tell him what we need. He says we have not, because we ask not.
By commanding the Israelites to not collect any more food than they needed for one day, God was asking them to totally rely on His merciful grace—the grace that can only come from Him. His grace is sufficient to take care of all we need on any given day.
In 2 Corinthians 12:9 (NIV), the Lord told Paul,
"My grace is sufficient for you, for my power is made perfect in weakness." And Paul's response was to "boast all the more gladly about my weaknesses, so that Christ's power may rest on me."
Sometimes we look ahead—and the mountains we face and the trials and storms that engulf us, seem overwhelmingly impossible to manage. But then God shows up again with a daily helping of His amazing grace and a fresh batch of heavenly manna and says, "Trust me, we will get through this together today, I will be back tomorrow and we will handle tomorrow then."
When we are weak, He is strong!
Therefore I tell you, do not worry about your life, what you will eat or drink; or about your body, what you will wear. Is not life more than food, and the body more than clothes? Matthew 6:25 (NIV)
Playing Second Fiddle
By: Stephan Sanders, crosswalk,com
"Love from the center of who you are; don't fake it. Run for dear life from evil; hold on for dear life to good. Be good friends who love deeply; practice playing second fiddle." (Rom. 12:9-10, MSG)
Shortly after I decided that I wanted to write a blog post on this passage of scripture, a funny thing happened. For the second time this week, I received a work email from one of my fellow employees titled, "free Hanover Tomatoes in the break room!"
Now, as a lover of all types of tomatoes, especially those of the Hanover variety, I got this email and quickly rushed down the steps to the break room where I found a couple more of my work mates. With a speedy "hey guys," I made a beeline for the table where people place all the free stuff.
As I opened the bag and reached inside, I discovered that there was just one delicious Hanover tomato left. I reluctantly picked it up and turned to toss the bag in the trash when one of my colleagues exclaimed, "Aww man! The last tomato?!?!"
"Here you go, man." I said. After all, I still had a delicious Hanover tomato in the fridge from earlier that week.
He said, "No. I can't. It's fine, man."
"No really," I said emphatically, "please take it."
"OK. If you say so," he said. As I walked towards the door to head back upstairs, he said, "Wait. Here you go, man. It has a couple holes in it anyway."
"Are you sure?" I replied as I reached out for the delicious Hanover tomato. "I'm positive", he said, "I mean, you may want to slice it up or put it on a sandwich or something like that."
"You guys are embarrassing me," said my other workmate jokingly.
When we "play second fiddle", or as the ESV says, "outdo one another in showing honor", the world around us takes notice. It's the defining mark of a Christian and ultimately what causes us to shine. Sure it might make things a little awkward or uncomfortable for everyone involved, but what's so wrong with that? I mean, isn't that kind of the point?
Just think about it; the Bible tells us emphatically that our walk with Jesus is one where we empty ourselves and then fill ourselves back up with Jesus Christ. The Apostle Paul was always talking about how it was no longer he who lived but Christ and that he actually died daily to be a follower of Jesus. Even Jesus Himself states that His followers are those who deny themselves and even lose themselves for His sake.
Denying your wants is not an easy thing. It may, in fact, cause you a lot of stress. After all, what happens if you give and give until you have nothing left?
In Matthew 6:25-34 (MSG), Jesus provides a remedy to our anxiety on this matter:
"If you decide for God, living a life of God-worship, it follows that you don't fuss about what's on the table at mealtimes or whether the clothes in your closet are in fashion. There is far more to your life than the food you put in your stomach, more to your outer appearance than the clothes you hang on your body.
Look at the birds, free and unfettered, not tied down to a job description, careless in the care of God. And you count far more to him than birds. Has anyone by fussing in front of the mirror ever gotten taller by so much as an inch? All this time and money wasted on fashion – do you think it makes that much difference? Instead of looking at the fashions, walk out into the fields and look at the wildflowers. They never primp or shop, but have you ever seen color and design quite like it? The ten best-dressed men and women in the country look shabby alongside them.
If God gives such attention to the appearance of wildflowers – most of which are never even seen – don't you think he'll attend to you, take pride in you, do his best for you? What I'm trying to do here is to get you to relax, to not be so preoccupied with getting, so you can respond to God's giving. People who don't know God and the way he works fuss over these things, but you know both God and how he works.
Steep your life in God-reality, God-initiative, God-provisions. Don't worry about missing out. You'll find all your everyday human concerns will be met. Give your entire attention to what God is doing right now, and don't get worked up about what may or may not happen tomorrow. God will help you deal with whatever hard things come up when the time comes."
From: InTouch ministries
In today's passage, Paul tells a young pastor named Timothy, "Fight the good fight of faith" (1 Timothy 6:12). But this command isn't limited to pastors; every believer needs to be a faithful soldier of Christ. That's because we're all in a battle—not against people but against spiritual forces of wickedness (Eph. 6:12).
This war began when Satan and other angels rebelled against God. Then Satan tempted Eve to disobey the Lord as well. As a result of Adam and Eve's rebellion, the earth was cursed, and the entire human race was corrupted by sin. Ever since that day, the battle for truth and righteousness has raged.
Although we may often feel overwhelmed by temptations and deceptions, Jesus modeled the path to victory when He was tempted by Satan in the wilderness (Matt. 4:1-11). He used only one weapon to refute each enticement and falsehood—the Word of God.
This is the same powerful weapon our heavenly Father has given us to fight the good fight. When we view daily battles biblically with full reliance on the trustworthiness and authority of Scripture, we can flee sin, pursue righteousness, and stand firmly for the truths of the faith.
"A new commandment I give to you, t.t you love one another: just as I have loved you, you also are to love one another." John 13:34 (ESV)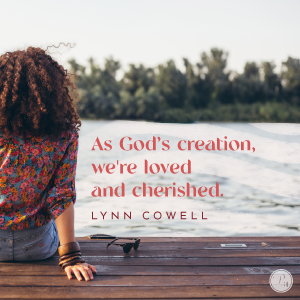 Growing up, I switched schools several times, so starting over was a normal part of life for me. The thing I never got used to was trying to make new friends.
While I might've been noticed and labeled as "Lynn, the new girl" the first time it happened, that's where the acceptance ended. The girls I went to school with saw me as that label, not "Lynn."
I felt invisible.
And then as spring gave way to summer, and the sweltering heat rolled in, a moving truck pulled into my neighborhood and parked across the street. I saw a couple of girls my age pop out of the truck.
I couldn't believe my eyes! For the first time since moving into this neighborhood, there were girls who would be my new neighbors! I decided I would no longer be "Lynn, the new girl." I would be "Lynn," and I would be their first friend.
Marching up to my bedroom, I pulled out my orange- and white-striped shirt, the one with "LYNN" screen-printed in bold, block letters. Slipping it over my head, I bravely made my way across the street, practicing exactly what I would say. After I rang the doorbell, a heavy door opened, and I boldly proclaimed to the girl who answered the door, "Hi, I'm Lynn." (How creative!)
That summer, I offered to these new friends who moved to our town exactly what I wish I had when I began my new school and attended our new church: acceptance.
Looking back, I've learned a big lesson from that brave little girl in her "LYNN" shirt. She taught me I might be a little too comfortable now and that other people with labels need to be loved and accepted for who they are, too.
Jesus modeled this best and without fail. He showed us how to love others without any conditions based on the labels the world gives. By leaving the comfort of His home, His family and His neighborhood, He demonstrated what it means to truly love. The same way He unconditionally loves and cherishes us, we are to love and cherish others.
Today's key verse says, "A new commandment I give to you, that you love one another: just as I have loved you, you also are to love one another" (John 13:34).
Loving others is easy when they fit into our comfort zone.
But what about when that's not the case? When it requires us to step out of our comfort zone? Then it's harder.
But the truth is, every girl, every woman —
no matter where she's from,
no matter her skin color,
no matter her label,
no matter how different she is from me
— needs and deserves to know that as God's creation, she's loved and cherished. There is not one condition behind that truth.
But friends, there's more to our assignment. We can't just talk the talk; we've got to walk the walk. Let's not just tell our neighbor we love her; let's live it out and show we love her.
Let's do what Jesus did when He came to earth. Let's go into homes. Share meals. Listen to one another. Pray together. Make T-shirts that spell our names in big, bold letters (OK, maybe not that, but I had to throw that idea in there).
This starts in the heart and in the home. Our children need to know that because they're unconditionally loved and cherished, they can love and cherish others, too.