Thanksgiving Traditions
What do you think of when you think of Thanksgiving? A table laden with turkey, dressing, and pumpkin pie? A break from work or school? Family gathered from far and near? Football? Sales the day after?
Many traditions make Thanksgiving special and memorable. However, we might also think of our history. In 1621, Governor Bradford declared a day to offer thanks for good crops and invited an Indian tribe to join the settlers for a three-day feast and games.
The second recorded American Thanksgiving, in 1623, actually began as a time of prayer and fasting. The settlers set aside a day to pray and fast because they desperately needed rain. While they were praying, a gentle rain began to fall. Prayer time turned into an impromptu time of giving thanks. (Do you know of anyone who thinks of prayer and fasting in connection with Thanksgiving? After all, it is part of our history of the holiday.)
Although various colonies celebrated harvest festivals, it was not until 1777 that all 13 colonies celebrated at the same time. In 1789, George Washington was the first president to declare a Day of Thanksgiving. However, it did not continue to be an annual celebration.
Finally, in 1863 Abraham Lincoln gave a proclamation, declaring a Day of Thanksgiving. He thought it might help to unite a divided nation. Since then, Thanksgiving has been proclaimed a holiday by every president. (Did anyone think of bringing unity in connection with Thanksgiving?)
About a month ago, I read a couple of articles that got me to thinking about this particular holiday. They were both about depression. Yes, depression—as unlikely as that seems.
One article suggested that one way to combat depression is to write in a notebook every morning, listing five things you're grateful for—just five things, every morning. Evidently, practicing gratefulness helps change the mindset from a disheartened viewpoint to having a positive, hopeful outlook on life.
Another article suggested that throughout the day, if you feel down, to stop and think of three things that you are grateful for. It's difficult to stay down or depressed while feeling grateful. As you focus on the positive—the things you're thankful for—it drives out the doldrums.
I often get so busy just keeping up with life that I forget to be grateful. After reading those articles, I decided it was a good thing that we celebrate Thanksgiving so we will be reminded to be grateful.
But then I wondered if we get so busy with our traditions that we sometimes forget to give thanks on Thanksgiving. When I asked what you think of when you think of Thanksgiving, did anyone even think of giving thanks?
No other holiday spells out what it is all about—"Thanks-giving"—but we hear it as a noun, a name, a holiday—not an action. What would happen if we responded to the verb in the holiday? What if we celebrated by giving thanks?
Even in the worst circumstances, there are things to be grateful for. When we take our eyes off the problems and focus on the positive, it lifts our spirits and makes the difficulty easier to bear. When we go a step further and voice appreciation to those around us for blessing us, it encourages them and makes their lives easier—and brighter.
I've even seen relationships restored when words of appreciation were spoken. I don't know whether the holiday brought unity between the North and South in Lincoln's day, but gratefulness can bring unity between individuals, in families, and in groups—wherever people interact.
When I think of Thanksgiving, I first think of family because that is when we have our family reunion. And I'm all for turkey, dressing, gravy, pies, and all the bounty. Parades, football, and slashed store prices add to the fun. I love celebrating Thanksgiving.
However, except for fond memories and extra pounds, those things are soon past. Conversely, if we celebrate Thanksgiving with an attitude of gratitude, it could make a positive difference that would have lasting effect—in lives of others as well as ourselves. In George Washington's words, Thanksgiving was to be "a day of public thanksgiving and prayer, to be observed by acknowledging with grateful hearts the many and signal favors of Almighty God." What would it take to keep that tradition alive?
May you and those you love be blessed as you celebrate Thanks-giving this year!
Grateful Words
NOVEMBER 25, 2021
"Give thanks to the LORD and proclaim his greatness. Let the whole world know what he has done." 1 Chronicles 16:8 (NLT)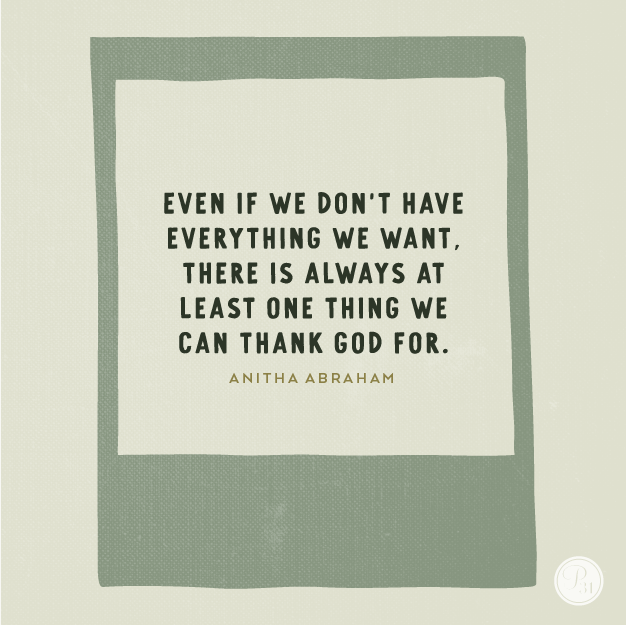 The conversation with my husband started out simply enough. I was sharing some frustrations I had regarding various projects I was involved with. He patiently listened, and then I patiently waited for him to agree with everything I had said.
Instead, he replied, "Sometimes, I wonder if you really like what you do." I was confused, so I stated, "Well, of course I do! What would make you think that?"
His tone was gentle, but his words hit hard: "The way you talk about it."
Ouch.
I knew I was grateful for each opportunity. In fact, I loved what I was doing, but apparently, my words were telling a different story. My husband was hearing more negativity than positivity. He caught more complaining than contentment in my conversation. He sensed ingratitude over gratitude.
But it wasn't just about those projects.
One day, it's the traffic. Another day, it's work. I grumble about my overbooked schedule. I question how there are so many dishes in my two-member household. I groan when I have to put the toilet seat down … again.
In Numbers 11, we encounter the Israelites, who were en route to the promised land. Wilderness living presented its fair share of challenges, but God had provided every step of the way.
In spite of that, the Israelites repeatedly verbalized their dissatisfaction: "… again the Israelites started wailing and said, 'If only we had meat to eat! We remember the fish we ate in Egypt at no cost—also the cucumbers, melons, leeks, onions and garlic. But now we have lost our appetite; we never see anything but this manna!'" (Numbers 11:4-6, NIV, emphasis added).
Their cravings were clouding their memories. If you didn't know the story, you would think Egypt was an all-inclusive resort paid for by someone else. But the Israelites' time in Egypt had been anything but a vacation — they were slaves under the oppressive rule of an evil pharaoh. It hadn't been that long since they had cried out to God to get them out of there. (Exodus 2:23)
I can't be too hard on the Israelites, though. They aren't the only ones who have chosen to complain about what they didn't have rather than celebrate what they did have. I am just as guilty.
As I processed my husband's observation, I realized: What if everything I complained about was taken away?
Driving in traffic means I have a car to take me places. And despite valid job frustrations, I have a healthy body that allows me to do my job. That job also provides an income to help me take care of my family. A full schedule is indicative of people in my life and a purpose I am pursuing. Household chores reveal that I have a home to take care of. Dishes in the sink mean there was food on my table. And even that raised toilet seat is a reminder of the wonderful (and insightful) husband I spent many years praying for.
Even if we don't have everything we want, there is always at least one thing we can thank God for. Another day, another breath, the beauty of creation — the list goes on.
Of course, we all need opportunities to voice our frustrations in a healthy way. However, I don't want my grateful heart to be overshadowed by my complaining words. The Bible instructs us accordingly: "Give thanks to the LORD and proclaim his greatness. Let the whole world know what he has done" (1 Chronicles 16:8).
In this verse, to "give thanks" means more than an internal attitude. The Hebrew phrasing implies a confession of thanks. This lines up with the rest of the commands in this verse to "proclaim" and "let the whole world know" what God has done.
In addition to that, we are expected to "Do everything without complaining and arguing, so that no one can criticize you. Live clean, innocent lives as children of God, shining like bright lights in a world full of crooked and perverse people" (Philippians 2:14-15, NLT).
Our witness as Christ-followers is tied to what we do (and don't) say. I'm still a work in progress, but my prayer is that my words would reflect my heart … and that there wouldn't be any question about how grateful I really am.
A Prayer for Thanksgiving Day – Thanksgiving Devotional –
By Debbie McDaniel, author, crosswalk. com
"Shout for joy to the Lord, all the earth. Worship the Lord with gladness, come before him with joyful songs. Know that the Lord is God, it is he who made us, and we are his, we are his people, the sheep of his pasture. Enter his gates with thanksgiving, and his courts with praise, give thanks to him and praise his name. For the Lord is good; his love endures forever, his faithfulness continues through all generations." Psalm 100:1-5
All across our nation, Thanksgiving is a day that we set aside in order to do one thing.
Be thankful.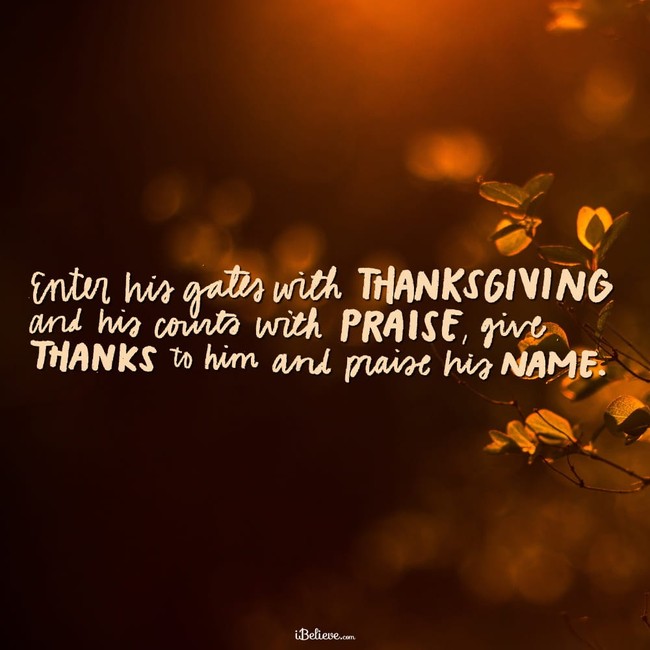 And usually what goes along with it, is lots of food, family and friends, laughter and fun, times of giving to others in need, maybe some football, or traditions that you've recognized through long years.
And sometimes too, there is also loneliness. And struggle. Or deep loss. Feelings of hurt and painful circumstances that you're still trying to hurdle over.
Whatever you're facing this Thanksgiving Day, in the midst of all of it, may we remember again that God gives us the opportunity each and every day, to give worship and thanks to Him. Every morning He gives us breath, is His invitation to come joyfully into His Presence. He reminds us that He alone is God and we belong to Him. He assures us that His plans in our lives are for good, that his love covers us securely, and His faithfulness extends from generation to generation.
No matter what, He's given us so many reasons to choose thankfulness and joy this day. Let's do what the Psalmist of this great chapter says:
– Shout for joy.
– Worship the Lord with gladness.
– Come before Him with joyful songs.
– Know that He is God.
– Enter His gates with thanksgiving and his courts with praise.
– Give thanks to Him and praise His name.
– Recognize His goodness, love, and faithfulness, through all the generations of our family.
Dear God,
Thank you for your goodness and for your blessings over our lives. Forgive us for when we don't thank you enough, for who you are, for all that you do, for all that you've given. We're so grateful you for your amazing love and care, for your mercy and grace, for always working on our behalf, even behind the scenes when we're unaware. Thank you that you are always with us and will never leave us, even through loss and the most difficult of times. Thank you for your incredible sacrifice so that we might have freedom and life. Help us to set our eyes and our hearts on you afresh. Renew our spirits, fill us with your peace and joy, this Thanksgiving Day and every day.
We give you thanks and praise, for You alone are worthy!
In Jesus' Name,
Amen.