5 As they entered the tomb, they saw a young man dressed in a white robe sitting on the right side, and they were alarmed.
6 "Don't be alarmed," he said. "You are looking for Jesus the Nazarene, who was crucified. He has risen! He is not here. See the place where they laid him.
7 But go, tell his disciples and Peter, 'He is going ahead of you into Galilee. There you will see him, just as he told you.' "
After that, He appeared in another form to two of them… —
Mark 16:12
Being saved and seeing Jesus are not the same thing. Many people who have never seen Jesus have received and share in God's grace. But once you have seen Him, you can never be the same. Other things will not have the appeal they did before.
You should always recognize the difference between what you see Jesus to be and what He has done for you. If you see only what He has done for you, your God is not big enough. But if you have had a vision, seeing Jesus as He really is, experiences can come and go, yet you will endure "as seeing Him who is invisible" (Hebrews 11:27). The man who was blind from birth did not know who Jesus was until Christ appeared and revealed Himself to him (see John 9). Jesus appears to those for whom He has done something, but we cannot order or predict when He will come. He may appear suddenly, at any turn. Then you can exclaim, "Now I see Him!" (see John 9:25).
Jesus must appear to you and to your friend individually; no one can see Jesus with your eyes. And division takes place when one has seen Him and the other has not. You cannot bring your friend to the point of seeing; God must do it. Have you seen Jesus? If so, you will want others to see Him too. "And they went and told it to the rest, but they did not believe them either" (Mark 16:13). When you see Him, you must tell, even if they don't believe.
O could I tell, you surely would believe it!
O could I only say what I have seen!
How should I tell or how can you receive it,
How, till He bringeth you where I have been?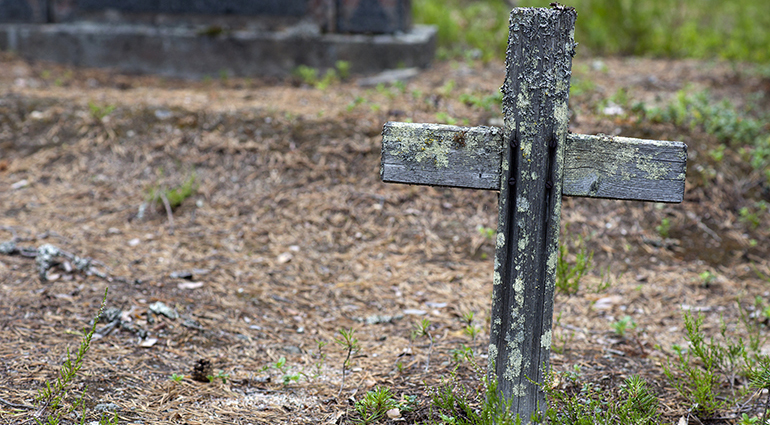 A scroll of remembrance was written in his presence concerning those who feared the Lord and honored his name. Malachi 3:16
Some years ago our sons and I spent a week on an abandoned backcountry ranch on the Salmon River, Idaho's "River of No Return."
One day, exploring the ranch, I came across an ancient grave with a wooden marker. Whatever inscription the marker may have borne had long since been weathered away. Someone lived and died—now was forgotten. The gravesite seemed tragic to me. After we got home I spent several hours reading about the history of the old ranch and that area, but could find no information about the person buried there.
They say that the best among us is remembered for 100 years or so. The rest of us are soon forgotten. The memory of past generations, like our markers, soon fades away. Yet our legacy has been passed on through the family of God. How we've loved God and others in our lifetime lives on. Malachi 3:16–17 tells us, "a book of remembrance was written before Him for those who fear the Lord and who esteem His name. 'They will be Mine,' says the Lord of hosts, 'on the day that I prepare My own possession' " (nasb).
Paul said of David that he "served God's purpose in his own generation" and departed (Acts 13:36). Like him, may we love the Lord and serve Him in ourgeneration and leave the remembering to Him. "They will be Mine," says the Lord.
May I be faithful to You today, Lord, as I spend my time loving others with Your love. Help me to trust You with the legacy I'm leaving behind.
Living for the Lord leaves a lasting legacy.
Seedtime and Harvest
"My food," said Jesus, "is to do the will of him who sent me and to finish his work. Don't you have a saying, 'It's still four months until harvest'? I tell you, open your eyes and look at the fields! They are ripe for harvest" John 4:34-35).
As I stepped outside one morning, the crisp coolness of fall greeted me. Usually, I turn on the light next to the door to avoid falling down the steps, but this morning the deck was already awash with light, although it was still hours until sunrise. As I walked to the end of the driveway, I saw the light source—a harvest moon.
God is in the details of our lives. He designed the moon to provide extra light in the fall to accommodate the harvesting of crops. Extra workers are hired and once all the crops are gathered, there is usually a celebration for the completion of work and God's bounty.
Jesus often taught using stories that reflected the occupations of the time and farming illustrations abound in Scripture. He used planting and harvesting to illustrate spreading the gospel and drawing in and nurturing those who believed. In Matthew 9, Jesus reminded the disciples of the need for more harvesters.
Then he said to his disciples, "The harvest is plentiful but the workers are few. Ask the Lord of the harvest, therefore, to send out workers into his harvest field" (Matthew 9:37-38).
Now, more than ever, there is a need for workers who are willing to sow and harvest in spiritual fields. But why is it so hard to share our faith in Christ?
Fear—I walked the same route a man in my neighborhood ran. Eventually, his steps slowed to a stumble. Then he began working out on gym equipment in his garage. We continued to wave, but the Holy Spirit nudged me to walk up his driveway and tell him about Jesus. I invented excuses: time constraints, invasion of his privacy, not really knowing him. Sometimes, I even walked a different route, avoiding his house and my guilt for not stopping. Then, one day when I passed the house, cars jammed the driveway and spilled into the street. A grim black wreath hung on the front door. The man was dead and I had allowed fear to keep me from acting in obedience to God's voice.
Feeling inadequate—Satan steals confidence, convincing us we're not smart enough, engaging enough, wise enough, whatever enough to act on God's directives. God gave Moses an assignment and he immediately reminded God he was inadequate. Even after God promised to help him, Moses still refused. Needless to say, God was angry. God is disappointed when we don't trust him enough to step out in faith or when we don't listen when he instructs us.
Invasion of privacy. The world bombards us with the message that people have the right to diverse spiritual beliefs and we are wrong to force our message or risk offending by implying their beliefs aren't correct. But relaying your personal story about God at work in your life isn't forcing someone to accept Him. Your personal experience is your story and others may identify and come to know Christ because you were willing to tell it.
Expecting another messenger—Often, we hesitate to share our faith because we assume someone else will. But what if others are waiting for another messenger, too? God showed me that sharing my faith is a natural overflow of my love for him. When we're excited about something in our lives, we usually don't wait for someone else to spread our good news.
Paul said, "For I am not ashamed of the gospel, because it is the power of God that brings salvation to everyone who believes" (Romans 1:16).
Look around you. Your ripe fields awaiting harvest may be as close as a co-worker, neighbor, or longtime friend. So roll up your sleeves, go to work, and enjoy a bountiful harvest.