Hope-filled Readings and Prayers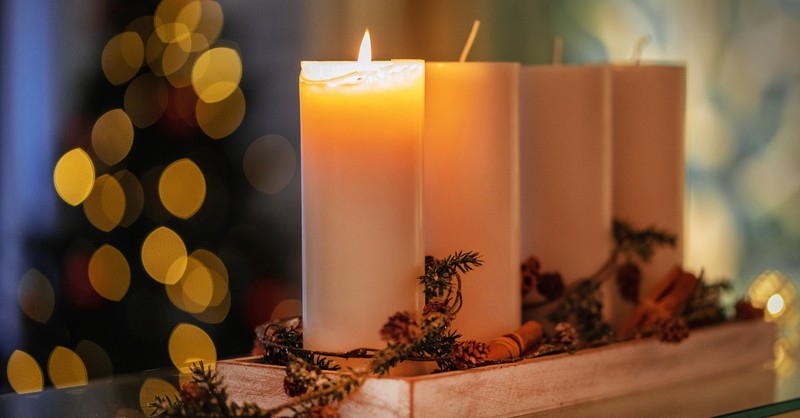 The first Sunday of Advent in 2021 will be Sunday, November 28th. After a tumultuous year, there is comfort to be found when we pause to read, pray, and reflect over the course of the Advent season in which believers eagerly anticipate the celebration of Christ's birth.
The first Sunday of Advent gives us the opportunity to center our thoughts on hope.
It's a beautiful chance to remember the hope God offers to our lost and dying world, and that He's given us through Jesus.
Galatians 4:4-8 says:
But when the right time came, God sent his Son, born of a woman, subject to the law. God sent him to buy freedom for us who were slaves to the law, so that he could adopt us as his very own children. And because we are his children, God has sent the Spirit of his Son into our hearts, prompting us to call out, "Abba, Father." Now you are no longer a slave but God's own child. And since you are his child, God has made you his heir.
Paul, the writer of Galatians, articulates so perfectly the great hope we celebrate at Christmas! Without God's intervention, we were all slaves…bound up by our sin nature and hopelessly headed to the grave. Because of God's great love for us, He came down and rescued humanity by sending his Son as a sacrifice for our sin—so we could be free from the chains of sin and become fully part of God's glorious eternal family.
On this first Sunday of Advent, as we prepare our hearts to celebrate Jesus' arrival as a gift to all humanity; let's stir up in our hearts and homes a sense of anticipation. Over this Advent, we pray that hope would rise up in our spirits in a tangible and life-giving way.
First Sunday of Advent Symbolism and Wreath Candle
The word "Advent" comes from the Latin word adventus, which means "coming." Advent in the 4th and 5th centuries was a time of preparation for the baptism of new Christians. Christians would spend 40 days in prayer and fasting to prepare for the celebration that accompanied the baptism of new believers.
Over time, advent was connected to the coming of Christ. Originally Christians used this term to reference Christ's second coming, but by the Middle Ages, Advent was connected to Christ's first coming that we celebrate at Christmas.
Today, we celebrate Advent over the four weeks leading up to Christmas each year. This year we begin advent on November 29th and end this season of prayerful anticipation on December 24th.
Advent season is an invitation to set your mind off of the stresses of the year. We can take our focus off of the crazy hustle that can be associated with the Christmas season that often threatens to produce more hassle than delight. Advent is a chance to focus our thoughts on the gift God has given us in his son Jesus who stepped down from Heaven and took the form of a man so that we might believe.
The tradition for the first Sunday of Advent includes lighting the candle of hope.
When You Just Aren't Feeling That Holiday Cheer – Encouragement for Today – November 26, 2021
"When the cares of my heart are many, your consolations cheer my soul." Psalm 94:19 (ESV)
When I was a child, I could always count on three things being consistent during the holiday season.
The first was my mother's delicious turkey roasted her signature way — in a brown grocery sack.
The second was my favorite chunky candy bar nestled deep in the toe of my stocking.
And the third was my mom and my aunt crying when all the festivities were over and it was time for everyone to go home. My little mind could never understand why someone would weep at the happiest time of year.
But now, sadly, I can say I get it.
My mom and aunt lost their mother — my Grandma Elsie, whose birthday was on Christmas Eve — when they were barely into their 30s. In the past two years, I have lost my father; my mother; two cousins; an aunt; two uncles; and my stepmom, who'd been part of my life since I was 13.
The cheer and sparkle of the holidays — with the accompanying "it's the most wonderful time of the year" sentiment — is in such stark contrast to the chimney-sized hole of heaviness in my heart. Knowing that my loved ones are no longer a part of our celebrations drains my holiday joy.
Lost loved ones aren't the only reason for lamenting. Maybe you have wayward children, poor health or fractured friendships. Maybe this is the first holiday season spent as a family stung by divorce. Or maybe it's just a deep, dark loneliness. What do we do when we can't find any holiday cheer?
Thankfully, our key verse shows us the remedy for our aching emotions. Psalm 94:19 declares: "When the cares of my heart are many, your consolations cheer my soul."
In the original Hebrew language, the meaning of the English phrase "cares of my heart" (v. 19) comes from two words: sarappim and qereb. The first word means anxious and disquieting thoughts. The second term refers to that which is deep within your body, predominantly in your heart. So much of our sorrow at the holidays disquiets us. However, it isn't always visible to others. It can remain hidden below the surface.
The phrase "cheer my soul" (v. 19) is a tethering of the Hebrew words sha'a' and nephesh. Taken together, these words imply that God delights our dejected emotions by smearing them over. He takes the raw and tender places of our souls and smooths His healing balm over them, allowing us to be cheered again.
I find this happens through gut-wrenchingly honest prayer and a plea for renewed vision. I tell God how very much I will miss the crazy, Christmas Eve, "white elephant" gift exchange with my dad and stepmom, and I ask God to comfort me and give me hope. He prompts me to host such a gathering with foreign exchange students from church who cannot be home for the holidays.
When I can't bear the thought of our first holiday season without my mom and her game of "how many chocolate snowman candies are in the jar?" I pray to God for comfort and perspective. He nudges me to keep the tradition going with all her grandkids, with the added action of each child telling one happy memory of Grandma before giving their guesses.
I recall how my own mom always made Christmas a reason to make someone else's life better, often signing up to serve the less fortunate or offer financial assistance to local charitable organizations. I'm sure helping others helped her to deal with her own fresh grief that resurfaced each year.
Second Corinthians 1:3 refers to God as "the Father of compassion and the God of all comfort" (NIV). He comforts us so that we, in turn, can cheer and comfort others. When our hearts feel heavy at the holidays, God stands ready not only to soothe our sorrows but also to help us seek out the discouraged and do something to show them that we care — and He cares.
Maybe, then, the holidays really can be the most wonderful time of the year: a time for cheering others with the love of God, even despite our hurting hearts.
Today's Devotions
Morning
November 28
Isaiah 26:3 3You will keep in perfect peace him whose mind is steadfast, because he trusts in you.
Isaiah spent the previous chapters telling of all the destruction that was to come to Judah and the surrounding nations. Then he looked forward in time to when the nation of God's people will enter their holy city. The walls and ramparts are salvation. God wipes away every tear from their eyes. It is the nation of believers who will not forsake their faith in God.
Because of that faith God keeps them in perfect peace. The world goes through changes and turmoil. Nations rise and fall. So much of our sense of security is in the flimsiest of things, but those whose minds are steadfast, seeing the sovereignty of God, and the love and faithfulness of God, have perfect peace. Perfect peace is not circumstantial. It is much deeper than passing things. They trust that God never changes. They trust that the love that He has shown them and His faithfulness and mercy will continue forever. There is no fear that He will change.
All else is fluid. All else is undependable. But the eye of faith looks past this temporal world and sees the unchanging God. The peace faith brings is perfect. It is deep and abiding. It is the peace He gives us. Do you know this peace? Where is your trust placed? If it is on something temporal, turn away from that today and learn to trust in the unchanging One.