Just a Second
From: Our Daily Bread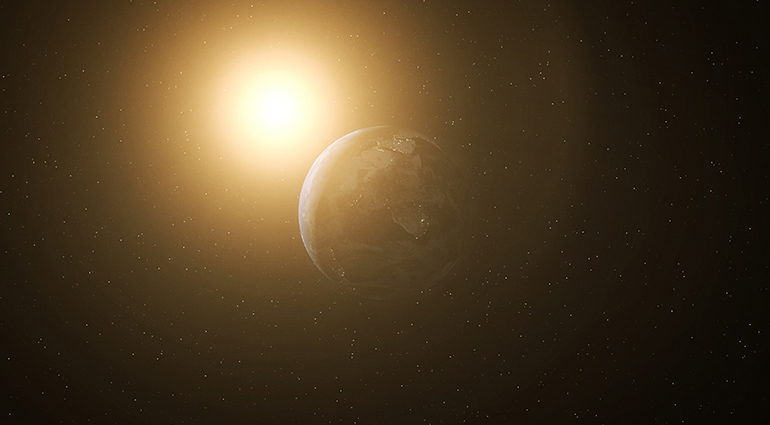 Scientists are pretty fussy about time. At the end of 2016, the folks at Goddard Space Flight Center in Maryland added an extra second to the year. So if you felt that year dragged on a bit longer than normal, you were right.
Why did they do that? Because the rotation of the earth slows down over time, the years get just a tiny bit longer. When scientists track manmade objects launched into space, they must have accuracy down to the millisecond. This is "to make sure our collision avoidance programs are accurate," according to one scientist.
For most of us, a second gained or lost doesn't make much difference. Yet according to Scripture, our time and how we use it is important. For instance, Paul reminded us in 1 Corinthians 7:29 that "time is short." The time we have to do God's work is limited, so we must use it wisely. He urged us to "[make] the best use of the time, because the days are evil" (Ephesians 5:16 esv).
This doesn't mean we have to count each second as do the scientists, but when we consider the fleeting nature of life (Psalm 39:4), we can be reminded of the importance of using our time wisely.
Lord, thank You for each moment You give us. May we strive to honor You with this gift by using our time wisely for Your honor and glory.
Don't just spend time—invest it.
Real Rest
From: Our Daily Journey
Read:
Genesis 2:1-4
On the seventh day God had finished his work of creation, so he rested from all his work (Genesis 2:2).
Following World War I, there was no more accomplished golfer than Bobby Jones. In 1930, he achieved the Grand Slam by winning the US Open, British Open, US Amateur, and British Amateur championships—all in the same year! The golfing world was stunned, however, when shortly following those victories Jones decided to retire from golf. He didn't decide to hang up the spikes because his skills had diminished in any way. Instead, the talented athlete made his decision because he had accomplished the greatest feat in golf at the time and had nothing left to prove. He simply chose to give his golf career a rest.
When it says that God "rested from all his work" in Genesis 2:2, I'm often tempted to think that He took a break for the same reason that I take a vacation—because He was tired and simply couldn't go on without a little R&R. But Psalm 121:4 tells us that God "never slumbers or sleeps," so that obviously can't be the case. No, He didn't rest so that He could gain the strength He needed to continue creating. He rested because His work of creation was fully done (Genesis 2:2). God rested because His work was accomplished!
In the New Testament, we read that we can rest in Jesus, such as when we're told to lay our burdens on Him in Matthew 11:28 or when the writer of Hebrews tells us that He provides our "special rest" (Hebrews 4:9). It can be difficult to fully understand what it means to "rest in Jesus," but resting in Him includes resting in His completed work—His life, death, and resurrection. We can rest in knowing that God loves us so much He gave His only Son as a sacrifice and that our salvation isn't earned, but freely given. That's real rest!
Receiving Power
From: CBN Network
We are still learning to go even lower, which is the only way forward. And we are still learning to stop for the one in the middle of a sea of need. We are still learning what it means to be a friend of God and to value fellowship with Him and each other above all else. We are not professional, high-power, efficient missionary machines. We measure the quality of our lives by the depth of our relationships. We are still learning to love.
We cannot function in this world without the power of our God. Some of us haven't yet been brought to our extremity, so we aren't fully and forcibly aware of our dependence. But our time will come. We need Him to stay alive. We need Him for our health. We need Him for our healing. We need Him for righteousness, peace and joy in the Holy Spirit.
We need more than any human being can do for us. We need sheer, raw power in the goodness and love of God. We need power to appreciate our God, to make Him the greatest pleasure in our lives. We need power to rejoice with joy inexpressible and full of glory. We need power to experience His Kingdom, to move in His environment.
How do we get power? It is the grace and gift of God. He plants in us a hunger that will not be denied. He opens our eyes to our poverty without His powerful presence. He grants faith where there was none. In His power we can rest, even while under demonic attack. His power fixes our eyes on Him. In His power we are able to discipline ourselves in everything. We can cast our cares on Him, because He is willing to use His power on our behalf.
How can we be sure He cares for us? The cross. We go to the cross always to find confidence to approach Him. We will not empty the cross of its power. There and only there do we find salvation of every kind. At the cross we come to know our God and His heart toward us. At the cross we learn to become utterly dependent on His power.