Into Our Storms
From: Our Daily Bread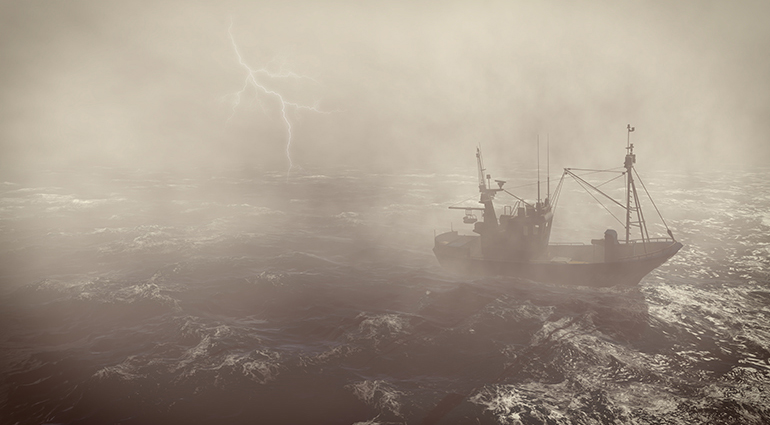 He got up, rebuked the wind and said to the waves, "Quiet! Be still!" Then the wind died down and it was completely calm. Mark 4:39
Wind howled, lightning flashed, waves crashed. I thought I was going to die. My grandparents and I were fishing on a lake, but we'd stayed out too long. As the sun set, a fast-moving squall swept over our small boat. My grandfather instructed me to sit in front to keep it from capsizing. Terror flooded my heart. But then, somehow, I began to pray. I was fourteen.
I asked God for His reassurance and protection. The storm didn't weaken, but we made it to shore. To this day, I don't know if I've experienced a deeper certainty of God's presence than that night in the storm.
Jesus is no stranger to storms. In Mark 4:35–41, He told His disciples to head across a lake that would soon turn windy and wild. The storm that night tested and bested these rugged fishermen. They too thought they were going to die. But Jesus calmed the water and then led His disciples to deeper faith.
Likewise, Jesus invites us to trust Him in our storms. Sometimes He miraculously stills the winds and the waves. Sometimes He does something equally miraculous: He steadies our hearts and helps us to trust Him. He asks us to rest in the belief that He has the power to say to the waves, "Quiet! Be still!"
Lord, the storms of our lives sometimes seem like they will swamp us. Help us trust that You are the Master of the storm, to place our faith in You when life's winds blow fiercely.
No danger can come so near that God is not nearer still.
Lessons from the Titanic
By: Neal Matthews, Author
The Titanic was the largest, most luxurious ocean liner of its time and called "unsinkable" by many. During its first voyage from England to New York City, the British steamer sideswiped an iceberg around 11:40 p.m. on April 14, 1912.
Two and a half hours later, it broke apart and sank. The ship carried enough lifeboats for only half of its 2,200 passengers and crew. Approximately 1,500 people lost their life.
Many assumed that the iceberg had ripped a long gash in the ship's hull. When the wreck was recovered in 1985, no such tear was found. Researchers learned that the hull was made of steel that became brittle in the frigid North Atlantic waters, causing it to fracture easily during the collision. Some suspect the Titanic was traveling too fast for an area where there was a possibility of icebergs.
One night, Jesus walked on the water, and his disciple Peter wanted to join Him. Peter left the boat and was doing fine until he looked around at the high waves. Then he became terrified and started to sink (Matthew 14:25-30).
Like Peter, we may be accomplishing great things with God's help, and we look around at our frightening circumstances. Then our faith starts to waver, and we get more than a sinking feeling.
At other times, we start to look at our successes and ignore the need to safeguard our spiritual growth. We may start to feel unsinkable, like the Titanic.
But there are always hidden dangers that can wreck our witness and ministry. The only way to safely navigate life is to keep our eyes on Jesus, not on ourself or the circumstances around us. He will help us complete our voyage, and that's only the tip of the iceberg.
"Save me, O God, for the floodwaters are up to my neck. Deeper and deeper I sink into the mire; I can't find a foothold. I am in deep water, and the floods overwhelm me." (Psalm 69:1-2, NLT)
For the Lord himself shall descend from heaven with a shout, with the voice of the archangel, and with the trump of God: and the dead in Christ shall rise first: then we which are alive and remain shall be caught up together with them in the clouds, to meet the Lord in the air: so shall we ever be with the Lord" (1 Thess. 4:16-17).
It was "very early in the morning" while "it was yet dark," that Jesus rose from the dead. Not the sun, but only the morning-star shone upon His opening tomb. The shadows had not fled, the citizens of Jerusalem had not awaked. It was still night–the hour of sleep and darkness, when He arose. Nor did his rising break the slumbers of the city. So shall it be "very early in the morning while it is yet dark," and when nought but the morning-star is shining, that Christ's body, the Church, shall arise. Like Him, His saints shall awake when the children of the night and darkness are still sleeping their sleep of death. In their arising they disturb no one. The world hears not the voice that summons them. As Jesus laid them quietly to rest, each in his own still tomb, like children in the arms of their mother; so, as quietly, as gently, shall He awake them when the hour arrives. To them come the quickening words, "Awake and sing, ye that dwell in dust" (Isa. 26:19). Into their tomb the earliest ray of glory finds its way. They drink in the first gleams of morning, while as yet the eastern clouds give but the faintest signs of the uprising. Its genial fragrance, its soothing stillness, its bracing freshness, its sweet loneliness, its quiet purity, all so solemn and yet so full of hope, these are theirs.
Oh, the contrast between these things and the dark night through which they have passed! Oh, the contrast between these things and the grave from which they have sprung! And as they shake off the encumbering turf, flinging mortality aside, and rising, in glorified bodies, to meet their Lord in the air, they are lighted and guided upward, along the untrodden pathway, by the beams of that Star of the morning, which, like the Star of Bethlehem, conducts them to the presence of the King. "Weeping may endure for a night, but joy cometh in the morning."
–Horatius Bonar
"While the hosts cry Hosanna, from heaven descending,
With glorified saints and the angels attending,
With grace on His brow, like, a halo of glory,
Will Jesus receive His own."
"Even so, come quickly."
A soldier said, "When I die do not sound taps over my grave. Instead, play reveille, the morning call, the summons to arise."