Jesus Walks on the Water  – John 14
22 Immediately Jesus made the disciples get into the boat and go on ahead of him to the other side, while he dismissed the crowd. 23 After he had dismissed them, he went up on a mountainside by himself to pray.Later that night, he was there alone, 24 and the boat was already a considerable distance from land, buffeted by the waves because the wind was against it.
25 Shortly before dawn Jesus went out to them, walking on the lake.26 When the disciples saw him walking on the lake, they were terrified. "It's a ghost," they said, and cried out in fear.
27 But Jesus immediately said to them: "Take courage! It is I. Don't be afraid."
28 "Lord, if it's you," Peter replied, "tell me to come to you on the water."
29 "Come," he said.
Then Peter got down out of the boat, walked on the water and came toward Jesus. 30 But when he saw the wind, he was afraid and, beginning to sink, cried out, "Lord, save me!"
31 Immediately Jesus reached out his hand and caught him. "You of little faith," he said, "why did you doubt?"
32 And when they climbed into the boat, the wind died down. 33 Then those who were in the boat worshiped him, saying, "Truly you are the Son of God."
Out of the Deep
From: Our Daily Bread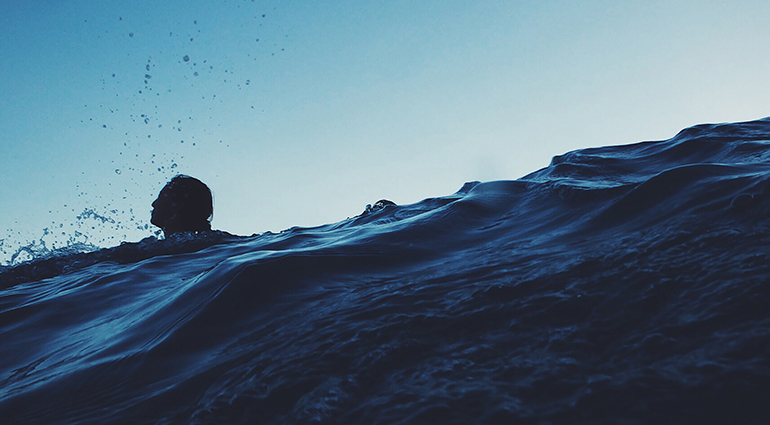 I scanned the water intently, on alert for signs of trouble. During my six-hour shifts as a lifeguard, I watched from the side of the pool to ensure the safety of those swimming. Leaving my post, or even becoming lax in my attentiveness, could have grave consequences for those in the pool. If a swimmer was in danger of drowning due to injury or lack of skill, it was my responsibility to pluck them from the water and return them to safety on the pool deck.
After experiencing God's aid in battle against the Philistines (2 Sam. 21:15–22), David likens his rescue to being drawn out of "deep waters" (22:17). David's very life—and that of his men—was in serious danger from his enemies. God buoyed David as he was drowning in disaster. While lifeguards are paid to assure the safety of swimmers, God, on the other hand, saved David because of His delight in him (v. 20). My heart leaps for joy when I realize that God doesn't watch over and protect me because He's obliged to but because He wants to.
When we feel overcome by the troubles of life, we can rest in the knowledge that God, our Lifeguard, sees our struggle and, because of His delight in us, watches over and protects us.
Thank You, Lord, for seeing my struggles and standing ready to save me. Help me to trust Your rescuing love more fully.
God delights in saving His children.
July 26, 2017


When You Feel Invisible
ASHLEE GADD

From: Crosswalk
"Lift up your eyes and look to the heavens: Who created all these stars? He who brings out the starry host one by one and calls forth each of them by name. Because of his great power and mighty strength, not one of them is missing." Isaiah 40:26 (NIV)
We were six months into parenthood when my father-in-law passed away.
If I close my eyes, I can picture the moment we found out. Five missed calls. My husband stood in the driveway saying, "Don't say that, don't say that," over and over again into the phone.
I knew.
A lump formed in my throat, as I unbuckled our baby boy from his car seat. We were 90 miles away. I remember the sun was shining, even though it shouldn't have been. I remember standing in the driveway, while my husband and I cried with a baby sandwiched between us. I remember the drive — we stopped for roast beef sandwiches — and I remember walking into my mother-in-law's house and calmly placing my blue-eyed baby — my only offering, 15 pounds of innocence — in her arms.
It's a strange thing to experience birth and death so close together. My son's first year of life will always be marked by the deepest grief our family has ever known. Our whole lives became walking contradictions. One day, the baby giggled at his reflection in the mirror. The next day, we stood in a room full of caskets. How can you be joyful and devastated all at once? When is it okay to laugh? When is it okay to cry?
Ecclesiastes chapter 3 tells us there is a time for everything and a season for every activity under the heavens, but how can grief and delight possibly coexist?
My first year of motherhood was entirely consumed by two things: learning to take care of a baby and learning to support my husband through a life-shattering loss. I didn't know who I was outside of those responsibilities. I tip-toed around my own house, desperate to keep everything and everyone intact. It was just another contradiction: Even though I had a baby glued to my hip, I'd never felt so alone.
"I feel invisible," I confessed to my husband one night. "I feel like I am trying to be everything to everyone, but nobody is trying to be anything to me."
"I feel depressed," he confessed in return. "When my dad died, it's like a part of me died, too."
We ping-ponged confessions back and forth that night through tears, until I was struck with a startling realization.
I couldn't rescue my husband. And he couldn't rescue me.
We each wanted so desperately to be healed, loved, noticed and understood in that season, but our eyes were turned sideways instead of upward. We were both looking for a Savior, something we would never find in each other.
There is no substitute for Jesus. When we look to a spouse, a friend, a child or an Internet audience for the love, healing and recognition only a Savior can offer, we'll always, always come up short.
Are you feeling invisible today? Unnoticed and unseen, desperate for someone to meet you exactly where you are?
Take comfort in today's key verse, "Lift up your eyes and look to the heavens: Who created all these stars? He who brings out the starry host one by one and calls forth each of them by name. Because of his great power and mighty strength, not one of them is missing." (Isaiah 40:26)
Whether you're crying in the bathroom at 7 a.m. or folding the ninth load of laundry at 7 p.m. or rocking your baby at 3 a.m., please rest in this: God sees you, God notices you, God loves you.
Every single minute of every single day, you are fully known and loved by Him. After all, if God calls out every star in the sky by name, how much more must He know and love you?
Lord, thank You for seeing me when I feel invisible and for loving me when I'm broken. Please keep my eyes upward, on You, and remind me that I am forever and always Your child. In Jesus' Name, Amen.
Living For Jesus
From: Our Daily Journey
Read:
Romans 12:1-2
I plead with you to give your bodies to God because of all he has done for you. Let them be a living and holy sacrifice . . . . This is truly the way to worship him (Romans 12:1).
"My Tribute," one of my favorite worship songs, addresses how to adequately respond to God's undeserved mercy and grace. The lyrics note that although we can never thank Him enough, we can live in ways that please Him. Similarly, Paul describes our lives as the best way we can give thanks: "Give your bodies to God because of all he has done for you. Let them be a living and holy sacrifice" (Romans 12:1). While that sacrifice means some believers will die for Jesus, all of us are called to live for Him.
We can better understand the apostle's description of believers as living sacrifices if we understand the two kinds of sacrifices commonly offered by the Israelites. Atoning sacrifices were required sin and guilt offerings—animals slain to make amends for sin (Leviticus 4:1-5, 7:1-6). For "without the shedding of blood, there is no forgiveness" (Hebrews 9:22). Thanksgiving sacrifices were offerings of gratitude voluntarily given to God in response to His blessing. They were made in response to His mercy and grace and to offer thankfulness, gratitude, love, and joyful worship to God (Leviticus 7:11-15, 22:29; Psalm 50:14,23).
The sacrifice of animals failed to solve the problem of sin, just as we could never be an atoning sacrifice for it. Jesus, the Lamb of God (John 1:29), was the "perfect sacrifice for our sins" (Hebrews 9:14), the only one who can "remove sin by his own death as a sacrifice" (Hebrews 9:26).
But we can, by His strength, be a thank offering in response to what Jesus has done, "a living and holy sacrifice—the kind [God] will find acceptable" (Romans 12:1). Today, let's live for Jesus as He leads us, for that's "truly the way to worship him" (Romans 12:2).