Romans 8
More Than Conquerors
31 What, then, shall we say in response to these things? If God is for us,who can be against us? 32 He who did not spare his own Son, but gave him up for us all—how will he not also, along with him, graciously give us all things? 33 Who will bring any charge against those whom God has chosen? It is God who justifies. 34 Who then is the one who condemns?No one. Christ Jesus who died—more than that, who was raised to life—is at the right hand of God and is also interceding for us. 35 Who shall separate us from the love of Christ? Shall trouble or hardship or persecution or famine or nakedness or danger or sword? 36 As it is written:
"For your sake we face death all day long;
    we are considered as sheep to be slaughtered."[j]
37 No, in all these things we are more than conquerors through him who loved us. 38 For I am convinced that neither death nor life, neither angels nor demons,[k] neither the present nor the future, nor any powers,39 neither height nor depth, nor anything else in all creation, will be able to separate us from the love of God that is in Christ Jesus our Lord.
By: Joe Stowell, Strength for the Journey
"Make every effort to keep the unity of the Spirit through the bond of peace." Ephesians 4:3
I'm guessing that even astronomical gas prices won't stop many parents from packing up the car and taking the kids on a road trip for vacation this summer. And if the trip is more than 50 miles, you can already imagine the scene in the backseat: "Mom, he's on my side!" or "Dad, tell her to stop doing that!"  When the kids don't get along, it drives their parents nuts and takes the joy out of the journey.
I often wonder: Does God feel that way about His kids? He has asked us to "make every effort to keep the unity of the Spirit through the bond of peace" (Ephesians 4:3
), and yet differences in gender, color, gifts, temperaments, roles, perspectives, preferences, and denominations threaten to wreck the unity that He intends for us to enjoy on the road to paradise. The psalmist had it right when he declared, "How good and pleasant it is when brothers dwell together in unity!" (Psalm 133:1
).
A close look at Jesus' prayer in John 17:1-26
 sheds some light on how to grow up and get along. Just before His ultimate demonstration of love on the cross, Jesus prayed that His followers would be unified (John 17:11
) and that they would be set apart by the truth of God's Word (John 17:16-17
). He continued, "My prayer is not for them alone. I pray also for those who will believe in me through their message, that all of them may be one" (John 17: 20-21
).
We can't miss the connection between truth and unity. In fact, truth is the key ingredient of biblical unity. Truth is what unites us as believers: Truth about His deity. Truth about the message of salvation that comes by grace through faith in Christ alone. Truth that the Scriptures are the sole authority for faith and practice, and that they are without error and completely trustworthy.
Jesus goes on to indicate that unity is also built around righteousness. "My prayer is not that you take them out of the world but that you protect them from the evil one. They are not of the world, even as I am not of it" (John 17: 15-16
). As His followers, unity comes when together we cling to the distinction between good and evil and seek to reflect the goodness of God in all that is pure and right.
What we know to be true about God's Word and what we know to be true about how to live gives us a lot in common! And since Jesus is at the center of it all, He becomes the glue that makes us one. I might not be particularly drawn to you—your culture and background may be different than mine—but when I find out that you too are a follower of Jesus, His Word, and His Way, I find myself saying, "You too? Hey, let's walk together!"
Being one in Jesus gives us the joy of bearing one another's burdens, praying for one another, overlooking class distinctions, and casting the log out of our own eyes rather than focusing on the weaknesses of others. When we let the grand things we have in common override our petty differences, the backseat will be a happier place, and we can all enjoy the journey in peace!
_______________________________________
What to Do With Tough Relationships
NOVEMBER 3, 2016
"Humble yourselves, therefore, under God's mighty hand that he may lift you up in due time." 1 Peter 5:6 (NIV)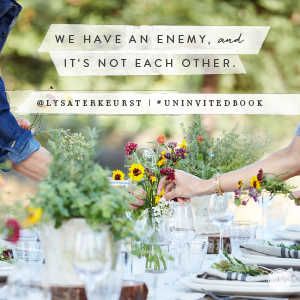 Ever feel like relationships are hard to navigate sometimes? Are you in the midst of trying to figure out a situation that's complicated, messy and unpredictable?
Sometimes I try so hard to figure out just the right words to say and talk through a situation. While talking is good, sometimes the conversations start running in a circle, and there aren't any productive words left to say. When this happens, it can make a girl feel like giving up. But before I give up, I've learned to hush up.
Spending time getting quiet can really be the best remedy for tangled situations. Taking a step back from all the emotion, frustration and exhaustion to sit quietly with Jesus will do more to untangle a mess than anything else I've ever found.
Here are five beautiful things that can happen in the quiet:
1. We can feel safe enough to humble ourselves.
In the heat of a mess, the last thing I want to do is get humble. I want to get loud and prove my point. I've learned I have to step out of the battle and humbly ask God to speak truth to my heart for things to start to make sense. Never have I had a relationship issue where I didn't contribute at least something to the problem. Usually, I can only see this something in the quiet.
1 Peter 5:6a, "Humble yourselves, therefore, under God's mighty hand …" (NIV).
2. God will lift us up to a more rational place.
When we are in the heat of a tangled relationship, crazy emotions can drag us down into a pit of hopelessness. The only way out of the pit is to make the choice to stop digging deeper and turn to God for a solution.
1 Peter 5:6b, "… that he may lift you up in due time" (NIV).
3. Anxiety gives way to progress.
We can pour our anxious hearts out to Jesus who loves us right where we are, how we are. And because His love comes without judgment, we can feel safe enough to humbly admit we need Jesus to work on us. Trying to fix another person will only add to my anxiety. Letting Jesus work on me is where real progress can happen.
1 Peter 5:7, "Cast all your anxiety on him because he cares for you" (NIV).
4. We see our real enemy isn't the person with whom we're in conflict.
The truth is, we have an enemy, and it's not each other. Satan's influence on me and the person offending me is the real culprit. I can't realize this in the heat of the moment. But in the quiet, I become alert and can gain a strategy for acting and reacting in a more self-controlled manner.
1 Peter 5:8-9a, "Be alert and of sober mind. Your enemy the devil prowls around like a roaring lion looking for someone to devour. Resist him, standing firm in the faith …" (NIV).
5. I can rest assured God will use this conflict for good — no matter how it turns out.
If I make the effort to handle this conflict well, I can be freed from the pressure to make everything turn out rosy. Sometimes relationships grow stronger through conflict. But other times, relationships end. Because I can't control the other person, I must keep focusing on the good God is working out in me through this and leave the outcome with Him.
1 Peter 5:10-11, "And the God of all grace, who called you to his eternal glory in Christ, after you have suffered a little while, will himself restore you and make you strong, firm, and steadfast. To him be the power for ever and ever. Amen."
(NIV)
In the end, this struggle can be used by God to make me stronger and more capable in my relationships. If I am humble enough to receive from Him in the quiet what He wants to teach me through this, I can rest assured with whatever the outcome is.