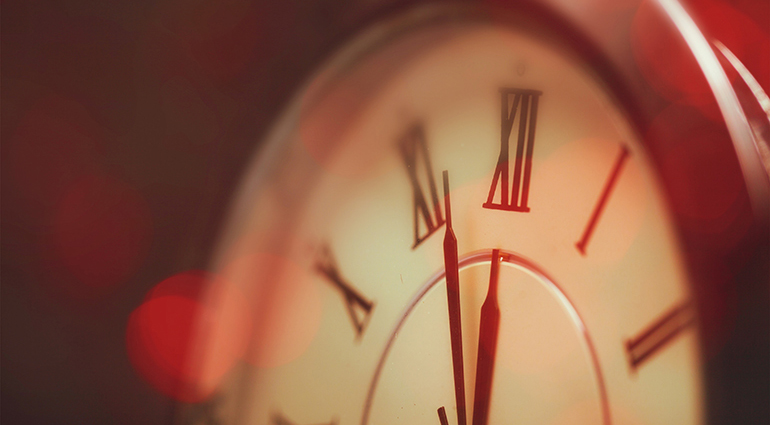 How long, Lord? Will you forget me forever? How long will you hide your face from me? Psalm 13:1
In Lewis Carroll's classic Alice in Wonderland, Alice asks, "How long is forever?" The White Rabbit responds, "Sometimes, just one second."
That's how time felt when my brother David suddenly died. The days leading to his memorial dragged on, intensifying the sense of loss and grief we felt. Every second seemed to last forever.
Another David echoed this sentiment, singing, "How long, Lord? Will you forget me forever? How long will you hide your face from me? How long must I wrestle with my thoughts and day after day have sorrow in my heart? How long will my enemy triumph over me?" (Psalm 13:1­–2). Four times in just two verses he asks God, "How long?" Sometimes the pains of life seem as though they will never end.
Into this heartache steps the presence and care of our heavenly Father. Like King David, we can honestly go to Him with our pain and loss, knowing that He will never leave us or forsake us (Hebrews 13:5). The psalmist discovered this as well, allowing his lament to move from a mournful minor key to a triumphant declaration: "But I trust in your unfailing love; my heart rejoices in your salvation" (Psalm 13:5).
In our seemingly endless moments of struggle, His unfailing love will carry us. We can rejoice in His salvation.
In times of pain and loss, the timeless God is our greatest comfort.
The first question of the Westminster Shorter Catechism asks, "What is the chief end of man?" Answer: "Man's chief end is to glorify God, and to enjoy him forever." A student misquoted this as, "Our purpose is to glorify God and endure Him forever." The mistake is funny, but isn't that sometimes how we secretly feel about eternity? What will we do there except sing praise songs? How wonderful for the first million years. But . . . forever?
We may sometimes have more questions than answers about eternity, but the closing chapters of Scripture describe a future that is far from boring. Imagine the moment when we see the face of Christ (Revelation 22:4). We won't cower in fear before His blinding glory (Revelation 21:23), for He will gently "wipe every tear from [our] eyes," assuring us that "there will be no more death or sorrow or crying or pain" (Revelation 21:4).
We will never have seen anyone so beautiful, nor feel so loved and embraced. When Jesus claims us by writing His name on our foreheads (Revelation 22:4), we will finally belong. Part of God's family from every "language and people," we will naturally sing praises to the King who redeemed us (Revelation 5:9-14).
And we will enjoy God here—because Jesus is returning to live forever with us on a restored Earth (Revelation 21:3). As exhilarating as that joyful worship service will be, when Jesus returns, singing will likely not be the only form of worship. Just as Adam and Eve walked with God yet also made time to garden and name the animals, so we will worship Jesus through all sorts of human activities (Revelation 21:24-26). We will have eternity to do what He's prepared for us. As we reign with Jesus on a restored Earth, we can enjoy Him and every good thing—forever (Revelation 22:3-5).
Co-Resurrection. The proof that I have experienced crucifixion with Jesus is that I have a definite likeness to Him. The Spirit of Jesus entering me rearranges my personal life before God. The resurrection of Jesus has given Him the authority to give the life of God to me, and the experiences of my life must now be built on the foundation of His life. I can have the resurrection life of Jesus here and now, and it will exhibit itself through holiness.
The idea all through the apostle Paul's writings is that after the decision to be identified with Jesus in His death has been made, the resurrection life of Jesus penetrates every bit of my human nature. It takes the omnipotence of God— His complete and effective divinity— to live the life of the Son of God in human flesh. The Holy Spirit cannot be accepted as a guest in merely one room of the house— He invades all of it. And once I decide that my "old man" (that is, my heredity of sin) should be identified with the death of Jesus, the Holy Spirit invades me. He takes charge of everything. My part is to walk in the light and to obey all that He reveals to me. Once I have made that important decision about sin, it is easy to "reckon" that I am actually "dead indeed to sin," because I find the life of Jesus in me all the time (Romans 6:11). Just as there is only one kind of humanity, there is only one kind of holiness— the holiness of Jesus. And it is His holiness that has been given to me. God puts the holiness of His Son into me, and I belong to a new spiritual order.