Rivers of Living Water
"If anyone thirsts, let him come to Me and drink." John 7:37
While facing some challenges recently, I read Isaiah's account of King Hezekiah's problems—and mine suddenly seemed small. God saw him through, and He will see us through as well. Hebrews 10:23 assures us,
"He who promised is faithful."
Hezekiah is known for preparing Jerusalem for a siege by carving a long tunnel from the Gihon Spring to the Pool of Siloam. Rabbis said the pool's water was the purest on the planet because Mount Zion is its source.
Every year during the Feast of Tabernacles, water was taken from the Pool of Siloam in golden pitchers and carried up to the Temple in a huge procession. People sang the Song of Ascent, silver trumpets were blown on the Temple steps, and the entire city was lit up with torches. It was called the most joyous time in Jerusalem when the water was poured out on the altar as an offering to the Most Holy God. This is described in Isaiah 12:3:
"Therefore with joy you will draw water from the wells of salvation."
It is also part of Isaiah's prophecy about the Messianic age:
"Everyone who thirsts, come to the waters; and you who have no money, come, buy and eat. Yes, come, buy wine and milk without money and without price. … Listen carefully to Me, and eat what is good, and let your soul delight itself in abundance. Incline your ear, and come to Me. Hear, and your soul shall live; and I will make an everlasting covenant with you—the sure mercies of David" (Isaiah 55:1-3).
The first covenant had a price; the new covenant is without price. It also comes with the sure mercies of David—and the Son of David is Jesus. Even so, we must hear it, incline our ear, and come to Him.
In John 7:37-38, Jesus cried out at the water celebration during the Feast of Tabernacles:
"If anyone thirsts, let him come to Me and drink. He who believes in Me, as the Scripture has said, out of his heart will flow rivers of living water."
So if you're facing problems and feeling overwhelmed, come to Him. He is your source. He will supply your need, and out of your innermost being will flow rivers of living water. God bless you.

Returning to the Spring
He said to me: "It is done. I am the Alpha and the Omega, the Beginning and the End. To the thirsty I will give water without cost from the spring of the water of life." — Revelation 21:6
How delightful it is to drink from a mountain spring. The water is often pure, clear, and cool. No wonder a good spring can be a primary selling point in a real estate transaction! From the book of Genesis, where the river flowed out from the Garden of Eden (Genesis 2:10) to the book of Revelation (Revelation 21:6), God uses springs as a way to show that He gives and sustains life.
It is not surprising that the children of Israel grumbled when they were traveling through the wilderness and thirst overcame them. How relieved they must have been when the Lord told Moses to strike the rock and water came out! (See Exodus 17:1-7.) God was showing them His power over creation and His care for them.
In Psalm 1 and in Jeremiah 17, the person who trusts in the Lord or delights in His law is compared to a tree by a stream.
They will be like a tree planted by the water that sends out its roots by the stream. It does not fear when heat comes; its leaves are always green. It has no worries in a year of drought and never fails to bear fruit. — Jeremiah 17:8
When we seek the Lord, especially by opening and reading His Word, He provides us with living water. Jesus Himself offered it to the woman at the well, and she didn't understand at first (John 4). We may smile at her confusion, but we've all had times when we found ourselves far from the Lord and needed to return to the water of life. Thankfully, the Lord welcomes us back again and again.
Lord, thank You for providing living water. May I drink deeply from it and know Your great love for me!
*
Living Water
He makes springs pour water into the ravines; it flows between the mountains. They give water to all the beasts of the field; the wild donkeys quench their thirst. The birds of the sky nest by the waters; they sing among the branches. He waters the mountains from His upper chambers; the land is satisfied by the fruit of His work. — Psalm 104:10-13
Have you ever hiked alongside a mountain stream? The water gurgles and sings as it rushes along. It leaps and dances around boulders and under fallen logs. Vibrant moss carpets the rocks along the banks. Fish linger in shady pools under the overhanging branches. Birds nest in the trees near the water. In the early evening, animals come down to drink. The water is cold and fresh, and even in the tranquil pools, it is always, always moving.
In Jeremiah 2:13, the Lord declares, "My people have committed two sins: They have forsaken me, the spring of living water, and have dug their own cisterns, broken cisterns that cannot hold water." That sounds crazy, doesn't it? Who would do that? Of course, we have all done it from time to time.
The good news is that God is gracious and forgiving.
Jesus stood and said in a loud voice, 'Let anyone who is thirsty come to Me and drink. Whoever believes in Me, as Scripture has said, rivers of living water will flow from within them.' By this He meant the Spirit, whom those who believed in Him were later to receive. — John 7:37-39
This is not stale, brackish water, stagnant and dead. He is the source of life itself, continually fresh and new. How exhilarating is our God!
O Lord, You are the source of all life. Thank You for offering Yourself to us. Please flow through me today. Refresh and replenish me, and refresh others through me!
Jesus: The Wellspring of Living Water

READ: John 4:3-30
Whoever drinks the water I give them will never thirst. Indeed, the water I give them will become in them a spring of water welling up to eternal life. – John 4:14
RELATED READINGS: Psalm 42:1-11, John 7:37-39, Revelation 7:16-17
Moving water has a fascination of its own. Creeks gurgle, waterfalls plummet, springs bubble, ocean tides crash. The bubbles, foam and noise draws us. The water sustains us. We need water for our physical life, but it also somehow soothes our spirit.
Desert animals travel many miles to find a water hole. City birds cluster in birdbaths or rain puddles. Grocery shoppers pay several dollars for plastic bottles of water. For thousands of years springs and wells provided the only access to clean water. City planners designed their locations around reliable water sources. Hauling water from long distances was hard, thirst-inducing work.
When Jesus compared life with Him to a never-ending, thirst-quenching spring, the image resonated with a hardworking Samaritan woman. Water got her attention, for she was thirsty.
Though she had come to the well to draw water, Jesus knew she needed more than physical water; she needed Him. She had tried to find satisfaction drinking from wells of the world, but no man had truly quenched her thirst. Then she met Jesus, who knew everything she ever did. This Man became a wellspring of life-giving truth that overflowed to her community.
What do you really thirst for? Do you long to know the meaning of your life? Are you longing for the kind of love that fills you up rather than drains you? Are you forever trying to find acceptance and respect? Or are those longings so deep and buried that you can't even say what you want or need? Perhaps you can't even get beyond just feeling… empty.
Only Jesus can identify those deep longings and fill your thirsty soul. Seek out the One who offers you living water. Come to Him. He won't be surprised at how empty you are. He knows everything you ever did. He's the wellspring who will fill you to overflowing with His goodness and love.
"… And the LORD said, 'Arise, anoint him, for this is he.' Then Samuel took the horn of oil and anointed him in the midst of his brothers. And the Spirit of the LORD rushed upon David from that day forward …'" 1 Samuel 16:12b-13b (ESV)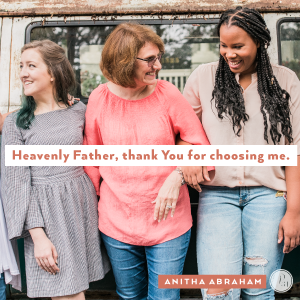 Have you ever felt like you were the default?
Sure, you got the job, promotion or opportunity, but was it because they really wanted you to have it? Or because the person they actually chose couldn't or just didn't want to take it?
Yes, it's yours … but it seems like a half-win at best.
That's exactly where I was, so I vented to my sister, Binu, about the situation. I told her it was hard to embrace my role when I felt like they didn't want me there to begin with. I acknowledged feeling like the default.
Her response was immediate. "That's not how I see it at all." She went on: "I see man didn't choose you for it, but God did." Then, she reminded me of the story of David.
Her perspective changed everything for me.
When God wanted a new king for Israel, He sent the prophet Samuel to Bethlehem. When the elders of the town saw him coming, they were concerned. A visit from the prophet of God meant God was up to something.
With that in mind, the fact that Samuel showed up at Jesse's house must have been a big deal. Samuel even invited Jesse and his sons to participate in a sacrifice to God. However, Jesse didn't include his youngest son, David, who was working as a shepherd out in the field.
Then, Samuel began the selection process for King Saul's successor. He took one look at Eliab and said, "'Surely the LORD's anointed is before him'" (1 Samuel 16:6b, ESV).
Samuel was wrong.
Jesse paraded seven of his sons in front of Samuel. He assumed one of them would be God's chosen king for Israel.
Jesse was wrong.
"Then Samuel said to Jesse, 'Are all your sons here?' And he said, 'There remains yet the youngest, but behold, he is keeping the sheep.' And Samuel said to Jesse, 'Send and get him, for we will not sit down till he comes here'" (1 Samuel 16:11, ESV).
If Samuel hadn't asked, would Jesse have included David? Even when Jesse mentions David, he doesn't send for him. Samuel suggested that, too.
I wonder what David thought when he heard what had transpired before he arrived … the fact that he was an afterthought. He probably felt like a default, too.
But he would have been wrong.
While Saul was still on the throne, God chose David.
While he was still in the field, God chose David.
Though he didn't look the part, God chose David.
Though no one saw it coming, God chose David.
David could have approached his role as king with the mindset that man didn't think he should be there. Or he could choose to believe and see that God did. History shows us David became the greatest king of Israel.
So, maybe I wasn't the first choice, but now I choose to see myself as chosen … maybe not by humans, but by God.
Not bad for a default.