Psalm 22
For the director of music. To the tune of "The Doe of the Morning." A psalm of David.
1 My God, my God, why have you forsaken me?
    Why are you so far from saving me,
    so far from my cries of anguish?
2 My God, I cry out by day, but you do not answer,
    by night, but I find no rest.[b]
3 Yet you are enthroned as the Holy One;
    you are the one Israel praises.[c]
4 In you our ancestors put their trust;
    they trusted and you delivered them.
5 To you they cried out and were saved;
    in you they trusted and were not put to shame.
6 But I am a worm and not a man,
    scorned by everyone, despised by the people.
7 All who see me mock me;
    they hurl insults, shaking their heads.
8 "He trusts in the Lord," they say,
    "let the Lord rescue him.
Let him deliver him,
    since he delights in him."
9 Yet you brought me out of the womb;
    you made me trust in you, even at my mother's breast.
10 From birth I was cast on you;
    from my mother's womb you have been my God.
11 Do not be far from me,
    for trouble is near
    and there is no one to help.
The Offering of the Natural
Paul was not dealing with sin in this chapter of Galatians, but with the relation of the natural to the spiritual. The natural can be turned into the spiritual only through sacrifice. Without this a person will lead a divided life. Why did God demand that the natural must be sacrificed? God did not demand it. It is not God's perfect will, but His permissive will. God's perfect will was for the natural to be changed into the spiritual through obedience. Sin is what made it necessary for the natural to be sacrificed.
Abraham had to offer up Ishmael before he offered up Isaac (see Genesis 21:8-14). Some of us are trying to offer up spiritual sacrifices to God before we have sacrificed the natural. The only way we can offer a spiritual sacrifice to God is to "present [our] bodies a living sacrifice…" (Romans 12:1). Sanctification means more than being freed from sin. It means the deliberate commitment of myself to the God of my salvation, and being willing to pay whatever it may cost.
If we do not sacrifice the natural to the spiritual, the natural life will resist and defy the life of the Son of God in us and will produce continual turmoil. This is always the result of an undisciplined spiritual nature. We go wrong because we stubbornly refuse to discipline ourselves physically, morally, or mentally. We excuse ourselves by saying, "Well, I wasn't taught to be disciplined when I was a child." Then discipline yourself now! If you don't, you will ruin your entire personal life for God.
God is not actively involved with our natural life as long as we continue to pamper and gratify it. But once we are willing to put it out in the desert and are determined to keep it under control, God will be with it. He will then provide wells and oases and fulfill all His promises for the natural (see Genesis 21:15-19).
WISDOM FROM OSWALD CHAMBERS
Chin Up!
From: Get More Strength.org, By: Joe Stowell
"Because of his great love for us, God, who is rich in mercy, made us alive with Christ even when we were dead in transgressions." Ephesians 2:4-5
One of my all-time favorite kid's stories is Charlotte's Web, starring Charlotte the barnyard spider and Wilbur the pig. The farmer's daughter, Fern, loved Wilbur and adopted him as her pet—until he was too big for the house and had to move to the barn. Wilbur missed Fern and felt sad about being away from her. Just when he thought things couldn't get worse, the mother hen came on the scene.
She told Wilbur that her purpose in life was to lay eggs for people to eat, and the cow's purpose was to give milk for the people to drink. Then came the real stinger: "Hey, Wilbur, do you know what your purpose is? Bacon!"
Needless to say, the hen was not a very encouraging friend!
Thankfully, Wilbur had a true friend. When Charlotte the spider found him wallowing in the muck of despair, she encouraged him with a resounding "Chin up, Wilbur!" She wove beautiful webs over his pen with words that made him feel loved and important. The webs attracted media publicity, and people from all over the area came to marvel at this "special pig." When it was time for the county fair, Wilbur feared again for his life and asked Charlotte to weave one more web. She knew that she had only one more web to weave and that then she would die. But out of her love for Wilbur, she wove the most spectacular web yet to prove how special he was. The townspeople were so taken with the web that Wilbur's impending death was no longer an issue.
I love the biblical parallels in this story. The most significant one being that Charlotte gave her life to save Wilbur's. Not only that—but she made him a special pig!
Most of us can probably identify with Wilbur at some point. All of us face problems in life when we desperately need someone to come along and encourage us—a "chin up" friend. But, at the end of it all, before God we are all losers at heart and deserve to die as the penalty for our sin. Yet God in His grace died to save us from eternal death and condemnation. And, as though that weren't enough, He makes us children of the King and fills us with hope and confidence regardless of life's threats. Jesus is a friend for the doomed! We can either mope around our little barnyard of life, or we can get our chin up and believe that our friend Jesus is making something special of our lives.
Next time you're feeling down in the dumps, rejoice in the fact that you have been rescued from the grave, promised eternal life, and are a child of the King.
Now that's a "chin up" thought that can keep you going with hope and strength!
From: Streams in the Desert
But if we are afflicted, it is for your comfort and salvation; if we are comforted, it is for your comfort that you experience in your patient endurance of the same sufferings that we also suffer. And our hope for you is steadfast because we know that as you share in our sufferings, so also you will share in our comfort.—2 Cor 1:6-7
Are there not some in your circle to whom you naturally betake yourself in times of trial and sorrow? They always seem to speak the right word, to give the very counsel you are longing for; you do not realize, however, the cost which they had to pay ere they became so skillful in binding up the gaping wounds and drying tears. But if you were to investigate their past history you would find that they have suffered more than most. They have watched the slow untwisting of some silver cord on which the lamp of life hung. They have seen the golden bowl of joy dashed to their feet, and its contents spilt. They have stood by ebbing tides, and drooping gourds, and noon sunsets; but all this has been necessary to make them the nurses, the physicians, the priests of men. The boxes that come from foreign climes are clumsy enough; but they contain spices which scent the air with the fragrance of the Orient. So suffering is rough and hard to bear; but it hides beneath it discipline, education, possibilities, which not only leave us nobler, but perfect us to help others. Do not fret, or set your teeth, or wait doggedly for the suffering to pass; but get out of it all you can, both for yourself and for your service to your generation, according to the will of God.
—Selected
Once I heard a song of sweetness,
As it cleft the morning air,
Sounding in its blest completeness,
Like a tender, pleading prayer;
And I sought to find the singer,
Whence the wondrous song was borne;
And I found a bird, sore wounded,
Pinioned by a cruel thorn.
I have seen a soul in sadness,
While its wings with pain were furl'd,
Giving hope, and cheer and gladness
That should bless a weeping world;
And I knew that life of sweetness,
Was of pain and sorrow row borne,
And a stricken soul was singing,
With its heart against a thorn.
Ye are told of One who loved you,
Of a Saviour crucified,
Ye are told of nails that pinioned,
And a spear that pierced His side;
Ye are told of cruel scourging,
Of a Saviour bearing scorn,
And He died for your salvation,
With His brow against a thorn.
Ye "are not above the Master."
Will you breathe a sweet refrain?
And His grace will be sufficient,
When your heart is pierced with pain.
Will you live to bless His loved ones,
Tho' your life be bruised and torn,
Like the bird that sang so sweetly,
With its heart against a thorn?
—Selected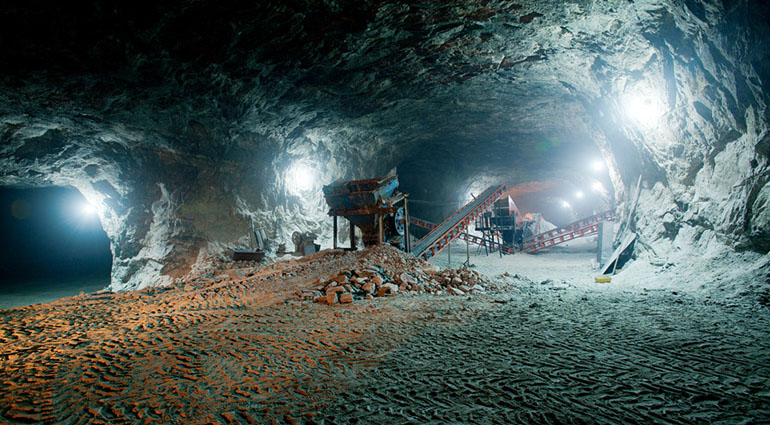 Christ's love compels us, because we are convinced that one died for all, and therefore all died.
Macarena Valdes's skill in mapping underground mines made a real difference in the rescue of the 33 Chilean miners trapped after an explosion in October 2010. Drilling to find the exact place where the men were located was like "trying to shoot a fly from 700 meters away," she said. With her mining experience, Valdes was able to guide the probe to where the miners were entombed, which helped bring about their dramatic rescue.
In efforts to carry out spiritual rescues, it's easy to become discouraged. Although the apostle Paul faced even greater obstacles, he said, "We do not lose heart" (2 Cor. 4:1). Even though "the god of this age" had "blinded the minds of unbelievers, so that they cannot see the light of the gospel," he continued to proclaim the gospel of salvation (vv. 4-5). Compelled by God, who lovingly spoke light into his own darkness (v.6), Paul knew that what God had done for him God could do for others.
You and I may have a similar story. Compelled by the love of God, we too have reason not to lose heart. As Macarena led in the rescue of the miners, the Spirit of God can carry the light of our love and words into the hearts of those who need a rescue they may not yet understand.
Lord Jesus, thank You for coming to our rescue when we were lost and helpless in our sin. Help those of us who have been rescued to share the lifeline of Your love with those who are still trapped.
When you've been rescued, you want to rescue others.