13  

Greater love has no one than this, that he lay down his life for his friends. 
15  

No longer do I call you servants, for a servant does not understand what his master is doing. But I have called you friends, because everything I have learned from My Father I have made known to you.…
Sweet Company
From: Our Daily Bread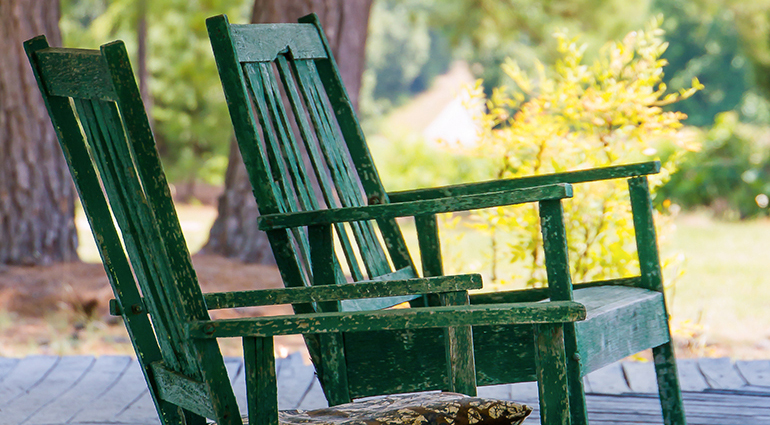 The Spirit of truth . . . lives with you and will be in you. John 14:17
The elderly woman in the nursing home didn't speak to anyone or request anything. It seemed she merely existed, rocking in her creaky old chair. She didn't have many visitors, so one young nurse would often go into her room on her breaks. Without asking the woman questions to try to get her to talk, she simply pulled up another chair and rocked with her. After several months, the elderly woman said to her, "Thank you for rocking with me." She was grateful for the companionship.
Before He went back to heaven, Jesus promised to send a constant companion to His disciples. He told them He would not leave them alone but would send the Holy Spirit to be in them (John 14:17). That promise is still true for believers in Jesus today. Jesus said that the triune God makes His "home" in us (v. 23).
The Lord is our close and faithful companion throughout our entire life. He will guide us in our deepest struggles, forgive our sin, hear each silent prayer, and shoulder the burdens we cannot bear.
We can enjoy His sweet company today.
Dear Lord, thank You for giving us Your Spirit as our constant companion.
The Christian's heart is the Holy Spirit's home
July 27, 2017


Make Your First 5 Count
LYSA TERKEURSTFrom: Crosswalk.com
"My son, if you accept my words and store up my commands within you … then you will understand the fear of the LORD and find the knowledge of God." Proverbs 2:1,5 (NIV)
Have you ever felt something stirring in your spirit that wouldn't go away?
I had one of those things on my heart a few years ago. And it all started with my middle daughter Ashley.
Ashley is a driven and responsible girl. Three years ago, she went off to college and while she had always excelled academically, the same couldn't be said for her spiritual life.
As her mom, my heart broke over her struggle in her relationship with the Lord. I just couldn't understand it — she grew up going to church, learned Bible lessons and saw me read Scripture each day.
But no matter what we did or said, we just couldn't make it connect for her.
If you're in that place right now with your child or your own walk with the Lord, I understand. I think for Ashley, the Bible felt complicated and disconnected from her everyday life issues.
As I cried out to the Lord on behalf of my daughter, the word that kept coming to mind was poverty. "Poverty" might seem strange for this situation, but when I saw the lack of spiritual nourishment in Ashley, parallels from physical to spiritual lined up.
I chased down this thought a little more — what causes poverty? A lack of opportunity. So many people around the world simply don't have access to the nourishment they need to survive.
But this wasn't the case with Ashley. Good gracious, we're like most Americans with multiple copies of the Bible under our roof. The poverty I sensed was not a lack of opportunity.
So what was it? As I wrestled with this, God brought me to the book of Proverbs.
"My son, if you accept my words and store up my commands within you, turning your ear to wisdom and applying your heart to understanding — indeed, if you call out for insight and cry aloud for understanding, and if you look for it as for silver and search for it as for hidden treasure, then you will understand the fear of the LORD and find the knowledge of God." (Proverbs 2:1-5)
One word in this passage is repeated over and over: understand! Solomon says if we want the fear of the Lord and knowledge of God, then we'll crave understanding.
Meanwhile, at school, Ashley found herself in a Bible study, challenged by her leaders to just spend the first five minutes of her day in the Word.
After admitting she hadn't been reading her Bible and hearing her friends talk about the benefits they were getting, she finally gave it a try. Each day, little by little, her interest in the Bible grew. Her life and attitude was being transformed.
Then one day, when I visited her at college, I could hardly believe my eyes.
She was a completely different girl.
At one point during our time together, I asked, "What finally made following Jesus wholeheartedly click for you?" She said, "Mom, I've made friends who love Jesus. I saw a joy in them that I wanted. So, I started doing what they do even when I didn't want to. At first I thought getting up to read the Bible was unrealistic. But as I kept doing it, the Lord started changing my thought patterns. And when I started thinking about life from the standpoint of Truth, I had so much more joy."
I can hardly type these words without crying.
As Ashley began to share what was happening, I also had a light switch go on. Her spiritual poverty wasn't caused by a lack of access, but rather a lack of understanding.
In that moment, the burden on my mama heart turned to a vision for a hurting world.
What if Proverbs 31 Ministries could help every mom recommend a tool to really facilitate their kids getting into God's Word for at least five minutes every morning?
What if we could bring the Word of God to busy college students, parents, business owners and grandmothers across the globe in a way that made the first minutes of every day life-changing? So, the minute they pick up their phones in the morning, instead of getting distracted by other things, they're invigorated with Truth.
With God's vision and your help, we created a free app that would help bring life and Truth to the first five minutes of every day. And I'm excited to say we're now celebrating the two-year anniversary of the First 5 app!
How full this makes my heart.
Two years of providing a healthier alternative to hopping on social media in the first moments of our day.
Two years of equipping people all over the world to better understand the Word of God. Because when we know the truth and live the truth, it changes everything.
What beautiful reasons to celebrate.
If you haven't downloaded the app yet, I would love to invite you to today by clicking here.
Yes, we must exchange whispers with God before shouts with the world. Instead of immediately checking in with social media with the first moments of our days, we can truly make God first by giving Him our first thoughts.
Dear Lord, I want to get into Your Word and let Your Word get into me. Help me understand and apply what I'm reading as I study the Bible, so I can help others do the same. In Jesus' Name, Amen.
Do You Want to Be Well?
From: CBN, and Kathy Thomas, author
"Do you want to be well?" The question pierced me. I pondered the past several years of my life, filled with exhaustion, pain, dizziness, and confusion; all the result of an accidental arsenic poisoning. Our family had inhaled the fumes of a series of fires containing pressure treated wood and other toxic garbage. I had become so ill that I couldn't even remember my address when I was filling out paperwork at my doctor's office. For months, I had swallowed 72 pills a day with gallons of water to detoxify my body.
I had diligently researched the long term effects of arsenic poisoning, and one article had wedged itself into my mind; playing over and over in the shadows of my thoughts, influencing my every decision. An entire small community had somehow also suffered arsenic poisoning. Eighty percent had developed multiple Cancer within eight to 10 years. A vast majority were terminal. Eight to 10 years? It seemed like such a long time when I first read the article, but it was now year number nine for me. Not just for me, but for my children, too.
I had already begun to develop multiple sores and cysts of various shapes and sizes throughout my body; some leading to biopsies, while others painfully ruptured. All had been benign … so far. The closer I came to the eight to 10-year mark, the more I became predisposed to drop my sword and surrender each time a new cyst or sore developed, or some part of my body malfunctioned. I felt like I was bracing for an inevitable crash. In my mind, doom was certain. It was not a matter of "if," but a matter of "when." I felt like I was living on borrowed time.
Then, one Tuesday morning, we were studying the gospel of John:
"Now there is in Jerusalem by the Sheep Gate a pool, which is called in Hebrew, Bethesda, having five porches. In these lay a great multitude of sick people, blind, lame, paralyzed, waiting for the moving of the water. For an angel went down at a certain time into the pool and stirred up the water; then whoever stepped in first, after the stirring of the water, was made well of whatever disease he had. Now a certain man was there who had an infirmity thirty-eight years. When Jesus saw him lying there, and knew that he already had been in that condition a long time, He said to him, 'Do you want to be made well?'

The sick man answered Him, 'Sir, I have no man to put me into the pool when the water is stirred up; but while I am coming, another steps down before me.'

Jesus said to him, 'Rise, take up your bed and walk.' And immediately the man was made well, took up his bed, and walked." (John 5:2-8 NKJV)
I was struck by the man's answer to Jesus' question because I realized that I had been answering his question the same way for nine years. I had spent so much time dwelling on why I was sick, that I had simply been laying on my mat, waiting for impending doom.
I had a revelation that morning. Jesus wanted me to walk in the waiting; to pick up my mat and keep moving forward. He had already determined the number of my days. Each day was a gift, and I was wasting them sitting on my mat, by the pool of Bethesda.
It was time to pick up my mat and walk in faith with hope for the future. Now, I see lumps as nothing more than speed bumps. I will not live my life waiting to die. I will live my life "well."
"Therefore He says: 'Awake, you who sleep, Arise from the dead, And Christ will give you light.' See then that you walk circumspectly, not as fools but as wise, redeeming the time, because the days are evil." (Ephesians 5:14-16 NKJV)
Do you want to be well?
Can God change your life?