The Mail Carrier
I thought it would be easy to navigate my way to the expressway from my new job, but I was not familiar with the neighborhood. To further my confusion, a few street signs were missing. The only sure landmark I had was a child's soccer ball left in a yard. After passing the ball three times, I pulled my car to the side of the road, wiped sweat from my palms, and prayed. "God, please direct me. I want to go home."
Suddenly, a mail carrier who was making his rounds made a U-Turn. "Ma'am, what address are you trying to find?" he said.
"I'm looking for I-95."
The carrier gave directions and I went on my way, confident I could find the expressway. But then, I passed through another intersection with missing street signs. Was that where I was supposed to turn? This time, I did a U-turn, found my soccer ball landmark, and stopped.
The mail carrier's reflection appeared in my rear-view mirror. "Still looking?" he said as he pulled beside me.
I nodded, trying to hide my flushed face.
"Wait here. I have three more letters to deliver. I'll be back." As promised, he returned. Then he led me to the highway.
Sure enough, the intersection with the missing signs was where I was supposed to turn. I can still see the carrier tipping his hat as I boarded the expressway.
Sometimes, navigating decisions in life is like driving with missing street signs. God understands His people need help so He provides His Word.
Psalm 119:11a KJV reads, "Thy word have I hid in mine heart."
When I commit God's Word to memory, I can be as confident as the mail carrier who had the streets on his route memorized. I'm guessing he also knew the child who owned the soccer ball, and neighbors by their first names.
Psalm 119:105 KJV reads, "Thy word is a lamp unto my feet, and a light unto my path."
Just like the mail carrier led me to the expressway, God's Word gives us directions that work.
In each of the 176 verses of Psalm 119, the psalmist encourages me to incorporate the truths of God's Word into everyday living. Just as the mail carrier helped me to reach my destination, God gives His Word as a safe and reliable guide we can depend on.
Making Space for God to Work
"Then Jesus took the loaves, gave thanks to God, and distributed them to the people. Afterward he did the same with the fish. And they all ate as much as they wanted." John 6:11 (NLT)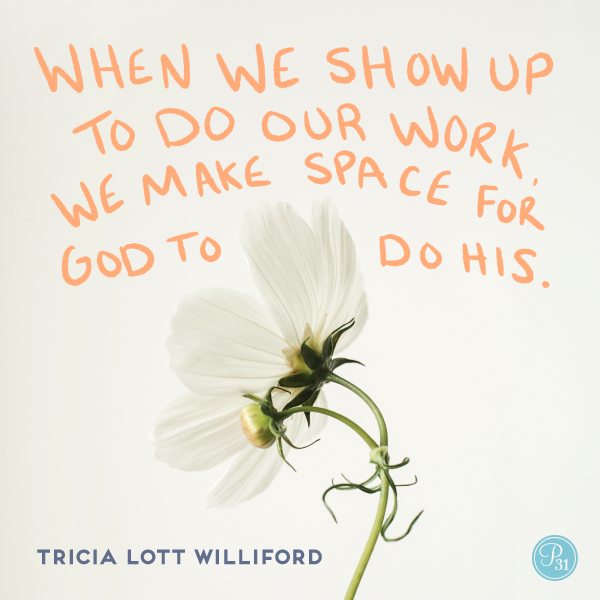 Collaboration is my favorite kind of work. I call it "Together Work." Collaboration, partnering with someone who can bring their specific skills and gifts to the table, always makes me far more effective — in my writing, thinking, creating, parenting.
Together Work always makes me better.
The Holy Spirit offers the most powerful kind of Together Work. We can do most things ourselves, but partnering with the effectiveness of the Holy Spirit multiplies everything. God can take our small offering and do something we could never imagine.
The reason we know the truth of Together Work, the reason we know it's possible and can be part of the fulness of our lives, is because of the Bible. I have fallen in love with the stories and examples of Together Work in the Bible. They start with small promptings, seemingly meaningless whispers, small nudges that might even be hard to pin down. But when people respond to God's prompting, He draws them into His larger story.
Friend, God's Word is so applicable to us today, and we can come to love it in our actual lives. The Bible has life-changing things to say about who you are, where you are and the God who's in the midst of it all. It shows us practically what Together Work with God looks like. One example is the well-known account of Jesus feeding 5,000 people on a hillside, told in all four Gospels.
People from many towns ran ahead along the shore where He was traveling, always trying to anticipate His next move and be the first ones there. The writers tell us the disciples came to Jesus and suggested He may want to send the people away to nearby farms and villages to get something to eat, and Jesus responded in the classic fashion that makes me love Him so much. He said, "You feed them" (Mark 6:37a, NLT).
"With what?" they protested, pointing out that catering for this many would require months of wages (Mark 6:37b, NLT).
Jesus asked them, "How much bread do you have?" (Mark 6:38a, NLT). They came back and reported, "There's a young boy here with five barley loaves and two fish. But what good is that with this huge crowd?" (John 6:9, NLT).
The text states that there were 5,000 men present, and that doesn't count the women and children. So the total number of hungry people may have actually been 10,000 to 15,000. Five loaves and two fish? Hardly enough.
John tells us, "Then Jesus took the loaves, gave thanks to God, and distributed them to the people. Afterward he did the same with the fish. And they all ate as much as they wanted" (John 6:11).
Jesus multiplied five loaves and two fish to feed more than 5,000 people. What they originally gave Him seemed insufficient, which is basically how I feel every time I give something to God. I'm always like, "Well, I don't know what this is yet or how You can possibly do something with my feeble attempts here, but You can have them."
The crazy thing? In His hands, what we give Him is always enough. We feel that our contribution is inadequately meager, but He can use it. In ways we cannot imagine, He multiplies exponentially.
Seeking to fall in love with the Bible in our actual lives is our part of the Together Work we do with God. We do our part of Together Work when we show up to read the Bible, to meditate on what we're learning, to memorize words and sew them into our memory.
God's part in Together Work is in the hidden work that we cannot see. It's invisible, silent and subtle — yet He gives us the strength, wisdom, rest and renewal that only He can provide.
When we show up to do our work, we make space for God to do His. When we make ourselves available, He makes Himself accessible. Together Work.
Streams in the Desert – August 25
Shut up to faith (Gal. 3:23).
God, in olden time suffered man to be kept in ward by the law that he might learn the more excellent way of faith. For by the law he would see God's holy standard and by the law he would see his own utter helplessness; then he would be glad to learn God's way of faith.
God still shuts us up to faith. Our natures, our circumstances, trials, disappointments, all serve to shut us up and keep us in ward till we see that the only way out is God's way of faith. Moses tried by self-effort, by personal influence, even by violence, to bring about the deliverance of his people. God had to shut him up forty years in the wilderness before he was prepared for God's work.
Paul and Silas were bidden of God to preach the Gospel in Europe. They landed and proceeded to Philippi. They were flogged, they were shut up in prison, their feet were put fast in the stocks. They were shut up to faith. They trusted God. They sang praises to Him in the darkest hour, and God wrought deliverance and salvation.
John was banished to the Isle of Patmos. He was shut up to faith. Had he not been so shut up, he would never have seen such glorious visions of God.
Dear reader, are you in some great trouble? Have you had some great disappointment, have you met some sorrow, some unspeakable loss? Are you in a hard place? Cheer up! You are shut up to faith. Take your trouble the right way. Commit it to God. Praise Him that He maketh "all things work together for good," and that "God worketh for him that waiteth for him." There will be blessings, help and revelations of God that will come to you that never could otherwise have come; and many besides yourself will receive great light and blessing because you were shut up to faith.
–C. H. P