3/21/2020
Because you know that the testing of your faith produces perseverance.      James 1:3
Let God Speak
Does your prayer time seem a little lack-luster on occasion? I know mine does. God wants to hear from us. He expects us to show up and delights in the minutes we give solely to him. But once in a while it starts to feel a bit contrived and obligatory… going through the motions.
When this happens to me, I change things up. I let God speak to me, through me. Yeah, I know… you're thinking, "What did she just say?"
When I've done the usual: praising, examining my life, sharing it all with the Lord and still feel like I'm in the room alone – I try letting Him talk to me. Based on many years of reading the Bible and getting to know God's ways, I speak out loud to me as though Jesus were uttering the words. If we follow what it says in Philippians 2:5, this becomes second nature:
"Your attitude should be the same as that of Christ Jesus."
It may sound a little wacky, but there have been times God has revealed a deep truth, brought renewed joy, increased my faith, and healed my wounded spirit through my own voice using His mind. 1 Corinthians 2:16 says,
"For who has known the mind of the Lord that he may instruct him? But we have the mind of Christ."
I simply give voice to what I believe God is telling me through His word.
But what if you don't have the time or place to be alone and share a verbal dialog with God? Write a letter from the Lord to you. It seems that just the right measure of encouragement, wisdom, conviction, and peace will begin to appear on the paper as you allow your Father to speak intimately to you.
This is an example:
My precious child,
I am here. You are not alone. I have held you in my hands for all of the days of your life. I will move mightily and you will be amazed. Do not fear, do not doubt, trust in me and know that I am God. Be patient, I am working things you will never understand, and I am.
Dear one, turn your heart to me, and remember that I am not against you. I find you in my favor and because of where you are I will be able to move mountains. Do not question me, but allow me to work in my way in my timing. (Reprinted with permission from Ally Johnson.)
Your words may not be as beautiful or poetic as Ally's but they will reflect yourpersonality and God's heart; the message a very private one, for your eyes only.
If you're new to this journey of Christian faith and maybe don't know too much about God's character or what He might say to you, dig in and begin finding out. Maybe a book of Bible promises will help jump-start the process.
While the Lord cherishes hearing our praises and requests, He also longs to speak to us, saying exactly what we need to hear.
When You Feel Like You Can't Hear from God
"Then Peter came to Jesus and asked, 'Lord, how many times shall I forgive my brother or sister who sins against me? Up to seven times?' Jesus answered, 'I tell you, not seven times, but seventy-seven times.'" Matthew 18:21-22 (NIV)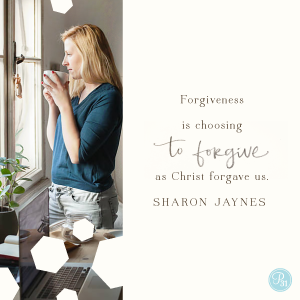 I was so confused. I was talking to God, but it seemed He wasn't talking to me. There seemed to be a barrier between us. I was a single 20-year-old who needed to make an important decision about my future, but I wasn't hearing from God.
Mr. Thorp was an older, godly gentleman who mentored my Christian friends and me in our teen years. After a Bible study meeting, I asked him to pray for me.
"Let's read some Scripture about prayer before we pray," Mr. Thorp suggested.
First he turned to Matthew 18:19-22, which says:
"Again, truly I tell you that if two of you on earth agree about anything you ask for, it will be done for them by my Father in heaven. For where two or three gather in my name, there am I with them."
"Then Peter came to Jesus and asked, 'Lord, how many times shall I forgive my brother or sister who sins against me? Up to seven times?' Jesus answered, 'I tell you, not seven times, but seventy-seven times.'"
Then to Matthew 6:8-15. Then Mark 11:22-26.
Every passage Mr. Thorp turned to regarding God answering prayer had verses about forgiveness either before it or after it. He stopped reading, looked me in the eye, and said, "Sharon, I sense that God is telling you that you have unforgiveness in your heart. Have you forgiven your father for what he did to you and what he withheld from you?" (Mr. Thorp had walked with me on my spiritual journey and knew very well what had gone on in my home.)
I was stunned. "Mr. Thorp," I respectfully replied. "I came here to pray about my future, not talk about my past."
"But, Sharon, God can't talk to you about your future until you obey Him regarding your past."
It was a rough morning, but a good one.
At that time, I'd been a Christian for seven years. My father came to Christ six years after I did. He'd been a violent, heavy drinker with a rage disorder who gambled, indulged in pornography and had affairs. Dad hit my mom, terrorized my brother and treated me as if I were non-existent.
When he gave his life to Christ, he was truly a new creation.
The change was (and still is) one of the most miraculous transformations I've ever seen. Only Almighty God could have orchestrated the twists and turns that led my father to the cross.
However, I had a nagging resentment toward my dad, which I clung to with a closed fist. Yes, I saw the change, but no, I didn't trust him. I didn't even like him. I still had nightmares, fits of fear and trigger points of panic. Whenever Dad made a mistake — because he still wasn't perfect — the bitterness of my childhood rose up. God was speaking to me through Mr. Thorp, saying, "Now's the time to let it go."
Mr. Thorp and I spent hours talking through the pain of my past and the purpose of forgiveness. We prayed. I cried. Finally, in my heart, I could sense myself releasing years of hurt and anger. In turn, God filled my heart with a tender love of a daughter who saw her dad through the lens of grace. I was free.
Amazingly, after forgiving my father, my inability to hear from God was lifted. I knew exactly what I was supposed to do. I'm not saying that once you forgive, everything in life falls into place. However, my refusal to forgive my earthly father hampered my communion with my heavenly Father.
So here's what God's asking you and me today … Is there someone in your life you haven't forgiven? It's time to let it go. Forgiveness isn't saying that what the person did was right, and it doesn't necessarily mean you reconcile. But forgiveness does mean you're going to let go of the angry resentment, give the person to God and live free. Remember, the only person we hurt when we choose not to forgive is ourselves.
Jesus didn't tether our forgiveness to the caveat that someone we forgive has changed or asked for forgiveness. Why? Forgiveness really isn't about the other person at all … it's about what we choose to do to forgive as Christ forgave us, and set ourselves free.
Lord, today I choose to forgive _________ for ____________. I have been terribly hurt [misused, abused], but I'm not going to allow the offense to control me any longer. Just as You've forgiven me, I now forgive ____________. I relinquish any need for revenge and place the consequences of this person's action in Your hands. In Jesus' Name, Amen.
If you prayed that prayer of forgiveness, leave a comment and say, "I did it!" Let's celebrate together.
A Bible Devotion
3/21/2020
Talk To God About Everything
From: Adevotion.org
HEBREWS 4:13-16 NLT 13 Nothing in all creation is hidden from God. Everything is naked and exposed before his eyes, and he is the one to whom we are accountable. 14 So then, since we have a great High Priest who has entered heaven, Jesus the Son of God, let us hold firmly to what we believe. 15 This High Priest of ours understands our weaknesses, for he faced all of the same testings we do, yet he did not sin. 16 So let us come boldly to the throne of our gracious God. There we will receive his mercy, and we will find grace to help us when we need it most.
You should talk to God just as you would to a very respected friend. Don't worry about using any special form of words. Just talk openly, honestly, and sincerely from your heart. (This is what "prayer" is supposed to be.)
God knows what you are thinking anyway. You can't fool God or hide anything from Him. God knows you better than you know yourself. And the wonderful thing is that God still loves you!
Nothing that concerns you is unimportant to God. Remember, He even keeps count of how many hairs you have!
God is not too busy to hear about every detail of your life. I have no idea how God can listen to all of us, but He can. God is not bound by time like we are. However He does it, we don't have to be concerned but can just trust Him.
JEREMIAH 33:3 NKJ 33 'Call to Me, and I will answer you, and show you great and mighty things, which you do not know.'
What a privilege to have the input and counsel of God who knows everything! Don't fail to take advantage of this tremendous opportunity.
We are called into fellowship with the Lord Jesus Christ! That means we should share everything with Him.
1 CORINTHIANS 1:9 NKJ 9 God is faithful, by whom you were called into the fellowship of His Son, Jesus Christ our Lord.
God invites us to fellowship with Him. That would include just discussing things. Just visiting. Just "hanging out" together. This is what God desires. So don't disappoint Him!
Don't talk at God, talk directly to God. Prayer should not be a spiritual exercise you have to get through. It's a conversation with Someone who loves you, and is very smart.
"But what can I say to God?"
"Thank You!" would be a good start. What would you say to any friend who was with you? You wouldn't have any trouble figuring out what to talk about with them would you?
"But," you say, "God doesn't talk back."
Yes, that is a difference you have to get used to. True, God does not usually speak back to us in the normal human fashion. The main way He "speaks" to us is through inward impressions or ideas, all of which will line up with His written Word, the Bible. We have to learn His way of communicating.
SAY THIS: God wants me to talk with Him about everything, so I will.
Streams in the Desert – March 21
Times have changed, but life's hard times haven't
According to your faith be it unto you (Matt. 9:29).
"Praying through" might be defined as praying one's way into full faith, emerging while yet praying into the assurance that one has been accepted and heard, so that one becomes actually aware of receiving, by firmest anticipation and in advance of the event, the thing for which he asks.
Let us remember that no earthly circumstances can hinder the fulfillment of His Word if we look steadfastly at the immutability of that Word and not at the uncertainty of this ever-changing world. God would have us believe His Word without other confirmation, and then He is ready to give us "according to our faith."
When once His Word is past,
When He hath said , 'I will,' (Heb. 13:5)
The thing shall come at last;
God keeps His promise still. (2 Cor. 1:20)
The prayer of the Pentecostal age was like a cheque to be paid in coin over the counter.
–Sir R. Anderson
"And God said… and it was so." (Gen. 1:9.)