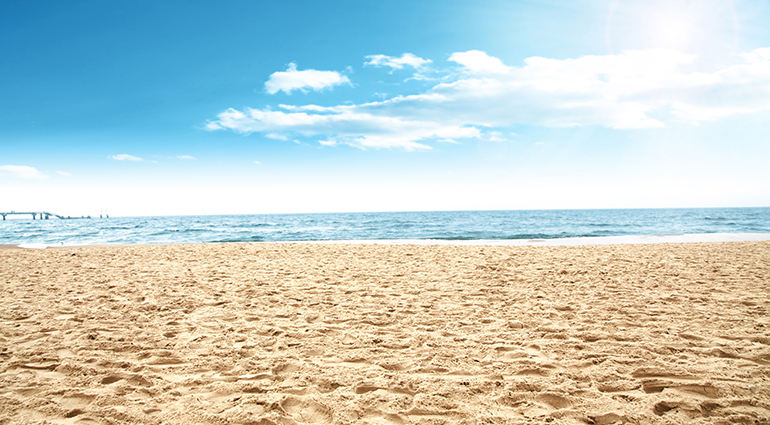 My friend and I sat in the sand, near the ever-rhythmic ocean. As the sun sank in the distance, wave after wave curled, paused and then rippled toward our extended toes, stopping just short each time. "I love the ocean," she smiled. "It moves so I don't have to."
What a thought! So many of us struggle to stop. We do, do, do and go, go, go, somehow afraid that if we cease our efforts we will cease to be. Or that by stopping we will expose ourselves to the ever-present realities we work to keep at bay.
In Psalm 46:8–9, God flexes His omnipotent muscles, putting His power on display. "Come and see what the Lord has done . . . . He makes wars cease to the ends of the earth. He breaks the bow and shatters the spear; he burns the shields with fire." God is a busy God, who works to create calm within the chaos of our days.
And then in verse 10 we read, "Be still, and know that I am God."
Of course it's possible to know God while running here and there. But the psalmist's invitation to cease striving beckons us into a different kind of knowing. A knowing that we can stop—and still be—because God never stops. A knowing that it is God's power that gives us ultimate value, protection, and peace.
Dear God, help me to find my rest in You.
We rest well when we're in the loving arms and perfect will of God
"Do everything without grumbling or arguing, so that you may become blameless and pure, 'children of God without fault in a warped and crooked generation.' Then you will shine among them like stars in the sky as you hold firmly to the word of life." Philippians 2:14-16 (NIV)
Last week, my 19-year-old decided to head out on an adventure. Ever the nature-lover, he bundled up and drove three hours north to spend a few hours hiking and stargazing.
His final destination was Wilderness State Park, a 10,000-acre lush parcel of land that boasts wildlife including bobcats, mink, muskrats, otters, American black bears and even wolves! It's also been designated a dark sky preserve, where rules restrict light pollution to allow for the best viewing of the night atmosphere.
While I loved seeing my son so excited to gaze at the heavens that rather chilly night, my mind kicked into mama-mode. I worried about him being all alone. In the dark. However, since he's an adult, I couldn't forbid him to go. I did, however, strike a compromise and he agreed to turn on the "share my location" feature on his phone so I could track where he was at all times. And yes — also alert the authorities if he failed to return.
He had a glorious time that night simply walking and looking up at the night sky. Because there was no light pollution to dilute the dark, the stars and constellations were the most vivid he'd ever seen. Stars shine brightest when they are up against the pure blackness of night.
The Apostle Paul declares that Christians who behave as God's Word instructs shine like stars in the universe, especially when they're placed alongside those whose behavior is dark and sinful. Philippians 2:14-16 states:
"Do everything without grumbling or arguing, so that you may become blameless and pure, 'children of God without fault in a warped and crooked generation.' Then you will shine among them like stars in the sky as you hold firmly to the word of life."
To understand the assertion Paul is making in this passage, let's work our way through it backward.
He says Christians are to hold firmly to the word of life. The phrase "word of life" refers to the words of life contained in Scripture — especially the life-changing message of the gospel.
How are we to hold to these words? Firmly. We may think this depicts us holding tightly — which it does, in part. However, the original Greek phrase means both to hold tight and to hold forth. We as believers should be holding forth the Word, living it out before others and sharing the gospel whenever we can.
We're told we will shine like stars. Our behavior as children of God will be visibly detected next to the behavior of unbelievers, which is often warped and crooked. Just like the stars my son saw that night, others will take note of the brightness of the light — the clashing contrast between the godly behavior of Christians and the pollution of sin displayed in the world.
When we look at the very beginning of this passage, however, we're given the key to how all of this counter-culture different behavior begins. It begins when we choose to refuse to grumble or argue. Oh, it doesn't just say we should occasionally refrain from such verbal misbehavior. Read it again.
Do everything without grumbling or arguing. In the Greek, the word everything means … everything!
Choose not to grumble when you feel your home or possessions aren't as nice as your neighbors, but be thankful that you have food, clothing and shelter.
Choose not to argue with your co-worker or family member over something trivial, but discuss it in a calm, civil tone instead.
Choose not to grumble when performing chores around the home or running errands for the third time this week. Instead, be grateful you're well enough to perform such tasks.
Choose not to argue on social media, attempting to make your point with a zing that might sting a little, proving your position is completely correct and the other person is way off base.
Our behavior as Christians can stand out to the world, holding forth the word of life, showing the way of salvation. But it all begins when we watch our words: choosing gratitude over grumbling and refusing to get tangled up in a verbal spat.
This, friends, is how we shine the light of Jesus in the world.
Father, please empower me to refrain from grumbling and complaining. I want my behavior to reflect Your Word, holding it forth to shine so others may find their way to You. In Jesus' Name, Amen.
Hide and Seek
John P. King, Author
I don't know about you, but for me, waiting is tough! I hate to wait. Why is waiting so hard? Because waiting implies that we do not have control over our circumstances or the timing of events in our lives. We like to think that we own our destiny, yet if we are honest we would admit that we can barely see beyond today.
We might have plans and dreams, but really, today are we where we thought we would be five, 10, or 15 years ago? So who is to say where we will be in the future? Only God knows that. In my experience, He usually remains rather silent on the issue of disclosing what is to come. He allows us to walk day by day and sometimes those days seem to drag out. Whether there is something we really want to do, or even when we feel like we have no direction whatsoever, the times and seasons of our lives can become unbearable.
Can become unbearable, if we let them. Psalm 27 is a wonderful Psalm that can help us through those difficult, unexplainable times. In this passage, David is expressing angst over the adversaries in his life but he also lets the deep cry of his heart come out. It is a cry that is centered on his desire to simply be with God.
"One thing I have asked from the Lord, that I shall seek; That I may dwell in the house of the Lord all the days of my life, To behold the beauty of the Lord and to meditate in His temple." Psalm 27:4 (NASB)
More than anything, David wanted to be with the Lord. Verses 8 and 9 continue the thought:
"When you said, 'Seek my face,' my heart said to You, 'Your face, O Lord, I shall seek.' Do not hide your face from me, Do not turn Your servant away in anger; You have been my help; Do not abandon me nor forsake me, O God of my salvation!" Psalm 27:8-9 (NASB)
The Lord had given David the challenge – "Seek my face." David understood the challenge and knew that sometimes, seeking God's face is easier said than done. Why? Because as was mentioned earlier, our plans and dreams don't always turn out as we expected. Sometimes, it appears God plays a game of hide and seek. Finding Him is not as simple as it may seem. It takes work to find God.
David closes the Psalm with a great encouragement.
"I would have despaired unless I had believed that I would see the goodness of the LORD in the land of the living." Psalm 27:13 (NASB)
There was a firmly rooted conviction in David's heart – no matter how tough, bizarre, or long the days seemed, he knew he was going to see the goodness of God in his life. Holding fast to this truth allowed him to endure and, quite literally, changed the rules of the game from "hide and seek" to "wait and seek." David goes on to say in Verse 14 (NASB),
"Wait for the Lord; Be strong and let your heart take courage; Yes, wait for the Lord."
If we believe that God has good things for us, we will be willing to wait for them. Courage will give us the strength to wait for God while we seek him. Sounds like a contradiction, doesn't it? Just like in the real game of hide and seek, everyone wants to be found. Those in the best hiding places will eventually reveal themselves if the seeker is patient. If by faith we seek God by waiting for Him, He will inevitably come to us.