Memorial Day – to some it's merely the beginning of summer and to others it's a solemn day to remember those who have passed from this life. However, to the war veteran and to the families of fallen soldiers, Memorial Day carries significance so deep that words cannot express their hearts.
When we look into the eyes of those who still mourn these once vibrant men and women, we often sense their loneliness and pain. We hear them choke back tears as they simply say the ranks and names of their military brothers and sisters at a Memorial Day service. White gloves, dress uniforms, rigid posture, and perfectly precisioned salutes represent the reverence and respect flowing from within. Those who have been personally affected by war understand and appreciate this day of remembrance.
What should we say to those who sincerely honor this day? "Happy Memorial Day" doesn't seem fitting. "I'm sorry for your loss" may be closer to appropriate. What would the fallen soldier want from their comrades and the rest of the country on this day?
In an often quoted Memorial Day speech given in 1884 by Oliver Wendell Holmes Jr., the speaker ended his address with these words, "Our dead brothers still live for us, and bid us think of life, not death — of life to which in their youth they lent the passion and joy of the spring. As I listen, the great chorus of life and joy begins again, and amid the awful orchestra of seen and unseen powers and destinies of good and evil our trumpets sound once more a note of daring, hope, and will."
The American soldier who gave his or her life for U.S. citizens to enjoy life, liberty and the pursuit of happiness won't be telling us how to observe the holiday. But I believe that Holmes' proposition to "think of life, not death" would honor the fallen soldier. Their sacrifice follows the example of Jesus Christ laying down His life for our freedom. It's selfless love for others – not so others can mourn forever, but live!
"We know what real love is because Jesus gave up his life for us. So we also ought to give up our lives for our brothers and sisters." 1 John 3:16
Notice that in scripture and in military service, the willingness to give up one's life is not dependent on the worthiness of the people who benefit from the honorable act. In a perfect world, all who receive freedom and grace would be worthy of such a sacrifice and full of gratitude. But that's not the way it is anywhere on Earth or in Heaven.
"But God showed his great love for us by sending Christ to die for us while we were still sinners." Romans 5:8
We are blessed to be living in a free society. May we honor our American soldiers for the liberty we have in this country. May we also give thanks to Almighty God for the freedom we have to spend eternity with Him because of His gift of forgiveness through the death, burial and resurrection of Jesus Christ.
_____________________________________________
A Prayer for Memorial Day 
A Prayer for Memorial Day: Remembering Those Who Have Fought for Our Freedom
By Debbie McDaniel, crosswalk.com
"Greater love has no one than this, that he lay down his life for his friends." John 15:13
Freedom is a gift, it's a treasure.  And though we all may agree on that truth, it's often easy to take for granted the greatest gifts that God has given us in our lives.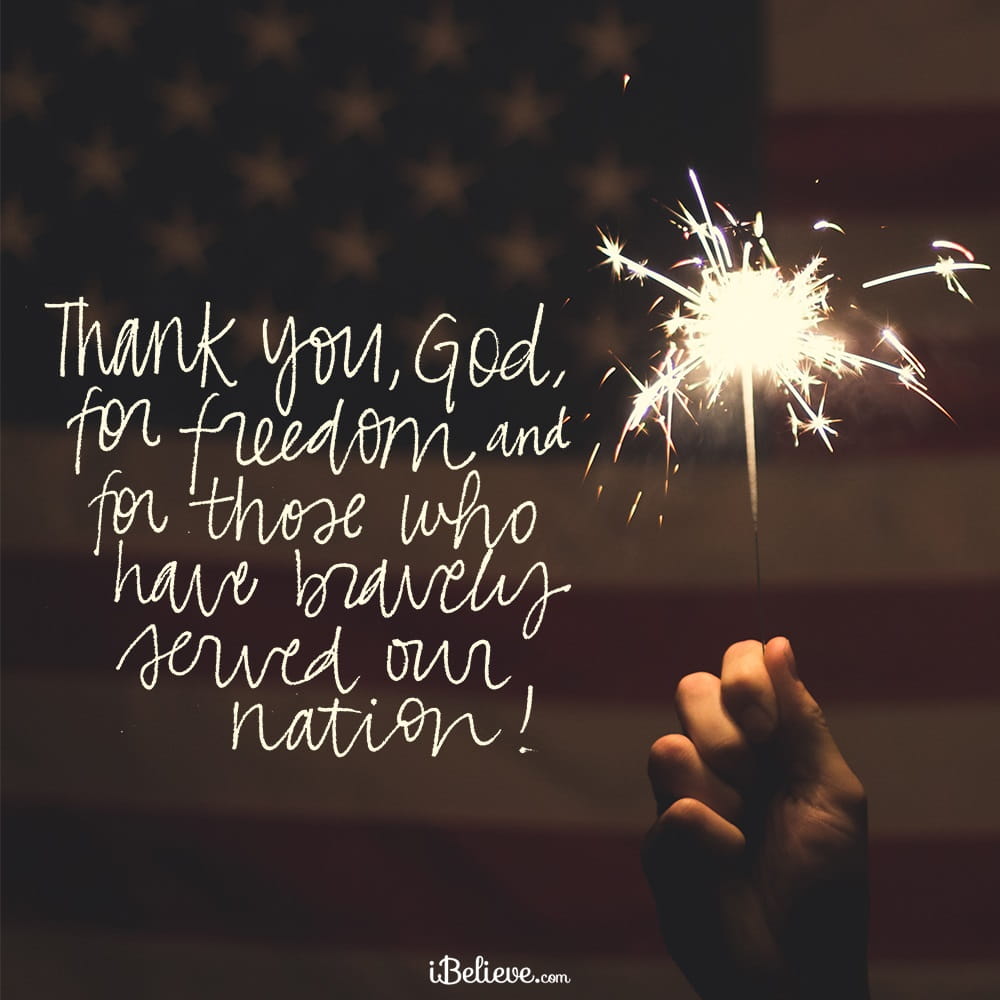 But those most precious gifts are never free. They came with a price. With sacrifice. They were worth fighting for. And are still worth fighting for today. Many brave men and women were willing to face hard battles in order for us to enjoy that gift of freedom today.
For all those who have protected our nation, for the men and women in uniform, together, we say "Thank You."
We take time to remember today, and say a prayer of gratefulness for the many who have been willing to pay a great price for our freedom.  May God help us to live so courageously, may we follow the brave examples of those who have gone before us…
Thank you for reminding us that there's incredible love and sacrifice displayed when one is willing to stand strong and fight for freedom
This service of love and sacrifice on behalf of all people, points us directly to the greatest love of all, the very gift and sacrifice of Christ.
Our Savior was willing to pay the ultimate price, so that we can live free. Forever.
A Prayer for Memorial Day: Remembering Those Who Have Fought for Our Freedom.
Dear God,
We thank you for the freedom you have given to us, and for the price that was paid by Christ so that we could live free. We remember today. The cost of it all. The great sacrifice for freedom.
We thank you for the brave men and women who have fought, and continue to fight, so courageously for our nation. We ask for your covering and blessing over them and their families. We pray that you would be gracious and encircle them with your peace. We pray for your great favor and goodness to be evident in their lives.
Please be with all those who wear the uniform, who serve our communities and nation every single day. We ask that you provide your protection, that you would be their guiding force who leads the way, and their rear guard who keeps them safe from behind. We ask that you would draw them to yourself amidst the dangers they face in a dark world, for you are the Truth, you are the Way, you are the Light.
Help them to walk wisely. To stay covered in your armor. Give them godly discernment. Make them constantly aware of what lurks close by. Help them to be men and women of prayer, realizing that this is where their greatest help comes from. Help them to stay united and strong, bold and resolute, determined and unwavering.
Bless their families. Bless those they love. Give them your great favor, this day, and every day.
Thank you that in our nation today, we are free to worship. We are free to pray. We are free to read your Word.  We are free to speak.  We are free to share. For this, we are incredibly grateful. Yet, we understand how quickly these freedoms can be taken away. Give us an increased awareness of the spiritual battle we're in. Help us to stand strong in you and for your purposes.
Thank you that as believers, we can be assured, you will never leave us, and are with us always, in this life, and the next.
Thank you for your truth that says, who the Son sets free is free indeed! We know that in you alone, true freedom is found.
In Jesus' Name we pray,
---
Today, thousands of American flags dot
Arlington National Cemetery—one for each
grave marker. Red, white and blue dominate
the green landscape.
Memorial Day is a day to remember those who've died serving in the U.S. military. Civil War veteran General John A. Logan called in 1868 for Americans to decorate the graves of those who fell during the "War Between the States;" the holiday has grown in scope since then and now commemorates the fallen from each of America's wars.
Though Memorial Day is an American holiday, nations across the world have their own traditions for remembering the sacrifices of their soldiers. There's something uniquely powerful about communal remembrance—gathering together as a family or nation to reflect on significant people and events of the past. It's no surprise that memorial celebrations—military and otherwise—are common to many cultures throughout history, including the people of the Bible.
A famous example of a memorial celebration in the Bible can be found in Joshua 4:2-9. God commands the Israelite leader Joshua to set up a memorial to mark the event of the Ark of the Covenant crossing the Jordan River, to remind future generations of what had happened there:
"Choose twelve men from among the people, one from each tribe, and tell them to take up twelve stones from the middle of the Jordan, from right where the priests are standing, and carry them over with you and put them down at the place where you stay tonight." — Joshua 4:2-9 (NIV)
In this case, God wanted the Israelites to remember his deliverance. The stone memorial served as a physical reminder of a shaping event in their history. Sometimes the memorial took the form not of a physical monument, but a shared activity, as in the case of the Israelite's commemoration of their escape from Egypt.
Christians observe their own memorial celebrations, most notably in the "breaking of bread" that recalls Christ's sacrifice—a ceremony that we observe with frequency:
And he took bread, and when he had given thanks, he broke it and gave it to them, saying, "This is my body, which is given for you. Do this in remembrance of me." — Luke 22 (ESV)
Reminders, bitter or sweet, are important to our culture and our history. They remind us where we've come from, and whose work got us to where we are. The philosopher George Santayana said, "Those who do not remember their past are condemned to repeat their mistakes," and we see this pattern throughout the Bible. Time and time again, when the Israelites "forgot" the Lord, they stumbled and were punished. See Psalm 106:10-14 for an example:
He saved them from the hand of the foe;
from the hand of the enemy he redeemed them.
The waters covered their adversaries;
not one of them survived.
Then they believed his promises
and sang his praise. But they soon forgot what he had done
and did not wait for his plan to unfold.
In the desert they gave in to their craving;
in the wilderness they put God to the test. — Psalm 106:10-14 (NIV)
It's important that we remember who we are and where we've come from. Americans make a point of remembering on Memorial Day. And as Christians, every day is a good day to remember, reflect on, and give thanks for what the Lord has done for us.