Reason to Sing
From: Our Daily Bread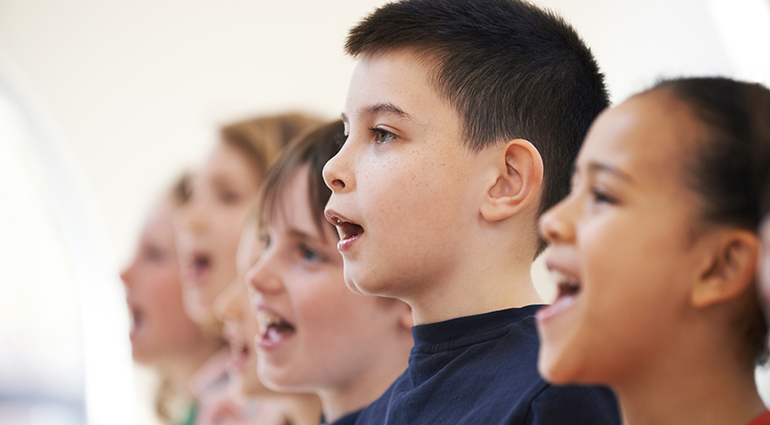 Sing to the Lord a new song, for he has done marvelous things. Psalm 98:1
When I was thirteen, my school required students to take four exploratory courses, including home economics, art, choir, and woodworking. On my first day in choir, the instructor called each student to the piano individually to hear their voices and place them in the room according to their vocal range. During my turn at the piano, I sang the notes she played multiple times, but wasn't directed to a section in the room. Instead, after repeated tries, she sent me to the counseling office to find a different class to take. From that moment on, I felt I shouldn't sing at all, that my voice shouldn't be heard in song.
I carried that thought with me for more than a decade until I read Psalm 98 as a young adult. The writer opens with an invitation to "sing to the Lord" (Psalm 98:1). The reason offered has nothing to do with the quality of our voices; He delights in all His children's songs of thanksgiving and praise. Instead, we are invited to sing because God "has done marvelous things" (v. 1).
The psalmist points out two wonderful reasons to joyfully praise God in song and in attitude: His saving work in our lives and His ongoing faithfulness toward us. In God's choir, we each have a place to sing of the marvelous things He has done.
Lord, You have done great things in my life. Even if my voice isn't one that would be heard on stage, I want to join the choir in thanking You for the amazing things You've done.
God loves to hear the voices of His children.
Never in Vain
From: Our Daily Journey
In 1882, Antoni Gaudí began construction on the Sagrada Família, a basilica in Barcelona slated for completion in 2026. The National Geographic reports that at the time of Gaudí's unexpected death, less than 25 percent of the exterior was finished. Even if he had not died prematurely, Gaudí knew he'd never see the completed work; but it didn't bother him. He believed he was working for God. Whenever asked about the immense time for the project, he answered, "My client is not in a hurry."
It often seems impossible to see the fruit of our work. We want to believe we're contributing to God's kingdom (Matthew 6:10), but sometimes it's hard to catch sight of how this is true. We believe God has handed us gifts and a job to do, but at times our efforts appear to accomplish little. Does the way we spend our days have any bearing on how God intends to love and redeem our world? Does carpentry or teaching or physics really participate in the new world God is making?
The apostle Paul insisted that Jesus' resurrection secured believers' hope, not just for some distant future but also for our lives now. After explaining how in the resurrection "our bodies . . . will be raised in strength," Paul went on to emphasize that, marvelous as that truth is (1 Corinthians 15:43), Jesus' resurrection did much more than secure eternal life. The apostle also said that because Christ has defeated death, every stitch of work we do now in obedience to God will yield good fruit. "Be strong and immovable," Paul said. "Always work enthusiastically for the Lord, for you know that nothing you do for the Lord is ever useless" (1 Corinthians 15:58).
Whatever we might feel in moments of frustration, we can be certain that God will make our work fruitful by His power.
Go Your Own Way?
By: Pauline Hyhton, author
"I tell you, no, but unless you repent, you will all likewise perish." Luke 13:5 (NASB)
You ever open your computer screen, scroll through the awful headlines and think to yourself, I'm glad I'm not like them.
I have. My guess is that you have, too.
The Bible reading in Luke today is both awful and interesting. In the first part of Luke 13, Jesus speaks of an incident that apparently took place in the temple. Roman soldiers cut down some Galileans and their blood was mixed with some of the blood sacrifices.
This appalled the Israelites. The Lord's answer—as usual—is both unexpected and profound. Basically, He states that unless the people repent, they will all suffer the same fate.
Not what the people wanted to hear.
No one likes to hear about repentance.
Why?
Repentance means turning around, going in a different direction, admitting guilt. And face it, most of us like going a direction of our choosing. And according to our culture, you should never feel guilt—it's always someone else's fault.
Not according to God's Word. Not according to Jesus.
In fact, let's go back in the gospels to the first mini-message of our Lord:
"Repent, for the kingdom of heaven is at hand." Matthew 4:17 NASB
What does He mean?
Jesus is saying in essence, I'm here. Turn to me. Don't follow your own way. Give me your life. You need a Savior for your sin.
How about we skip over to John 8. A woman is caught in adultery. The Pharisees try to trap Jesus into going against the Law—read the account yourself. My point is at the end, when it is just this condemned woman and Jesus, He tells her, "From now on, sin no more."
In other words, turn from your sin and turn to Jesus.
In this culture, we don't often use the word sin. We say we "made a mistake," or "were at the wrong place at the wrong time." Or even, "I was hanging with the wrong crowd."
All of these may be true.
Or not.
Philippians 2:9-11 states:
"Therefore also God highly exalted Him and bestowed on Him the name which is above every name, so that at the name of Jesus every knee will bow, of those who are in heaven and on earth and under the earth, and that every tongue will confess that Jesus Christ is Lord to the glory of God the Father." (NASB)
Judgment will one day come to this old earth. Those who have trusted Christ and repented of their sins will be saved. Those who have not will be condemned.
If you are a follower of Christ, be glad. Turn from any known sin.
If you are not, trust Him today. Repent of going your own way.
The Apostle Peter said this in Acts 4:12,
"And there is salvation in no one else; for there is no other name under heaven that has been given among men by which we must be saved."
Turn.
Today.