Watching the Horizon for Your Prodigal
From: Proverbs31, Sarah Geringer
AUGUST 31, 2020
"But while he was still a long way off, his father saw him and was filled with compassion for him; he ran to his son, threw his arms around him and kissed him." Luke 15:20b (NIV)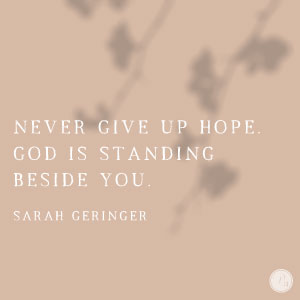 The last time I had seen my prodigal family member was in silhouette in late afternoon.
From my car, I happened to spot them walking into the mall, holding hands — a rare good day. My heart broke for the thousandth time as I left the scene, wondering if the situation would ever change.
My prodigal had refused to break up with the person who was causing tremendous pain, and as I watched the downward spiral, I'd cried out to God in confusion. Why isn't my loved one changing for the good? Are my constant prayers making a difference? Should I just give up hoping for a turnaround? My heart trembled with fear as I desperately searched for signs of my loved one's return.
Jesus knew many of us would be in a similar situation when He told the story of the prodigal son in Luke 15:11-32.  In it, Jesus focuses on three people. First is the prodigal son who ran away. I'm pretty sure every sinner can relate to that one!
Then there was the father who selflessly sacrificed for this son and scanned the horizon for his return.
And last but not least, we see the older brother who was loyal to his father, yet simmering with anger.
I believe Jesus had several purposes for telling this story. One was to encourage those who love a prodigal. The Holy Spirit moved Luke to record this story to remind us we're not alone. If you've ever loved a prodigal, God sees your soul-crushing heartache.
Maybe you're the one looking for a return, except you're the mother, sister, daughter, niece, cousin, friend or teacher in Jesus' story. Longing to see your loved one return to their roots of faith.
Part of what helped me work through that difficult season was worship music. Every morning, I listened to four of my favorite songs in a particular order.
The first song reminded me I just need Jesus on my darkest days. The next prodded me to choose joy. The third song invited me to worship the One who died for me on a hill He created. Finally, another favorite song rallied me to remember how God takes all that's wrong and makes it right.
This playlist became a musical life raft as my heart nearly drowned in despair, bringing much-needed comfort to my soul. Though I was close to hopelessness, those songs tethered me to God's truth.
During that difficult time, God's Word also kept me grounded. I reread the prodigal son story, and the Holy Spirit used this verse to keep me focused on the horizon:
"But while he was still a long way off, his father saw him and was filled with compassion for him; he ran to his son, threw his arms around him and kissed him" (Luke 15:20b).
The father in this story is our Father God. He watches the horizon every single day for our prodigals. He never stops hoping for them to return. Our loving, compassionate Father longs to welcome your prodigal back home.
It takes courage to watch the horizon and stay focused on your prodigal's return, courage to keep hoping and praying, despite knowing they're still a long way off. It takes courage only God can provide to overcome the rage, despair, dread and injustice you feel. Yet, isn't that what faith truly means? Believing in a future we can't yet see?
Our Father God is standing on the horizon, holding out His hand. He's inviting you and me to watch the rising sun with Him, where His mercies are new every morning. On the worst of days, He alone holds us up as helplessness looms large. He's right there by our side, urging us to keep watching the horizon with hope.
Today, I'm thanking God because my prodigal eventually returned home. I know this isn't everyone's story, so I'm praying for those who are still waiting.
Never give up hope. God is standing beside you.
Hats, Gloves, and Scarves — Oh My!
The peace of God, which surpasses all understanding, will guard your hearts and minds through Christ Jesus. — Philippians 4:7
We are quick to take precautions against the cold weather as the summer months end and the fall season begins. As temperatures plummet and breezes begin to blow, we pull out the accessories necessary to achieve and maintain the warmth we crave. We would not knowingly go out into the cold unprepared, so we guard ourselves with hats, gloves, and scarves.
In his letter to the Philippian church, Paul gave them instructions on how to guard their hearts and minds from things such as bitterness, envy, and self-pity. In fact, he mentioned three ways they could protect themselves from those very things. These three levels of protection are like hats, gloves, and scarves for our hearts and minds.
First, Paul said not to be anxious about anything. If you're anything like me and your default mode is often to worry, it's hard to imagine not worrying about anything. That diagnosis, that financial need, that painful family situation, that troubling news headline — all of these fall under the category of "anything." None of it warrants our worry. For me, this often means that I will verbally remind myself, "I don't have to worry about that."
Second, Paul said to pray about everything. The best way to stop a bad habit is to replace it with a better habit. So instead of worrying and being anxious, Paul said that our go-to response should be prayer. Our instinctive urge to panic should serve as a reminder to pray. When we stop to pray, we are shifting the weight of that burden off our shoulders and trusting God to handle the situation as He sees fit.
Finally, all our prayers should be filled with thanksgiving. It's impossible to be bitter, envious, or discontent when we begin counting the many blessings our heavenly Father has bestowed upon us. Gratitude-filled prayers result in a peace that only God can give. Prayers to God result in the peace of God. That peace guards our hearts and minds in Christ Jesus, bringing us more warmth than the best-made fall clothing accessories.
From intouch, ministries
We all love the idea of being free to make our own choices about what to do and where to go, but Christ offers a much greater liberty than this. It's spiritual freedom from the power of Satan and the condemnation of sin. Jesus said the only way to be set free is to know the truth and become His disciple by believing in Him and continuing in His Word.
Are you standing firm in Christ's freedom, or have you let sinful thought patterns, emotions, attitudes, and habits enslave you once again? Although believers have been granted freedom from the dominion of sin, we must fight to overcome our unrighteous impulses. This is done by taking every thought captive to the obedience of Christ and putting to death fleshly desires and passions.
The good news is that we are not in this fight alone. When Christ set us free, His omnipotent Holy Spirit came to indwell and empower us. We also have God's precious Word to guide and protect us. By His grace, we have everything we need to keep ourselves beyond sin's control (Phil. 4:19). If you haven't yet experienced what it is to be "free indeed" (John 8:36), put your trust in Jesus, the greatest liberator.
"If from human motives I fought with wild beasts at Ephesus, what does it profit me? If the dead are not raised, 'Let us eat and drink, for tomorrow we die.'" – 1 Corinthians 15:32 NASB
According to a recent study, 31% of US consumers agree with the philosophy, "I live for today because tomorrow is uncertain." Faced with a world filled with problems, they elect to ignore the future, thinking only about today.
The people in the church at Corinth were filled with similar preoccupations. They focused on having a good time, just wanting to "eat and drink" to escape from the worries and uncertainties of daily life. They did not want to think about serious issues, spiritual matters, "tomorrow," or eternity. Instead, they threw themselves into temporary pleasures.
But Paul challenged them to stop and reflect on the core issues of life. They needed to realize today's pleasures are transitory. Instead, they should focus on things that would last.
The Bible encourages each of us to think seriously about our attitude toward life. What is our focus? Are we just living for the moment? Are we really concerned about the eternal consequences of our actions? Our eternal souls? Or are we just thinking about today? The immediate moment?
What about you? Where have you laid up your treasures? On earth, where moth and rust consume them? Or in Heaven? Are you living just for the moment, or living for Him? Ask God to help you evaluate your life. The world may be filled with uncertainties, but you can trust Him for today and the future. Make sure that you invest in His kingdom.