"As the deer pants for streams of water, so my soul pants for you, O God. My soul thirsts for God, for the living God. When can I go and meet with God?" Psalm 42:1-2
 
Harvest and Thanksgiving
From: Our Daily Bread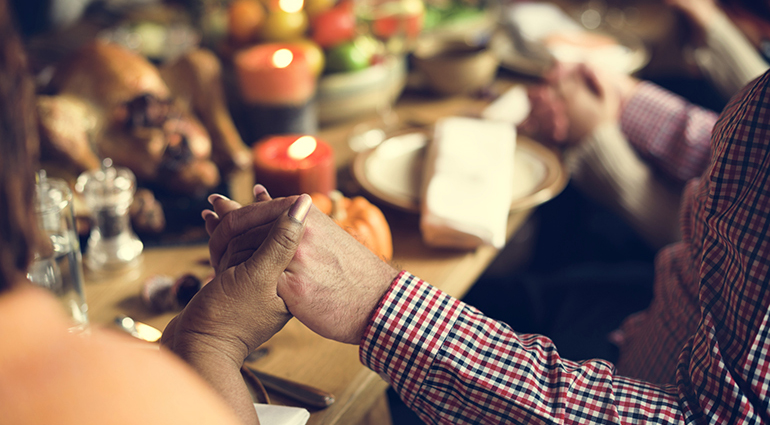 Celebrate the Festival of Harvest with the firstfruits of the crops you sow in your field. Exodus 23:16
Several thousand years ago, God spoke directly to Moses and instituted a new festival for His people. In Exodus 23:16, according to Moses's record, God said, "Celebrate the Festival of Harvest with the firstfruits of the crops you sow in your field."
Today countries around the world do something similar by celebrating the land's bounty. In Ghana, the people celebrate the Yam Festival as a harvest event. In Brazil, Dia de Acao de Gracas is a time to be grateful for the crops that yielded their food. In China, there is the Mid-Autumn (Moon) Festival. In the United States and Canada: Thanksgiving.
To understand the fitting goal of a harvest celebration, we visit Noah right after the flood. God reminded Noah and his family—and us—of His provision for our flourishing existence on the earth. Earth would have seasons, daylight and darkness and "seedtime and harvest" (Gen. 8:22). Our gratitude for the harvest, which sustains us, goes to God alone.
No matter where you live or how you celebrate your land's bounty, take time today to express gratitude to God—for we would have no harvest to celebrate without His grand creative design.
Dear Creator God, thank You so much for the wondrous way You fashioned this world—with seasons, with harvest-time, with everything we need to exist. Please accept our gratitude.
Gratitude is the memory of a glad heart.
What Never Changes
From: Our Daily Journey
Quartz timing is a term we often hear mentioned in reference to watches and clocks. But most of us don't have the faintest idea of what it means. In a quartz watch, the battery sends an electric signal through a tiny piece of quartz which vibrates at a very precise frequency, exactly 32,768 times per second. The watch uses that fixed vibration rate to keep time. Because the vibration rate is always the same and never changes, quartz timepieces are highly dependable—much more accurate time-keepers than many other types of clocks.
Far more reliable than the constant vibration rate of a piece of quartz, the writer of Hebrews tells us that Jesus is "the same yesterday, today, and forever" (Hebrews 13:8). Although this truth on its own is an important aspect of the character of Christ, Jesus' perfect, timeless nature would have been especially important to the early church, which was deeply divided by different approaches to eating certain foods. The writer of Hebrews told believers in Jesus that they shouldn't obsess over new rules about food that wouldn't help anyone (Hebrews 13:9). It was far better for them to focus on the unchanging and gracious character of Christ instead.
Today, social media is often filled with all the latest fads: the best way to train your mind, the most effective way to organize your closet, and the diet that cavemen ate! While interesting to consider, we usually need not place much attention on those things, because they haven't stood the test of time. But we can always build our lives around the gracious character of Jesus—the One who never changes and against whom the storms of life can't prevail (Matthew 7:24).
"As the deer pants for streams of water, so my soul pants for you, O God. My soul thirsts for God, for the living God. When can I go and meet with God?" Psalm 42:1-2
In my opinion, intimacy is a really attractive word. Deep down inside, all of us long for meaningful connections that satisfy our souls and chase away the shadows of aloneness. But if we're not careful, we may be looking for true intimacy in all the wrong places. Thoughts of intimacy often conjure up mental pictures of close encounters of the physical kind or the shallow, shabby offers of alluring lingerie, one-night stands, colognes, video titles, evenings of candlelight and red wine, or voyeuristic exchanges on the Internet. More innocently, your thoughts of intimacy may be about just finding a good friend that can be a soul mate. But even deep friendships can be sometimes fleeting and fickle.
It's easy to be lured into counterfeit offers of intimacy only to find that they are not what our soul really craves. In fact, every time we dip into these buckets, we eventually come up empty, disappointed, and frequently left with shame and regret. Accept no substitutes! Don't stop looking until you have found the soul mate that will truly satisfy.
You ask, "Who would that be?" Search no more, the offer of fulfilling intimacy is found in a deepening relationship with God Himself. After all, you were built for intimacy with Him. That's what Adam and Eve experienced in the Garden of Eden until sin blocked access to God. But thankfully, God didn't give up on His desire for intimacy with you. He stepped in and removed the barrier through the death of His Son so that intimacy with Him could be restored! And now He welcomes you to Himself by saying, "Come near to [me] and [I] will draw near to you" (James 4:8
) and "Here I am! I stand at the door and knock" (Revelation 3:20
). He's wanting and waiting to come in and dine with you!
God is the only One perfectly suited to satisfy and sustain us. The joy of true intimacy is ours as we grow more deeply conscious of, connected to, and confident in God—and Him alone—as our unfailing resource in life.
As in any relationship, intimacy with God has some dynamics that make it grow. We don't experience His nearness by just telling Him that we love Him, as important as that is. Intimacy is cultivated by drawing near to Him in obedience; by loving what He loves and hating what He hates; by sharing our deepest desires and struggles with Him in prayer; and by expressing our love to Him by acts of loyalty, sacrifice, and service to others. These attitudes and actions all say to God, "I love you!" in clear and compelling ways. Hebrews assures us that God is a rewarder of those who diligently seek Him (Hebrews 11:6
). Indeed, intimacy with God will reward your spirit with peace, confidence, a sense of direction and purpose, and the blessing of knowing that you are loved, really loved, by the one who promises that He will never leave you nor forsake you!
Intimacy with God can't be bought at the corner newsstand. Nor can it be purchased at the mall, found on an exotic vacation, or acquired in developing the most impressive of social calendars. When it comes to the joy of intimacy, these things are the small talk of life compared to the deep satisfaction that comes from the privilege of knowing that "in a love that cannot cease, I am His and He is mine!"