God Provides A Way Out
When to Walk Away
From: Our Daily Bread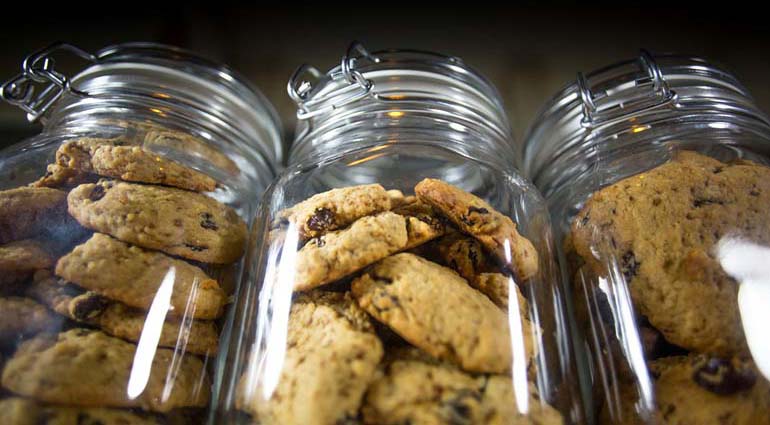 God is faithful; he will not let you be tempted beyond what you can bear.
When my father became a Christian in his old age, he fascinated me with his plan for overcoming temptation. Sometimes he just walked away! For example, whenever a disagreement between him and a neighbor began to degenerate into a quarrel, my father just walked away for a time rather than be tempted to advance the quarrel.
One day he met with some friends who ordered pito (a locally brewed alcoholic beer). My father had formerly struggled with alcohol and had decided he was better off without it. So he simply stood up, said his goodbyes, and left the gathering of old friends for another day.
In Genesis, we read how Potiphar's wife tempted Joseph. He immediately recognized that giving in would cause him to "sin against God," so he fled (Gen. 39:9-12).
Temptation knocks often at our door. Sometimes it comes from our own desires, other times through the situations and people we encounter. As Paul told the Corinthians, "No temptation has overtaken you except what is common to mankind." But he also wrote, "God is faithful; he will not let you be tempted beyond what you can bear. But when you are tempted, he will also provide a way out so that you can endure it" (1 Cor. 10:13).
The "way out" may include removing the objects of temptation or fleeing from them. Our best course of action may be to simply walk away.
Lord, please give me the wisdom and strength to know when to walk away from situations and people that tempt me to do wrong.
Every temptation is an opportunity to flee to God.
Are We Small Yet?
From: Get more Strength.org
"Do nothing from selfishness or empty conceit, but with humility of mind regard one another as more important than yourselves" Philippians 2:3 NASB
Kids are great! Things that we take for granted are occasions for awe and wonder for them. And their perspectives are often convictingly right on.
Take, for instance, the little girl who loved watching the planes that took off from a nearby airport as she played in her backyard. From her point of view, planes literally got smaller and smaller the farther they flew away. Which explains the strange thing she said to her dad after he decided to take her on a business trip. Soon after taking off, she turned to her dad and said, "Daddy, are we small yet?"
That's a really important—and challenging—question to ask ourselves. There is something about us that doesn't like feeling small. It starts early. Any kid worth his salt will gladly throw up his arms and do the "so big!" routine when you ask him, "How big are you?" We may stop throwing up our arms, but we never really grow out of wanting to be "so big" in other people's eyes. It's amazing how quickly life gets to be all about who's got the nicest house, the best job, the coolest car, the highest degree, the biggest diamond, or the best office on the executive floor. We are quick to defend ourselves to keep ourselves looking good. We like to draw attention to our accomplishments and turn conversations to focus on us, and we find ourselves a little put out when we are not noticed or invited to hang out with the "in" crowd.
For most of us, life is about anything but making ourselves small. We are the tall "I" in the middle of our universe.
And that's a problem.
In Philippians 2:3-11
, Paul tells us that we need to stop living to advance ourselves and our own interests and instead start considering others as more important than ourselves. In fact, he says that we should do nothing from "empty conceit"—which literally means the puffing up of our nothingness. I love the graphic picture in that thought. No matter how big you puff up a zero, it's still a zero!
And then he points us to Jesus who didn't consider his "big" standing in heaven a thing to hang on to, but rather He humbled himself to care for our interests by becoming obedient to death on the cross. Think of that! Jesus thought of us and our needs as being more important than His own! He made himself small that we by His abundant mercy might become big in the riches of His grace.
Let this mind be in you that was also in Christ Jesus!
Are you small yet?
Will I Bring Myself Up to This Level?
From: Utmost.org
"Therefore, having these promises…." I claim God's promises for my life and look to their fulfillment, and rightly so, but that shows only the human perspective on them. God's perspective is that through His promises I will come to recognize His claim of ownership on me. For example, do I realize that my "body is the temple of the Holy Spirit," or am I condoning some habit in my body which clearly could not withstand the light of God on it? (1 Corinthians 6:19). God formed His Son in me through sanctification, setting me apart from sin and making me holy in His sight (see Galatians 4:19). But I must begin to transform my natural life into spiritual life by obedience to Him. God instructs us even in the smallest details of life. And when He brings you conviction of sin, do not "confer with flesh and blood," but cleanse yourself from it at once (Galatians 1:16). Keep yourself cleansed in your daily walk.
I must cleanse myself from all filthiness in my flesh and my spirit until both are in harmony with the nature of God. Is the mind of my spirit in perfect agreement with the life of the Son of God in me, or am I mentally rebellious and defiant? Am I allowing the mind of Christ to be formed in me? (see Philippians 2:5). Christ never spoke of His right to Himself, but always maintained an inner vigilance to submit His spirit continually to His Father. I also have the responsibility to keep my spirit in agreement with His Spirit. And when I do, Jesus gradually lifts me up to the level where He lived— a level of perfect submission to His Father's will— where I pay no attention to anything else. Am I perfecting this kind of holiness in the fear of God? Is God having His way with me, and are people beginning to see God in my life more and more?
Be serious in your commitment to God and gladly leave everything else alone. Literally put God first in your life.