The eyes of the LORD are toward the righteous And His ears are open to their cry.
I am righteous and holy.
"And to put on the new self, created to be like God in true righteousness and holiness." Ephesians 4:24
I have been born again by the Holy Spirit:
Jesus answered, "Very truly I tell you, no one can enter the kingdom of God unless they are born of water and the Spirit. Flesh gives birth to flesh, but the Spirit[b] gives birth to spirit. John 3:3-6
Psalm 89
1 I will sing of the Lord's great love forever;
    with my mouth I will make your faithfulness known
    through all generations.
2 I will declare that your love stands firm forever,
    that you have established your faithfulness in heaven itself.
3 You said, "I have made a covenant with my chosen one,
    I have sworn to David my servant,
4 'I will establish your line forever
    and make your throne firm through all generations.'"[c]
5 The heavens praise your wonders, Lord,
    your faithfulness too, in the assembly of the holy ones.
6 For who in the skies above can compare with theLord?
    Who is like the Lord among the heavenly beings?
7 In the council of the holy ones God is greatly feared;
    he is more awesome than all who surround him.
8 Who is like you, Lord God Almighty?
    You, Lord, are mighty, and your faithfulness surrounds you.
Taking Notice
The eyes of the LORD are toward the righteous And His ears are open to their cry.
Taking Notice
From: Our Daily Bread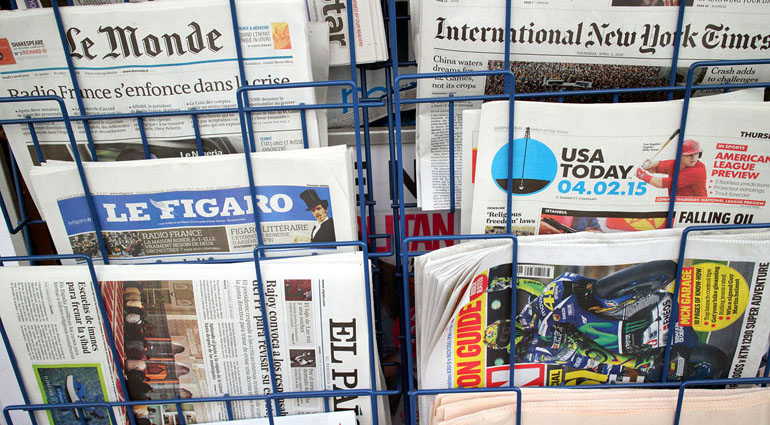 "Where were you when I laid the earth's foundation?"
When I clean my house for a special event, I become discouraged because I think that guests won't notice what I clean, only what I don't clean. This brings to mind a larger philosophical and spiritual question: Why do humans more quickly see what's wrong than what's right? We are more likely to remember rudeness than kindness. Crimes seem to receive more attention than acts of generosity. And disasters grab our attention more quickly than the profound beauty all around us.
But then I realize I am the same way with God. I tend to focus on what He hasn't done rather than on what He has, on what I don't have rather than on what I have, on the situations that He has not yet resolved rather than on the many He has.
When I read the book of Job, I am reminded that the Lord doesn't like this any more than I do. After years of experiencing prosperity, Job suffered a series of disasters. Suddenly those became the focus of his life and conversations. Finally, God intervened and asked Job some hard questions, reminding him of His sovereignty and of everything Job didn't know and hadn't seen (Job 38–40).
Whenever I start focusing on the negative, I hope I remember to stop, consider the life of Job, and take notice of all the wonders God has done and continues to do.
When you think of all that's good, give thanks to God.
The Best Story Ever Told
From: Get More Strength.org
"My purpose is that they . . . may have the full riches of complete understanding, in order that they may know the mystery of God, namely, Christ, in whom are hidden all the treasures of wisdom and knowledge" Colossians 2:2-3
It's not uncommon for blockbuster movies today to be followed by a sequel and even a "three-quel." The film industry has discovered that we like to revisit certain stories. We want to know more about the characters and want to see what happens next.
George Lucas, years after completing his original Star Wars trilogy, took it one step further by producing three "prequels" to look at how the characters and story lines developed. And fans around the world were thrilled to learn more.
As followers of Jesus, however, we have the ultimate story—a real story—provided to us through the truth of Scripture and focused around the person of Jesus. And when our hearts have been awakened to the reality of His grace, we begin to explore Scripture looking for glimpses of who He is and what He has done. We track through the Gospels, amazed and thrilled at His insight and His character. Our hearts are pierced by His words as they cut directly to the core of who we are. We follow Him to the end of each gospel and weep as He is beaten and crucified, realizing the immense cost of our sin and shame. And then our spirits soar with the news that He is risen and has returned to heaven, where He prepares a place for us as His followers and promises to come back for us. But the story doesn't end there.
We dive into the pages of Acts, exploring the action-packed sequel as we see the Holy Spirit equipping and energizing Christ's followers to turn the world upside down through the message of the gospel. The pages resonate with the drama of characters who struggle, face incredible trials, and persevere because of their devotion to their compelling Savior. We trace their stories through the epistles, which clarify and explain the nature of this new entity, the church. But even that is not the whole story.
We could go back to the ultimate "prequel"—the Old Testament, where we see the vivid roots of our sin problem in Adam and Eve and yet, even in the midst of that sin, the seeds of grace sown by our God. The seeds of grace grow and flourish through God's promises to men like Abraham, Isaac, Jacob, and David. The drama heightens through the personification of God's love relationship with His people Israel, who continually turn away from the only One who loves them completely. Through each page, we see the promise of Jesus as the hope of God's people—prophesied and longed for, and pictured through the sacrifices prescribed in God's law. But still, there's more to the story.
In Colossians 2:2-5
, Paul's prayer for God's people is that all of his efforts on behalf of the Colossian church would be focused toward one goal: helping them to know Jesus better. He reminds them—and us—that in Jesus are hidden "all the treasures of wisdom and knowledge." In other words, the more we know Him, the more we will yearn to know even more. There will always be more to the story, and we will never tire of the characters.
Yet the ultimate story is in the unfolding drama of a Savior who is so deep and wonderful that you never tire of getting to know Him.
From: Streams in the Desert
And Jacob was left alone; and there wrestled a man with him until the breaking of the day (Gen. 32:24).
Left alone! What different sensations those words conjure up to each of us. To some they spell loneliness and desolation, to others rest and quiet. To be left alone without God, would be too awful for words, but to be left alone with Him is a foretaste of Heaven! If His followers spent more time alone with Him, we should have spiritual giants again.
The Master set us an example. Note how often He went to be alone with God; and He had a mighty purpose behind the command, "When thou prayest, enter into thy closet, and when thou hast shut thy door, pray."
The greatest miracles of Elijah and Elisha took place when they were alone with God. It was alone with God that Jacob became a prince; and just there that we, too, may become princes–"men (aye, and women too!) wondered at" (Zech. 3:8). Joshua was alone when the Lord came to him. (Josh. 1:1) Gideon and Jephthah were by themselves when commissioned to save Israel. (Judges 6:11 and 11:29) Moses was by himself at the wilderness bush. (Exodus 3:1-5) Cornelius was praying by himself when the angel came to him. (Acts 10:2) No one was with Peter on the house top, when he was instructed to go to the Gentiles. (Acts 10:9) John the Baptist was alone in the wilderness (Luke 1:90), and John the Beloved alone in Patmos, when nearest God. (Rev. 1:9)
Covet to get alone with God. If we neglect it, we not only rob ourselves, but others too, of blessing, since when we are blessed we are able to pass on blessing to others. It may mean less outside work; it must mean more depth and power, and the consequence, too, will be "they saw no man save Jesus only."
To be alone with God in prayer cannot be over-emphasized.
If chosen men had never been alone,
In deepest silence open-doored to God,
No greatness ever had been dreamed or done.
The Impoverished Ministry of Jesus
"The well is deep" — and even a great deal deeper than the Samaritan woman knew! (John 4:11). Think of the depths of human nature and human life; think of the depth of the "wells" in you. Have you been limiting, or impoverishing, the ministry of Jesus to the point that He is unable to work in your life? Suppose that you have a deep "well" of hurt and trouble inside your heart, and Jesus comes and says to you, "Let not your heart be troubled…" (John 14:1). Would your response be to shrug your shoulders and say, "But, Lord, the well is too deep, and even You can't draw up quietness and comfort out of it." Actually, that is correct. Jesus doesn't bring anything up from the wells of human nature— He brings them down from above. We limit the Holy One of Israel by remembering only what we have allowed Him to do for us in the past, and also by saying, "Of course, I cannot expect God to do this particular thing." The thing that approaches the very limits of His power is the very thing we as disciples of Jesus ought to believe He will do. We impoverish and weaken His ministry in us the moment we forget He is almighty. The impoverishment is in us, not in Him. We will come to Jesus for Him to be our comforter or our sympathizer, but we refrain from approaching Him as our Almighty God.
The reason some of us are such poor examples of Christianity is that we have failed to recognize that Christ is almighty. We have Christian attributes and experiences, but there is no abandonment or surrender to Jesus Christ. When we get into difficult circumstances, we impoverish His ministry by saying, "Of course, He can't do anything about this." We struggle to reach the bottom of our own well, trying to get water for ourselves. Beware of sitting back, and saying, "It can't be done." You will know it can be done if you will look to Jesus. The well of your incompleteness runs deep, but make the effort to look away from yourself and to look toward Him.
WISDOM FROM OSWALD CHAMBERS