Shelter from the Storm
From: Our Daily Bread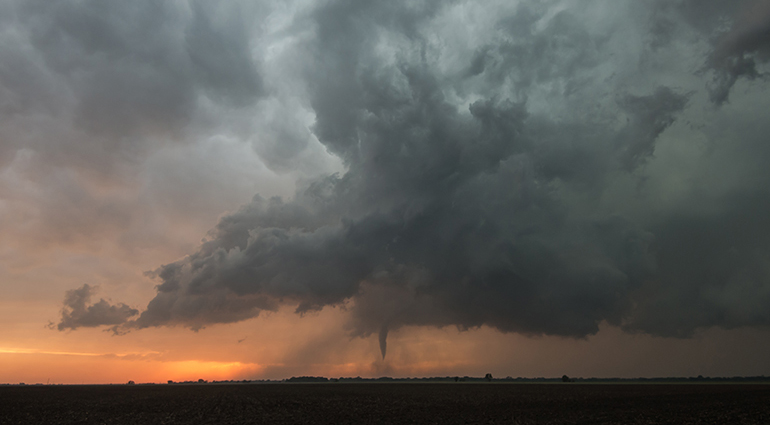 But as for me, how good it is to be near God! I have made the Sovereign Lord my shelter. Psalm 73:28 nlt
When I lived in Oklahoma I had a friend who "chased" tornados. John tracked the storms carefully through radio contact with other chasers and local radar, trying to keep a safe distance while observing their destructive paths so he could report sudden changes to people in harm's way.
One day a funnel cloud changed course so abruptly John found himself in grave danger. Fortunately, he found shelter and was spared.
John's experience that afternoon makes me think of another destructive path: sin in our lives. The Bible tells us, "Each person is tempted when they are dragged away by their own evil desire and enticed. Then, after desire has conceived, it gives birth to sin; and sin, when it is full-grown, gives birth to death" (James 1:14–15).
There's a progression here. What may at first seem harmless can soon spin out of control and wreak havoc. But when temptation threatens, God offers us shelter from the gathering storm.
God's Word tells us He would never tempt us, and we can blame our choices only on ourselves. But when we "are tempted, he will also provide a way out so that [we] can endure it" (1 Corinthians 10:13). As we turn to Him and call on Him for help in the moment of temptation, Jesus gives us the strength we need to overcome.
Jesus is our shelter forever.
Lord Jesus, You conquered sin and death forever through Your cross and empty tomb! Help me to live and thrive in the forgiveness only You can give.
Our Savior calms temptation's storm.
Beware of thinking of our Lord as only a teacher. If Jesus Christ is only a teacher, then all He can do is frustrate me by setting a standard before me I cannot attain. What is the point of presenting me with such a lofty ideal if I cannot possibly come close to reaching it? I would be happier if I never knew it. What good is there in telling me to be what I can never be— to be "pure in heart" (Matthew 5:8), to do more than my duty, or to be completely devoted to God? I must know Jesus Christ as my Savior before His teaching has any meaning for me other than that of a lofty ideal which only leads to despair. But when I am born again by the Spirit of God, I know that Jesus Christ did not come only to teach— He came to make me what He teaches I should be. The redemption means that Jesus Christ can place within anyone the same nature that ruled His own life, and all the standards God gives us are based on that nature.
The teaching of the Sermon on the Mount produces a sense of despair in the natural man— exactly what Jesus means for it to do. As long as we have some self-righteous idea that we can carry out our Lord's teaching, God will allow us to continue until we expose our own ignorance by stumbling over some obstacle in our way. Only then are we willing to come to Him as paupers and receive from Him. "Blessed are the poor in spirit…." This is the first principle in the kingdom of God. The underlying foundation of Jesus Christ's kingdom is poverty, not possessions; not making decisions for Jesus, but having such a sense of absolute futility that we finally admit, "Lord, I cannot even begin to do it." Then Jesus says, "Blessed are you…" (Matthew 5:11). This is the doorway to the kingdom, and yet it takes us so long to believe that we are actually poor! The knowledge of our own poverty is what brings us to the proper place where Jesus Christ accomplishes His work.
Jacob's waking exclamation
'And Jacob awaked out of his sleep, and he said, Surely the Lord is in this place; and I knew it not.' Genesis 28:16
Suggested Further Reading: Ephesians 4:25–5:4
Cheerfulness is a virtue, levity a vice. How much foolish talking and jesting would at once end if we said, 'Surely the Lord is in this place.' The next time you have been indulging in mirth—I mean not innocent mirth, but that which is connected with uncleanness, or with any sort of ill, imagine you see a finger lifted up, and that you hear a voice saying, 'Surely the Lord is in this place.' Let your recreation be free from sin; let your amusements be such that you can enjoy them while God looks on. If, too, we felt that God was in this place, how much oftener should we talk of him and of Christ. This afternoon what will many of you talk of? Sunday afternoon talk is generally a great difficulty to some professors. They do not like to go right down into what they think worldly conversation, so they generally talk about ministers. They consider that to be a spiritual subject; and generally, this talk about ministers is more wicked than talk about the devil himself, for I had rather you should speak religiously concerning Satan, than irreligiously concerning even the angels of the churches. There is one tale retailed about this minister, and another tale about the other, and the conversation gives no edification. If they heard an angel say, 'The Lord is in this place,' the afternoon of the day of rest would be spent in much more profitable conversation. But suppose that I have some here today who have been lately exposed to personal danger and peril; brethren, do you not think if in the midst of the storm you had heard a voice saying, 'Surely the Lord is in this place,' you would have been perfectly at rest?
For meditation: 'I am with you alway' (Matthew 28:20) is a great encouragement to Christians both when alone (Acts 18:9–10) and when together (Matthew 18:20). It should also be a check on our behaviour. In everything you should be able to thank God and ask for his blessing (Romans 14:6). Don't do anything which your conscience prevents you from committing to him (Romans 14:23).

Let me prove, I pray thee, but this once with the fleece (Judges 6:39).
There are degrees to faith. At one stage of Christian experience we cannot believe unless we have some sign or some great manifestation of feeling. We feel our fleece, like Gideon, and if it is wet we are willing to trust God. This may be true faith, but it is imperfect. It always looks for feeling or some token besides the Word of God. It marks quite an advance in faith when we trust God without feelings. It is blessed to believe without having any emotion.
There is a third stage of faith which even transcends that of Gideon and his fleece. The first phase of faith believes when there are favorable emotions, the second believes when there is the absence of feeling, but this third form of faith believes God and His Word when circumstances, emotions, appearances, people, and human reason all urge to the contrary. Paul exercised this faith in Acts 27:20, 25, "And when neither sun nor stars in many days appeared, and no small tempest lay on us, all hope that we should be saved was then taken away." Notwithstanding all this Paul said, "Wherefore, sirs, be of good cheer; for I believe God, that it shall be even as it was told me."
May God give us faith to fully trust His Word though everything else witness the other way.
–C. H. P.
When is the time to trust?
Is it when all is calm,
When waves the victor's palm,
And life is one glad psalm
Of joy and praise?
Nay! but the time to trust
Is when the waves beat high,
When storm clouds fill the sky,
And prayer is one long cry,
O help and save!
When is the time to trust?
Is it when friends are true?
Is it when comforts woo,
And in all we say and do
We meet but praise?
Nay! but the time to trust
Is when we stand alone,
And summer birds have flown,
And every prop is gone,
All else but God.
What is the time to trust?
Is it some future day,
When you have tried your way,
And learned to trust and pray
By bitter woe?
Nay! but the time to trust
Is in this moment's need,
Poor, broken, bruised reed!
Poor, troubled soul, make speed
To trust thy God.
What is the time to trust?
Is it when hopes beat high,
When sunshine gilds the sky,
And joy and ecstasy
Fill all the heart?
Nay! but the time to trust
Is when our joy is fled,
When sorrow bows the head,
And all is cold and dead,
All else but God.
–Selected