Standing on the Promises
From: Our Daily Bread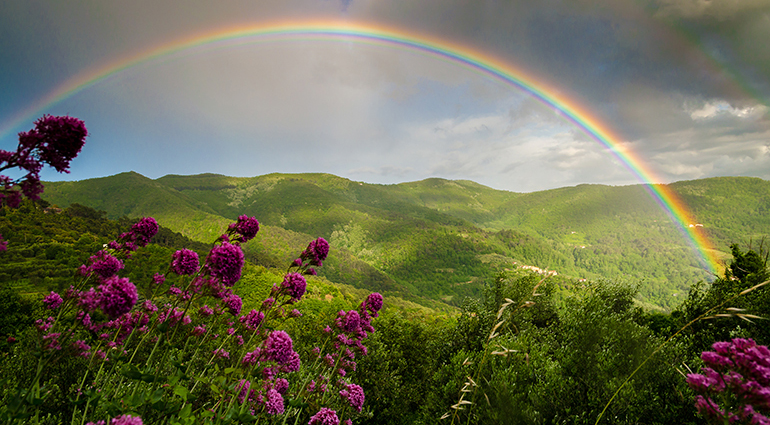 Ask whatever you wish, and it will be done for you. John 15:7
My friend's brother (when they were both children) assured his sister an umbrella had enough lift to hold her up if she would only "believe." So "by faith" she jumped off a barn roof and knocked herself out, suffering a minor concussion.
What God has promised, He will do. But we must be sure we stand on God's actualword when we claim a promise, for only then do we have the assurance that God will do or give what He's promised. Faith has no power in itself. It only counts when it's based on a clear and unambiguous promise from God. Anything else is just wishful thinking.
Here's a case in point: God has promised, "Ask whatever you wish, and it will be done for you. This is to my Father's glory, that you bear much fruit" (John 15:7–8). These verses are not a promise that God will answer every prayer we utter, but rather a promise that He will respond to every longing for personal righteousness, what Paul calls "the fruit of the Spirit" (Galatians 5:22–23). If we hunger and thirst for holiness and ask God for it, He will begin to satisfy us. It will take time; for spiritual growth, like human growth, is gradual. Don't give up. Keep asking God to make you holy. In His time and at His pace "it will be done for you." God doesn't make promises He doesn't keep.
Dear Lord, thank You for Your many promises to us in Your Word. And thank You for sending Your Holy Spirit who gives discernment.
We have a promise-keeping God.
Covering David
From: Our Daily Journey
During their 1987 Joshua Tree tour, the band U2 closed their shows with "40," their take on David's 40th psalm. You might say U2 did a "cover" of King David's song.
Psalm 40 is a peek inside David's prayer life. We tend to think of spiritual warfare as primarily mystical—happening in the spiritual world. And it is! But spiritual warfare also takes place in the arena of life's practicalities as seen in David's song.
After praising God, the psalmist alludes to a time when God "made [him] listen" (Psalm 40:6)—apparently gaining his attention through a crisis when he'd cried from "the pit of despair" (Psalm 40:1-2). This crisis was likely due to David's sin, because he reflects on the inadequacy of "sacrifices or offerings" (Psalm 40:6). But though David had been unfaithful, God remained faithful (Psalm 40:10).
Then David asked for God's continued help. Why? Because David was still David—he was human. "Troubles surround me—too many to count! My sins pile up so high I can't see my way out" (Psalm 40:12). David had only One to turn to in his spiritual struggles—God.
The letter to the Hebrews in the New Testament encourages believers to "come boldly to the throne of our gracious God" (Hebrews 4:16). Keep in mind, the context here is our temptation—our sin! We need real, practical help in our spiritual warfare. Mercifully, we have a great "High Priest" (Jesus), who "understands our weaknesses, for he faced all of the same testings we do, yet he did not sin" (Psalm 40:15).
Just as God's intervention covered David, the mediation of our High Priest Jesus covers us. We can pray boldly, as David did, "O my God, do not delay" (Psalm 40:17). His "unfailing love and faithfulness" are present with us (Psalm 40:10).
Liberty and the Standards of Jesus
A spiritually-minded person will never come to you with the demand— "Believe this and that"; a spiritually-minded person will demand that you align your life with the standards of Jesus. We are not asked to believe the Bible, but to believe the One whom the Bible reveals (see John 5:39-40). We are called to present liberty for the conscience of others, not to bring them liberty for their thoughts and opinions. And if we ourselves are free with the liberty of Christ, others will be brought into that same liberty— the liberty that comes from realizing the absolute control and authority of Jesus Christ.
Always measure your life solely by the standards of Jesus. Submit yourself to His yoke, and His alone; and always be careful never to place a yoke on others that is not of Jesus Christ. It takes God a long time to get us to stop thinking that unless everyone sees things exactly as we do, they must be wrong. That is never God's view. There is only one true liberty— the liberty of Jesus at work in our conscience enabling us to do what is right.
Don't get impatient with others. Remember how God dealt with you— with patience and with gentleness. But never water down the truth of God. Let it have its way and never apologize for it. Jesus said, "Go…and make disciples…" (Matthew 28:19), not, "Make converts to your own thoughts and opinions."