"She rises while it is yet night and provides food for her household and portions for her maidens." Proverbs 31:15 (ESV)
October 11, 2016

From: Crosswalk.com

Find Your Brave
HOLLY WAGNER
"She rises while it is yet night and provides food for her household and portions for her maidens." Proverbs 31:15 (ESV)
When my daughter, Paris, was in middle school, we participated in the school's mandatory science fair. The teacher's instructions stated that parents were not to help their children. I was elated; I had already graduated from middle school and felt no desire to do another science project.
Paris was interested in horses, so she chose to build a papier-mâché horse. And it did vaguely resemble a horse — except it leaned significantly to the left, and we're still not sure why.
I helped her carry her project to the fair and was interested in seeing all the other sixth grade projects. After we set up Paris' display, I looked around the room and saw some amazing projects, including a giant set of lungs that breathed and a map of the United States that lit up according to how much power each city used.
I looked back at Paris' leaning horse and quickly realized that either some parents cheated, or we had somehow ended up at a university science fair!
After I reassured Paris that her project was interesting, I began to walk around the room, mainly to give myself time to forgive all those cheater parents. As I perused the submissions, I encountered the most amazing project: a miniature re-creation of the Biosphere 2, which I'm not so sure was built by a sixth grader. But I'm not bitter.
In 1991, eight scientists lived for two years in an artificial environment in Oracle, Ariz., called Biosphere 2.
Inside the 3-acre closed system was a small ocean, a rain forest, a desert and a savanna grassland. The scientists produced every kind of weather pattern except wind. Eventually the lack of wind caused the tree trunks to weaken and bend over. It's the pressure of wind that strengthens tree trunks and allows them to hold up their own weight.
As I stared at that project and thought about the lessons from the Biosphere 2, I realized something important about life. Like it or not, we have to admit that weathering storms builds our strength.
So as much as I hate challenges, I think we need them. Proverbs 31 tells us why.
At first, I was rather put off by Proverbs 31:15, the verse that challenges us to rise "while it is yet night." But I believe that verse has less to do with the time of day we get up and everything to do with being women who rise up when chaos and heartbreak and calamity abound. In the darkest hour, she rises.
On a personal level, perhaps your world is shaking. Maybe cancer has struck your family, or a loved one is addicted to drugs or alcohol. Perhaps divorce has torn apart your home. At times it seems there has never been more pain, disease, famine and heartbreak than now, and yet God has entrusted you and me with this moment in history!
When everything around us is in the midst of chaos, when our own world is quaking, we are to be "the she" who rises. She does not wilt; she does not complain; she does not blame. She finds her brave, and she rises.
She actually grows stronger in the midst of dark times when it seems the whole world is trembling. God is looking for a company of women who will find their brave and rise in the midst of any and every challenge — and then be a force for good to help others find their brave.
We do not have to remain stuck in our trials! We grow through them, and as daughters of the King, we can rise in the midst of dark, shaking moments.
Lord, You know the trouble I face today. I need Your strength to face it bravely and be a woman who helps others be brave as well. In Jesus' Name, Amen.
From: Get more Strength.org
"I will build my church, and the gates of hell shall not prevail against it." Matthew 16:18
I was guest preaching at a church when a woman who had waited in line to talk to me told me that she was thinking about leaving the church because the pastor had joined a country club. And apparently, someone had spotted him there on a Sunday morning.
"Why wasn't he in church?" she indignantly asked me as though I should have the answer. I happened to know the pastor well—and I knew that he was on vacation at the time, so my educated guess was that he had attended a service the night before. I mentioned this and also told her that regardless of anything else, her church was doing an amazing job of impacting the community for Christ, so she should rejoice in the big picture and stay on board.
The timing was interesting. I had just finished preaching on avoiding the distractions that get us off the main task of being united in taking the redemptive power of Jesus into our world. And while I don't want to get into a food fight with anyone who thinks that pastors shouldn't join country clubs, I must admit that I am a little short-fused with how quickly we go after each other when it's the gates of hell that we should be assaulting.
In Christ's day, He faced groups who were all tangled up in major distractions. There were those who thought that political overthrow would bring in the kingdom of God. These "zealots," as they were called, would have gladly spilled their blood in the streets to overthrow the oppressive regime of Rome. They remind me of a lot of American Christians who believe that if only we can get our nation to be Christian again through political overthrow we will be in good shape. What a major distraction! The only way that we are going to win America, or any other country for that matter, is to win people to the saving work of Jesus one person at a time. Our mission is not to save a nation but to save those living in the nation. Don't forget that when Simon the Zealot met Jesus, he changed agendas and became one of the 12. He joined the right revolution (Mark 3:18
)!
Then there were the Essenes who believed that they should withdraw from the world (they definitely wouldn't have joined a country club!), because they felt that the only way to remain safe and pure was to cloister in closed communities until the Messiah came. This way they could be certain that no defiling influence would tarnish their lives. They carried it to such an extreme that they refused to have anyone who was lame, blind, or in any way physically handicapped in their groups.
What a difference from Jesus' mission to engage this world with the love of His rescuing power! He crashed the gates of hell by spending time with sinners. And while it irritated a lot of religious folk, He was undaunted in His resolve to seek and to save the lost (Luke 19:10
). Some may even be at the country club—hmm. In spite of Jesus' example, there are still a few people around today who think that separating from the world and its sinners will make us ready for Jesus' return. They are gate lockers, not gate crashers!
It seems to me that Satan doesn't really care about whether or not we call ourselves Christians. All he needs to do is to distract us by getting us to throw rocks at each other or to somehow adjust the mission away from crashing the gates of hell. I'm sure he's happy not having to worry about who is busting down his gates to set the captives free. So let's not give hell something to be happy about!
God's Silence— Then What?
From: Utmost.org
Has God trusted you with His silence— a silence that has great meaning? God's silences are actually His answers. Just think of those days of absolute silence in the home at Bethany! Is there anything comparable to those days in your life? Can God trust you like that, or are you still asking Him for a visible answer? God will give you the very blessings you ask if you refuse to go any further without them, but His silence is the sign that He is bringing you into an even more wonderful understanding of Himself. Are you mourning before God because you have not had an audible response? When you cannot hear God, you will find that He has trusted you in the most intimate way possible— with absolute silence, not a silence of despair, but one of pleasure, because He saw that you could withstand an even bigger revelation. If God has given you a silence, then praise Him— He is bringing you into the mainstream of His purposes. The actual evidence of the answer in time is simply a matter of God's sovereignty. Time is nothing to God. For a while you may have said, "I asked God to give me bread, but He gave me a stone instead" (see Matthew 7:9). He did not give you a stone, and today you find that He gave you the "bread of life" (John 6:35).
A wonderful thing about God's silence is that His stillness is contagious— it gets into you, causing you to become perfectly confident so that you can honestly say, "I know that God has heard me." His silence is the very proof that He has. As long as you have the idea that God will always bless you in answer to prayer, He will do it, but He will never give you the grace of His silence. If Jesus Christ is bringing you into the understanding that prayer is for the glorifying of His Father, then He will give you the first sign of His intimacy— silence.
Changing Hearts
From: Our Daily Bread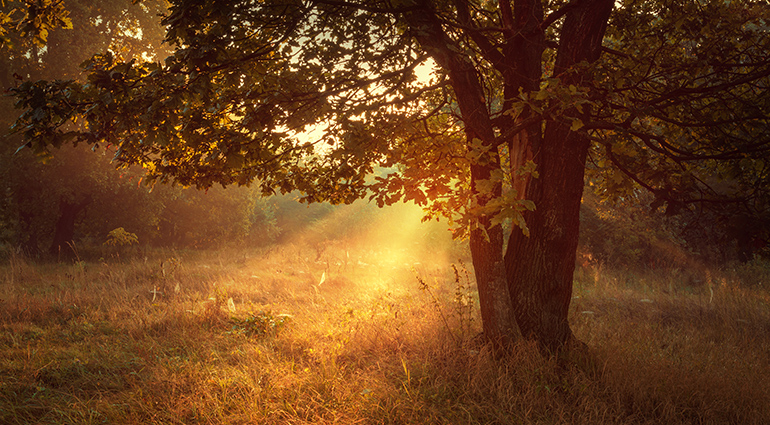 Be merciful, just as your Father is merciful. Luke 6:36
On the last day of the US Civil War, officer Joshua Chamberlain was in command of the Union army. His soldiers lined up on both sides of the road that the Confederate army had to march down in surrender. One wrong word or one belligerent act and the longed-for peace could be turned to slaughter. In an act as brilliant as it was moving, Chamberlain ordered his troops to salute their foe! No taunting here, no vicious words—only guns in salute and swords raised to honor.
When Jesus offered His words about forgiveness in Luke 6, He was helping us understand the difference between people of grace and people without grace. Those who know His forgiveness are to be strikingly unlike everyone else. We must do what others think impossible: Forgive and love our enemies. Jesus said, "Be merciful, just as your Father is merciful" (v. 36).
Imagine the impact in our workplaces and on our families if we were to embrace this principle. If a salute can make armies whole again, what power there must be in Christ's grace reflected through us! Scripture gives evidence of this in Esau's embrace of his deceitful brother (Gen. 33:4), in Zacchaeus's joyful penance (Luke 19:1–10), and in the picture of a father racing to greet his prodigal son (Luke 15).
With the grace of Christ, may we let this be the final day of bitterness and dispute between our enemies and us.
Lord, we know how the gentle power of forgiveness can bring healing in relationships. Grant us the courage to end our conflicts by Your grace.
Anger almost always vanishes in the face of grace.