John 10:7
So Jesus said to them again, "Truly, truly, I say to you, I am the door of the sheep.
John 14:6
Jesus said to him, "I am the way, and the truth, and the life; no one comes to the Father but through Me.
Romans 5:2
through whom also we have obtained our introduction by faith into this grace in which we stand; and we exult in hope of the glory of God.
Ephesians 2:18
for through Him we both have our access in one Spirit to the Father.
Hebrews 9:8
The Holy Spirit is signifying this, that the way into the holy place has not yet been disclosed while the outer tabernacle is still standing,

Privileged Access
From: Our Daily Bread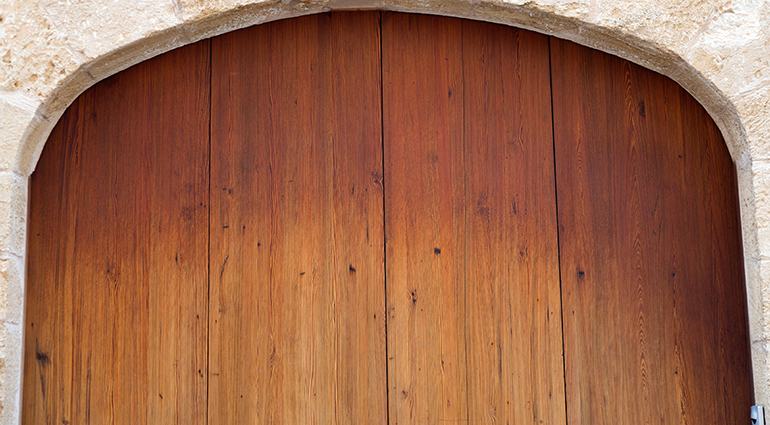 Even though it was just a replica, the tabernacle set up in southern Israel was awe-inspiring. Built life-size and as close as possible to the specifications laid out in Exodus 25–27 (without actual gold and acacia wood, of course), it stood tall in the Negev desert.
When our tour group was taken through the "Holy Place" and into the "Most Holy Place" to see the "ark," some of us actually hesitated. Wasn't this the holiest place, where only the high priest was allowed to enter? How could we enter it so casually?
I can imagine how fearful the Israelites must have felt as they approached the tent of meeting with their sacrifices each time, knowing that they were coming into the presence of the Almighty God. And the wonder they must have felt, whenever God had a message for them, delivered through Moses.
Today, you and I can come straight to God with confidence, knowing that Jesus's sacrifice has torn down the barrier between us and God (Heb. 12:22–23). Each of us can talk to God any time we want, and hear from Him directly when we read His Word. We enjoy a direct access that the Israelites could only dream of. May we never take it for granted and cherish this awesome privilege of coming to the Father as His beloved children every day.
Thank You, Father, for this wonderful privilege that Jesus has given us, to be able to come before You knowing we have been forgiven and cleansed by Christ's blood. May we never forget how big a sacrifice it took.
Through prayer, we have instant access to our Father.
July 29
From: Through The Bible
1 Chronicles 22:19 (NIV) 19Now devote your heart and soul to seeking the LORD your God. Begin to build the sanctuary of the LORD God, so that you may bring the ark of the covenant of the LORD and the sacred articles belonging to God into the temple that will be built for the Name of the LORD."
David had prepared the way for Solomon to reign in several ways. He had subdued the enemies of Israel. He asked the leaders to assist Solomon, and as we saw yesterday, he prepared everything for the building of the Temple. There was one last thing Solomon needed. David gave him the single most important thing he needed to reign, the instruction to devote his heart and soul to seeking the LORD. Unless that was done, all the other preparation would not help him.
If our heart's great desire is to know the LORD and His will, it is devoted to seeking the LORD. That only comes about when we value the things of God more highly than the things of the world. It is always an exercise in faith, for it is the desire for the unseen over the visible. David asked Solomon to set his compass toward the LORD.
The second great burden on David's heart was to see the Temple built, so he charged Solomon to get started. Once the Temple was built, the Ark of the Covenant could be placed along with the sacred articles. The presence of God would fill the place, and the people's hearts would turn toward the LORD.
Every group of worshippers needs the same thing. They need leadership who have devoted their hearts to seeking the LORD. Since they are the temple, they need the presence of God in them. They need the tools (gifts and abilities), with which to carry out that which God would direct.
Evening
July 29
Acts 16:25-26, 33 (NIV) 25 About midnight Paul and Silas were praying and singing hymns to God, and the other prisoners were listening to them. 26 Suddenly there was such a violent earthquake that the foundations of the prison were shaken. At once all the prison doors flew open, and everybody's chains came loose.
33At that hour of the night the jailer took them and washed their wounds; then immediately he and all his family were baptized.
The Holy Spirit guided Paul and Silas through a night vision by forbidding them to go certain directions and guiding them to go another. In Philippi, they found some Jewish women who accepted the Word and believed.
After Paul had cast a spirit of divination out of a young lady, those who had used her to make money stirred up the town against them. They were whipped and thrown into prison. The prisoners must have been amazed to hear these men who had been beaten and sat in stocks singing praise to God. At midnight an earthquake opened the prison doors and their chains came loose. The guard was about to kill himself. Losing a prisoner meant his life would be forfeited. Paul stopped him by telling him all the prisoners were still there.
Most people would be looking for a way to escape. Paul and Silas were looking for opportunities to share Jesus. The grateful soldier washed their wounds and gathered his family to hear their testimony about Jesus. He and his whole family believed and were baptized before one o'clock in the morning! I don't think anyone slept that night. Most of us would wonder if God had made a mistake by allowing them to be thrown in prison. Paul and Silas praised God in everything and were given the opportunity to lead this Roman family, and probably many of the prisoners, to Jesus. God planned a midnight earthquake to establish a church in Philippi.
Consider: When circumstance leads you down a road that is not one you would have chosen, look for God to be working in or through your life. Your importunity is God's opportunity. Praise Him for it, and watch for His hand.
Do You See Jesus in Your Clouds?
From: Utmost.org
In the Bible clouds are always associated with God. Clouds are the sorrows, sufferings, or providential circumstances, within or without our personal lives, which actually seem to contradict the sovereignty of God. Yet it is through these very clouds that the Spirit of God is teaching us how to walk by faith. If there were never any clouds in our lives, we would have no faith. "The clouds are the dust of His feet" (Nahum 1:3). They are a sign that God is there. What a revelation it is to know that sorrow, bereavement, and suffering are actually the clouds that come along with God! God cannot come near us without clouds— He does not come in clear-shining brightness.
It is not true to say that God wants to teach us something in our trials. Through every cloud He brings our way, He wants us to unlearn something. His purpose in using the cloud is to simplify our beliefs until our relationship with Him is exactly like that of a child— a relationship simply between God and our own souls, and where other people are but shadows. Until other people become shadows to us, clouds and darkness will be ours every once in a while. Is our relationship with God becoming more simple than it has ever been?
There is a connection between the strange providential circumstances allowed by God and what we know of Him, and we have to learn to interpret the mysteries of life in the light of our knowledge of God. Until we can come face to face with the deepest, darkest fact of life without damaging our view of God's character, we do not yet know Him.
"…they were fearful as they entered the cloud" (Luke 9:34). Is there anyone except Jesus in your cloud? If so, it will only get darker until you get to the place where there is "no one anymore, but only Jesus …" (Mark 9:8; also see Mark 2:7).