Free to Follow
From: Our Daily Bread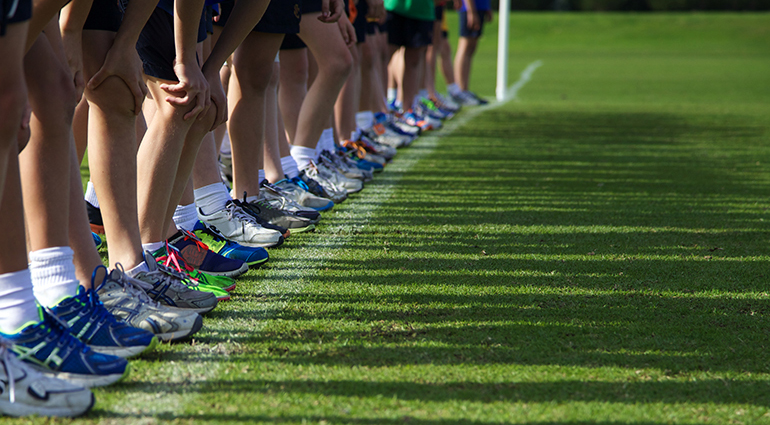 Take my yoke upon you and learn from me, for I am gentle and humble in heart, and you will find rest for your souls. Matthew 11:29
My high school cross-country coach once advised me before a race, "Don't try to be in the lead. The leaders almost always burn out too quickly." Instead, he suggested I stay close behind the fastest runners. By letting them set the pace, I could conserve the mental and physical strength I'd need to finish the race well.
Leading can be exhausting; following can be freeing. Knowing this improved my running, but it took me a lot longer to realize how this applies to Christian discipleship. In my own life, I was prone to think being a believer in Jesus meant trying really hard. By pursuing my own exhausting expectations for what a Christian should be, I was inadvertently missing the joy and freedom found in simply following Him (John 8:32, 36).
But we weren't meant to direct our own lives, and Jesus didn't start a self-improvement program. Instead, He promised that in seeking Him we will find the rest we long for (Matthew 11:25–28). Unlike many other religious teachers' emphasis on rigorous study of Scripture or an elaborate set of rules, Jesus taught that it's simply through knowing Him that we know God (v. 27). In seeking Him, we find our heavy burdens lifted (vv. 28–30) and our lives transformed.
Because following Him, our gentle and humble Leader (v. 29), is never burdensome—it's the way of hope and healing. Resting in His love, we are free.
Lord, I'm so thankful I don't have to be in charge of my own life. Help me rest in You.
True freedom is found in following Christ.
The Habit of Recognizing God's Provision
We are made "partakers of the divine nature," receiving and sharing God's own nature through His promises. Then we have to work that divine nature into our human nature by developing godly habits. The first habit to develop is the habit of recognizing God's provision for us. We say, however, "Oh, I can't afford it." One of the worst lies is wrapped up in that statement. We talk as if our heavenly Father has cut us off without a penny! We think it is a sign of true humility to say at the end of the day, "Well, I just barely got by today, but it was a severe struggle." And yet all of Almighty God is ours in the Lord Jesus! And He will reach to the last grain of sand and the remotest star to bless us if we will only obey Him. Does it really matter that our circumstances are difficult? Why shouldn't they be! If we give way to self-pity and indulge in the luxury of misery, we remove God's riches from our lives and hinder others from entering into His provision. No sin is worse than the sin of self-pity, because it removes God from the throne of our lives, replacing Him with our own self-interests. It causes us to open our mouths only to complain, and we simply become spiritual sponges— always absorbing, never giving, and never being satisfied. And there is nothing lovely or generous about our lives.
Before God becomes satisfied with us, He will take everything of our so-called wealth, until we learn that He is our Source; as the psalmist said, "All my springs are in You" (Psalm 87:7). If the majesty, grace, and power of God are not being exhibited in us, God holds us responsible. "God is able to make all grace abound toward you, that you…may have an abundance…" (2 Corinthians 9:8)— then learn to lavish the grace of God on others, generously giving of yourself. Be marked and identified with God's nature, and His blessing will flow through you all the time.
"For God has not given us a spirit of fear and timidity, but of power, love, and self-discipline." 2 Timothy 1:7 (NLT)
While raising my kids in the late '90s, the overwhelming theme I heard from other parents, church members and Christian books was consistent: Protect your children at all costs.
As Christian parents, we were told to not let our kids:
consume any media (unless it was the Adventures in Odyssey radio program)
listen to secular music (and even some Christian rock was considered too edgy)
play with kids who weren't from Christian families (unless they were specifically doing so to eventually invite them to church. Yes, these kinds of playdates were a thing.)
Fear is a very powerful force. It can make us fear our kids will make the wrong choices. It can make us fear a lack of control. It can make us fear being viewed as bad parents. I've also seen how fear can absolutely be the most destructive tool in our parenting bag.
Instead of fear, God longs for us to see His power and love and grow in self-discipline. As 2 Timothy 1:7 reassures us, "For God has not given us a spirit of fear and timidity, but of power, love, and self-discipline."
So how do we moms transition from parenting out of fear to fearless parenting? I've got a few ideas.
Talk about the steadfastness of God. God has given us a spirit of power and we are powerful because we are His. Make sure your kids know the power they possess because of Who lives in them.
Teach your kids how to love others well. You are their first example and their first teacher of loving well. Loving when circumstances are tough and when your kids are difficult are both great examples. Then, teaching your kids to love people even when they are unlovable is one of the best skills they can possess.
Transition from the role of protector. It's easy to want to stay in the role of our kids' protector longer than we should. And with all that goes on in the world, who can blame a mom for wanting to keep her family safe?
As an adult, my friend Kimberly endured the unimaginable — being taken at gunpoint while walking to her car after work. Fortunately, after hours of terror and devastation, Kim survived that kidnapping and has gone on to share her story of hope. But of course, no trauma is wrapped up in a tidy little package. Not only did those events affect Kim, but they also affected her whole family, including her mom, Ann.
For years, Ann felt overwhelming guilt for not being able to keep Kim from such a horrific situation. But after years of praying and processing, Ann came to understand that her role was not to protect her daughter.
Kim says, "My mom came to this place of peace after my kidnapping. Even though I was a 28-year-old woman, she somehow thought she should have been able to protect me from that event. She realized her job had been to prepare me to handle all the things life would throw at us kids — not protect us from anything ever happening."
As our kids grow, our job is to fearlessly transition our parenting from protecting to preparing our kids and trusting them to God. And He's given us the ability to do that because of His power in each of us.
Heavenly Father, my prayer is that I parent out of the love You have poured out for me and my child. I pray that I never parent out of fear, but out of the unending love and grace You've shown me. Let my child see glimpses of You through my love for them. In Jesus' Name, Amen