They said to him, "Inquire of God, please, that we may know whether our way on which we are going will be prosperous." The priest said to them, "Go in peace; your way in which you are going has the LORD'S approval."
Therefore they inquired further of the LORD, "Has the man come here yet?" So the LORD said, "Behold, he is hiding himself by the baggage.
 Is it easy to choose one of these?  When tougher choices come consult God's wisdom.
Choices
[Written by Joe Stowell for Our Daily Bread.]
"Wherever you go, I will go; and . . . your people shall be my people, and your God, my God." Ruth 1:16
A friend once told me: "Joe, I've come to realize that my life is not made by the dreams that I dream but by the choices that I make."
Count on it: You will have plenty of choices in life. And usually they boil down to a choice between "What do I want?" and "What's best for others?"
After their husbands died, Ruth and Orpah were faced with a strategic choice (Ruth 1:11
). Their mother-in-law Naomi told them they should go home. She didn't want them to feel any obligation to her, in spite of the fact that her loss was far greater. She had lost her own husband and both of her sons.
Orpah and Ruth could either go home and start a new life, or stay with Naomi to help her in a time of great need. They knew very well that the latter choice would probably mean living in a foreign land as widows for the rest of their lives, since few Jewish men would want to marry a foreign woman.
Ruth chose to serve the needs of Naomi rather than to serve herself. Orpah chose to leave Naomi for what she thought would be a better life. Ruth went on to play a significant role in Jewish history and became an ancestor of Jesus (Matt. 1:5
).
Make the best choice. Choose to serve others.
When we're involved in serving
And meeting others' needs,
We're imitating Jesus
In thoughts and words and deeds.  —Fitzhugh
Serve God by serving others.
January 25, 2017


Control Girl to Jesus Girl
SHANNON POPKINFrom: Crosswalk.com
"Not my will, but yours, be done." Luke 22:42b (ESV)
"You guys are going to love this!" I said as I plopped steaming heaps of peach porridge into my kids' breakfast bowls.
They didn't look convinced.
This was my fifth new recipe that week — all attempts to accommodate my son's new elimination diet. The nutritionist had promised that peach porridge would be a favorite. But Cade — who was 6 and never shy about his opinion — said, "Blech! Mommy, this is so icky!"
His older siblings giggled and admitted, "Mom, it is pretty bad."
I should have laughed good-naturedly and pulled out some gluten-free cereal, but instead, I snapped: "Well that's your breakfast and you're going to eat it." I was running out of recipes and patience. Plus those ingredients were expensive. And I had enough left for 10 more batches of peach porridge. "These kids are so picky!" I fumed.
The older kids, sensing I meant business, began forcing porridge down by gulping juice, but Cade refused. "I can't eat it, Mommy!" he wailed.
I whirled around and said, "Oh, yes you can, and you'll sit there till you do!"
He choked down several spoonfuls down, but then began gagging dramatically, which produced a little heap of porridge that slid right back into his bowl.
I was furious. "Oh, so you want to start over?" I snarled and replaced his porridge with a fresh, heaping bowl.
Oh, the crying and gnashing of teeth in our kitchen that morning! The bus came and went, and poor little Cade sat spilling tears into his bowl. Before long, the wash of remorse came. I apologized, fed my poor boy and drove him to school. It's one of many "Control Girl" memories I wish I could erase.
I'm learning that my anger over little things — like dirty clothes under the bed or an un-shoveled driveway — is often a symptom of a deeper problem. Anger is what's spewing, but feeding my anger is a deep, unhealthy craving for control.
The same is true of my anxiety. On the surface, I might be fretting or obsessing over my baby not crawling or my husband's spending, but feeding my fear is a desperate longing to have control.
So, when I feel a surge of anger or a spike of anxiety, I'm learning to ask myself, OK, Shannon, what are you trying to control? What do you feel you're losing control of?
And then I remind myself of the truth: I'm not in control. God is.
God never intended for me to shoulder the burden of trying to control. I can live responsibly and positively influence the people I love. But can I ultimately control whether my kids graduate with honors, marry a Christian or eat their peach porridge? No, I can't.
And when I clamp down on outcomes I'm convinced I can and must create (in parenting or elsewhere), I only become angry, fretful and obsessed.
Thankfully, Jesus offers me another way. He invites me to follow Him and live the way He did. And how did Jesus live? Did He take control or give it up?
The hours before Jesus' arrest were the most stressful, trying moments of His life. Unlike us, Jesus could have taken control and avoided the cross. Instead we see Jesus sweating profusely in agonized prayer, pleading, "Father, if you are willing, remove this cup from me. Nevertheless, not my will, but yours, be done" (Luke 22:42, ESV).
Do you hear the surrender in Jesus' words? I often picture the posture of surrender as hands serenely lifted during a gentle worship song. But perhaps the image of Jesus' sweaty battle on His knees is more accurate.
And what does this uphill, gritty surrender yield? Peace. Security. Hope in God, not in my ability to lunge for control.
Surrender begins not in cross-sized situations but in the small moments — like when my 6-year-old won't eat his porridge. Or my middle-schooler fails math. Or my husband shrugs off health concerns. In these moments, will I explode in anger or dissolve in fear? Or will I retrain my heart to say, Not my will but Yours, Lord, be done …?
Small surrender leads to big surrender. And a lifestyle of surrender is what turns me from a Control Girl into a Jesus Girl.
Lord, thank You that I am not in control and that You are. Help me live like both of these are true. In Jesus' Name, Amen.
Thunder and Lightning
From: Our Daily Bread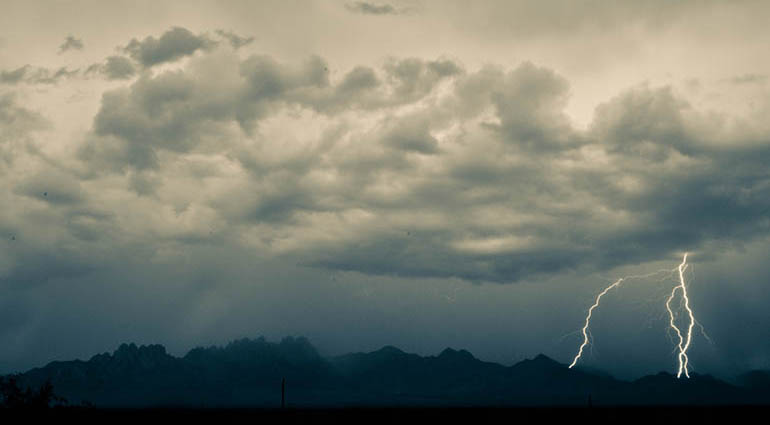 The voice of the Lord strikes with flashes of lightning. Psalm 29:7
Many years ago a friend and I were fishing a series of beaver ponds when it started to rain. We took cover under a nearby grove of quaking aspen, but the rain continued to fall. So we decided to call it a day and run for the truck. I had just opened the door when lightning struck the aspen grove with a thunderous fireball that stripped leaves and bark off the trees, leaving a few limbs smoldering. And then there was silence.
We were shaken and awed.
Lightning flashes and thunder rolls across our Idaho valley. I love it—despite my close call. I love the raw power. Voltage! Percussion! Shock and awe! The earth and everything in it trembles and shakes. And then there is peace.
I love lightning and thunder primarily because they are symbols of God's voice (Job 37:4), speaking with stupendous, irresistible power through His Word. "The voice of the Lord strikes with flashes of lightning . . . The Lord gives strength to his people; the Lord blesses his people with peace" (Ps. 29:7, 11). He gives strength to endure, to be patient, to be kind, to sit quietly, to get up and go, to do nothing at all.
May the God of peace be with you.
Calm my spirit in the storms, Lord. Grant me Your peace and the strength to walk through this day.
Faith connects our weakness to God's strength.
God Comforts Us
From: Streams in the Desert
Thy rod and thy staff they comfort me (Psalms 23:4).
At my father's house in the country there is a little closet in the chimney corner where are kept the canes and walking-sticks of several generations of our family. In my visits to the old house, when my father and I are going out for a walk, we often go to the cane closet, and pick out our sticks to suit the fancy of the occasion. In this I have frequently been reminded that the, Word of God is a staff.
During the war, when the season of discouragement and impending danger was upon us, the verse, "He shall not be afraid of evil tidings; his heart is fixed, trusting in the Lord," was a staff to walk with many dark days.
When death took away our child and left us almost heartbroken, I found another staff in the promise that "weeping may endure for the night, but joy cometh in the morning."
When in impaired health, I was exiled for a year, not knowing whether I should be permitted to return to my home and work again, I took with me this staff which never failed, "He knoweth the thoughts that he thinketh toward me, thoughts of peace and not of evil."
In times of special danger or doubt, when human judgment has seemed to be set at naught, I have found it easy to go forward with this staff, "In quietness and confidence shall be your strength." And in emergencies, when there has seemed to be no adequate time for deliberation or for action, I have never found that this staff has failed me, "He that believeth shall not make haste."
—Benjamin Vaughan Abbott, in The Outlook
"I had never known," said Martin Luther's wife, "what such and such things meant, in such and such psalms, such complaints and workings of spirit; I had never understood the practice of Christian duties, had not God brought me under some affliction." It is very true that God's rod is as the schoolmaster's pointer to the child, pointing out the letter, that he may the better take notice of it; thus He pointeth out to us many good lessons which we should never otherwise have learned.
—Selected
"God always sends His staff with His rod."
"Thy shoes shall be iron and brass; and as thy days, so shall thy strength be" (Deut.33:25).
Each of us may be sure that if God sends us on stony paths He will provide us with strong shoes, and He will not send us out on any journey for which He does not equip us well.
—Mclaren
---