John 4: 27-38   The Fields Are White To be harvested.
27   Just then his disciples returned and were surprised to find him talking with a woman. But no one asked, "What do you want?" or "Why are you talking with her?"
28   Then, leaving her water jar, the woman went back to the town and said to the people,29   "Come, see a man who told me everything I ever did. Could this be the Messiah?" 30   They came out of the town and made their way toward him.
31   Meanwhile his disciples urged him, "Rabbi, eat something."
32    But he said to them, "I have food to eat that you know nothing about."
33   Then his disciples said to each other, "Could someone have brought him food?"
34   "My food," said Jesus, "is to do the will of him who sent me and to finish his work. 35  Don't you have a saying, 'It's still four months until harvest'? I tell you, open your eyes and look at the fields! They are ripe for harvest. 36   Even now the one who reaps draws a wage and harvests a crop for eternal life, so that the sower and the reaper may be glad together. 37  Thus the saying 'One sows and another reaps' is true. 38  I sent you to reap what you have not worked for. Others have done the hard work, and you have reaped the benefits of their labor."
Ripe for Harvest
From: Our Daily Bread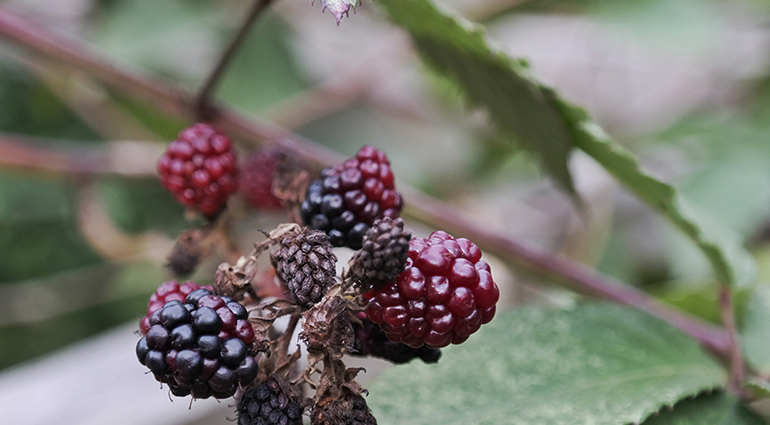 Open your eyes and look at the fields! They are ripe for harvest. John 4:35
In late summer, we went for a walk in the New Forest in England and had fun picking the blackberries that grew in the wild while watching the horses frolicking nearby. As I enjoyed the bounty of the sweet fruit planted by others perhaps many years before, I thought of Jesus's words to His disciples: "I sent you to reap what you have not worked for" (John 4:38).
I love the generosity of God's kingdom reflected in those words. He lets us enjoy the fruits of someone else's labors, such as when we share our love for Jesus with a friend whose family—unbeknown to us—has been praying for her for years. I also love the implied limits of Jesus's words, for we may plant seeds that we will never harvest but someone else may. Therefore, we can rest in the tasks before us, not being hoodwinked into thinking that we are responsible for the outcomes. God's work, after all, doesn't depend on us. He has all of the resources for a bountiful harvest, and we are privileged to play a role in it.
I wonder what fields ready for harvest are before you? Before me? May we heed Jesus's loving instruction: "Open your eyes and look at the fields!" (v. 35).
Creator God, thank You for Your great generosity in entrusting us to do Your work. May I be alert to the opportunities to share Your good news.
We can reap what others have sown.
"I Indeed. . . But He"
From: Utmost.org
Have I ever come to the point in my life where I can say, "I indeed…but He…"? Until that moment comes, I will never know what the baptism of the Holy Spirit means. I indeed am at the end, and I cannot do anything more— but He begins right there— He does the things that no one else can ever do. Am I prepared for His coming? Jesus cannot come and do His work in me as long as there is anything blocking the way, whether it is something good or bad. When He comes to me, am I prepared for Him to drag every wrong thing I have ever done into the light? That is exactly where He comes. Wherever I know I am unclean is where He will put His feet and stand, and wherever I think I am clean is where He will remove His feet and walk away.
Repentance does not cause a sense of sin— it causes a sense of inexpressible unworthiness. When I repent, I realize that I am absolutely helpless, and I know that through and through I am not worthy even to carry His sandals. Have I repented like that, or do I have a lingering thought of possibly trying to defend my actions? The reason God cannot come into my life is that I am not at the point of complete repentance.
"He will baptize you with the Holy Spirit and fire." John is not speaking here of the baptism of the Holy Spirit as an experience, but as a work performed by Jesus Christ. "Hewill baptize you…." The only experience that those who are baptized with the Holy Spirit are ever conscious of is the experience of sensing their absolute unworthiness.
"I indeed" was this in the past, "but He" came and something miraculous happened. Get to the end of yourself where you can do nothing, but where He does everything.
God Goes Where You Go
From: CBN, and author: Martha Noebel
Have I not commanded you? Be strong and courageous. Do not be afraid; do not be discouraged, for the LORD your God will be with you wherever you go. Joshua 1:9 NIV
How comforting it is to know that wherever we go, God is there with us. Sometimes we find ourselves in situations and wonder if God is paying attention. We may feel so alone and even depressed. We can't feel God's presence, and we need His guidance and help.
Sometimes friends, spouses, and parents don't really understand what we are going through. But God does and He cares. God told Joshua to be strong and to have courage. Then He told him a wonderful truth: "The Lord your God will be with you wherever you go." Yes, that's right… wherever! We don't have to feel all alone. God is with us. He is working out the problems, and we don't even realize it.
But now … the Lord who created you … says: "Do not be afraid, for I have ransomed you. I have called you by name; you are mine. When you go through deep waters, I will be with you. When you go through rivers of difficulty, you will not drown. When you walk through the fire of oppression, you will not be burned up; the flames will not consume you. For I am the LORD, your God, the Holy One of Israel, your Savior. From eternity to eternity I am God. No one can snatch anyone out of my hand. No one can undo what I have done. Isaiah 43:1-3, 13 NLT
God is with us, leading us, guiding us, loving us, providing for us — all with His unlimited resources. What do we need? Do we need strength, peace, love, joy, or hope? He has it all. He is longing to pour out His favor and blessing upon us. We need to be open to Him and to trust Him. We need, by faith, to receive what He has for us. It is essential we realize how much He loves us and that He has a good purpose and plan for us.
When I think of all this, I fall to my knees and pray to the Father, the Creator of everything in heaven and on earth. I pray that from his glorious, unlimited resources he will empower you with inner strength through his Spirit. Ephesians 3:14-16 NLT
This Scripture is awesome. There is nothing that God doesn't know and can't do for us. He walks with us every moment of every day. We need to speak these Scriptures to our hearts. The devil can't stand it when we, in confidence, speak God's Word. It builds faith in us and gives us the strength to stand.
O Lord, you have examined my heart and know everything about me. You know when I sit down or stand up. You know my thoughts even when I'm far away. You see me when I travel and when I rest at home. You know everything I do. You know what I am going to say even before I say it, Lord. You go before me and follow me. You place your hand of blessing on my head. Such knowledge is too wonderful for me, too great for me to understand! Psalms 139:1-6 NLT
Like David let us declare:
Show me the right path, O LORD; point out the road for me to follow. Lead me by your truth and teach me, for you are the God who saves me. All day long I put my hope in you. Psalms 25:4-5 NLT
You can trust God. No matter what is going on in your life, He is there! God goes where you go.
So do not throw away this confident trust in the Lord. Remember the great reward it brings you! Patient endurance is what you need now, so that you will continue to do God's will. Then you will receive all that he has promised. Hebrews 10:35-36 NLT    Martha Noebel, author.